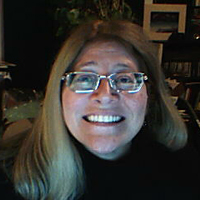 These pages chronicle the work and ruminations of Carolyn Collins Petersen, also known as TheSpacewriter.




I am CEO of Loch Ness Productions. I am also a producer for Astrocast.TV, an online magazine about astronomy and space science.

For the past few years, I've also been a voice actor, appearing in a variety of productions. You can see and hear samples of my work by clicking on the "Voice-Overs, Videos and 'Casts tab.

My blog, TheSpacewriter's Ramblings, is about astronomy, space science, and other sciences.


Ideas and opinions expressed here do not represent those of my employer or of any other organization to which I am affiliated. They're mine.
Subscribe in a reader
Visit my main site at: TheSpacewriter.com.
**I encourage comments and discussion; please keep it polite and respectful. I do moderate them to weed out spam, but I also refuse to post any messages that contain harassing, demeaning, rude, or profane language. I run a respectable establishment here.
Contact me for writing and voice-over projects at: cc(dot)petersen(at)gmail(dot)com
I Twitter as Spacewriter
Blog entry posting times are U.S. Mountain Time (GMT-6:00) All postings Copyright 2003-2011 C.C. Petersen
Spacewriter's Recent Posts
Archives
Calendar
May 2013
S
M
T
W
T
F
S
« Apr
1
2
3
4
5
6
7
8
9
10
11
12
13
14
15
16
17
18
19
20
21
22
23
24
25
26
27
28
29
30
31
Like space music?
Check out my favorite space music artist: Geodesium at Geodesium.com



Blogroll
May 16, 2013 at 9:30 am |
Leave a Comment
My Life with the Firehose of Cosmic Information
I have a new book coming out!  It's called Astronomy 101: From the Sun and Moon to Wormholes and Warp Drive, Key Theories, Discoveries, and Facts about the Universe, due out in a few weeks from Adams Media. I've been working with them behind the scenes on distribution and publicity, and so fairly soon they'll turn on the switch and Astronomy 101 will step out into the spotlight. Stay tuned and I'll let you know when it's available. Or, you can go to the Astronomy 101 page on Amazon and put in a pre-order. Currently it says July 18th, but I think it may come out sooner.
I've been writing about astronomy for a long time. It began when I was in college as an undergraduate, and just grew from there. Of course, I've always been interested in the stars and space travel. That's a natural outgrowth of growing up when we were still sending people to space and expecting to go to Mars any time in the near future. I've written before about how my parents got me interested in the stars. My dad, in particular, would take me outside at night and show me the sky, and occasionally would wake us up to see comets and meteor showers. So, I guess you could say that astronomy is in my DNA. Which is true of all of us, in a very real sense. We ARE star stuff because all the atoms in our bodies came either from the Big Bang (in the case of hydrogen) or from stars (in the case of the iron in our blood, the calcium in our bones, the oxygen we breathe, and so on).
Over the years, I've written or co-written a number of books, articles, and scripts about astronomy. My first book was called "Jupiter!" and it featured the space art of Don Davis (an old and dear friend). My next books were about Hubble Space Telescope, and called Hubble Vision, and written with John Brandt. We had a blast bringing the science of HST to the world. We also did a general astronomy book together, too, called Visions of the Cosmos.  A few years later, I teamed up with other editors from Sky & Telescope to work on The New Solar System and Deep-Sky Wonders as an editor.
Outnumbering my books are my videos. You can see every planetarium fulldome show I've ever written by simply visiting Loch Ness Productions' Web site and clicking on the shows link. I'm still writing these shows, and enjoy creating for both fulldome and flatscreen theaters. The most recent one I did was for the International Dark-Sky Association, called Losing the Dark.  It has been translated to seven languages, with ten more on the way.  In recent years, I've also taken on doing a Web-based stargazing show called Our Night Sky and an occasional astronomy special called The Astronomer's Universe for Astrocast.TV, an Web-based video news site focused on astronomy and space science.
So, back to my new book.  As you can see, I've been writing for just about any medium I can lay hands on. But, it's been a while since I've done a book. In fact, for awhile after my last book, I thought I probably wouldn't do another one, given the advent of electronic media and the fact that I've been busy writing and producing videos and podcasts.
But, a few months ago, a print publisher got in touch with me and asked if I'd like to do a popular-level book on astronomy which would be available in BOTH print AND eBook formats.  I gave it some thought and decided to give it a whack. Creating for both print and eBooks imposes some distinct requirements on a writer and publisher that we didn't face back when books were only tree-based. For example, illustrations have to be very clean and easy to reproduce in eBook format.  We still have color images in the book, which is great.
Now, the idea of a very general book on astronomy is nothing new. The publishers wanted to do something a little different: they wanted to have a book you could pick up, flip through, choose a topic, and read a thousand or so words on that topic and get a good bite-sized idea of it.  No math, no equations, just some storytelling and a few interesting facts to pique your interest. And, that's the book they asked me to do.
This is where the firehose idea comes in. Astronomy is HUGE. There are thousands of topics that you could write about. Literally.  But, I had to pick about 55 or 60, and write about those. So, I did. On a tremendously tight deadline (welcome to the NEW world of publishing, folks!). The result is, I hope, a handy little book that you could read. Or, if you're already knowledgeable about astronomy, a book you might give to someone else who is smart and wants to know more about a topic they've always been interested in but hadn't had much time to study. I wrote this book with busy folks in mind—teachers, police officers, politicians (maybe?), cab drivers, lawyers, doctors, librarians, musicians—pretty much anybody who wants to know more about astronomy, but didn't really study it in school.
Now, while my name shows up on the front of the book, I couldn't have done it without my group of background readers, mostly astronomers, who read drafts and gave me tremendously good feedback. I had only a couple of months to write the book, and so their honest opinions, error-checking, and moral support were incredibly helpful. Their names are listed in the front of the book as my "posse", and I couldn't have done it without them!
Check out the link at Amazon, give Astronomy 101 a pre-order and tell your friends that there's a new astronomy book coming out they might want to check out! And, once you get it and have given it a read, let me know what you think. While one or two of my other books are about to go (or have gone) to eBook editions from their older print editions, this one is the first book I've done specifically for this hot new environment of electronic publishing, so I am anxious to see how it turns out.

May 15, 2013 at 14:29 pm |
Leave a Comment
Not Yet, but Things Don't Look Good
NASA's Kepler spacecraft, launched in 2009 to search out worlds around other stars, has likely reached the end of its current mission due to the failure of a critical component called a reaction wheel. The spacecraft has four of these wheels which help stabilize Kepler so that it can point steadily at its assigned area of the sky. One of them failed last year, and this new failure now leaves the spacecraft with only two reaction wheels — an unstable (to put it mildly) and unworkable situation. Still, the mission team hasn't given up. Until the problem can be corrected (and that's not looking good), the spacecraft is what they call "Thruster-controlled Safe Mode".
It's a very disheartening day for the Kepler mission team, since they and their spacecraft have been SO successful in discovering new worlds and giving us a new feel for the population of planets in the Milky Way Galaxy. Of course, the mission has always had an anticipated end point, but I think that planners were hoping that day would come when the spacecraft ran out of thruster fuel. There's a few months' worth of fuel left, so they will keep working to solve the problem with the wheel.
Of course, Kepler's discoveries don't end with these problems. In fact, some of the most exciting results are still to come. The spacecraft's light sensors have gathered so much data about distant stars and possible planets that it will be years before it is all analyzed.  Hidden in that data are many more distant planets.  So, Kepler's mission isn't quite over until the last planet is wrung out of the data.  Still, the mission will lose out on at least two years of further observations of planet candidates, and that WILL be a loss to the community.
Bill Borucki — the principal investigator of the Kepler team, while echoing the team's concerns about the spacecraft, has pointed out that the mission has been wildly successful. He ended up his statements today (at a NASA telecon) by saying, "It's been a long journey to prove Kepler would work, see it get rejected time and time again, go back and improve the proposals, and put it all together. So today, I am delighted with all Kepler has accomplished. It gave us data like no other mission ever has. I'm just elated with what we've accomplished. I'm not feeling sorry at all."
So, what has Kepler accomplished?  If you  browse the mission website, you can sample some of the many types of worlds the spacecraft has discovered. It has found 2,740 planet candidates so far and 2,165 eclipsing binary stars. Of the planetary candidates, 132 are confirmed as actual planets. Each of those worlds have unique characteristics that give tantalizing clues about how they formed and the star systems they inhabit. Just as an example, the stars called Kepler 62 and 69, are two quite different stars.
Kepler 62 is not sunlike, and has several planets that are somewhat larger than Earth and one the size of Mars. When these planets were announced in April, John Grunsfeld, associate administrator of the Science Mission Directorate at NASA, hailed the mission's critical success. "The Kepler spacecraft has certainly turned out to be a rock star of science," he said.

Today, Grunsfeld was a bit less upbeat, but still asserted that the Kepler mission isn't dead—yet. I echo his thoughts and hope that the Kepler mission team can find a way around the spacecraft's reaction wheel woes. I am reminded of the same issues that Hubble Space Telescope faced with its faulty gyros, which could be fixed by astronaut visits. Kepler doesn't have that option because it orbits too far from Earth for a rescue mission. That distant orbit is what made this fantastic mission of planetary discovery possible. I wish the Kepler team all the best in finding a way to  make the spacecraft work a while longer.

May 3, 2013 at 11:08 am |
Leave a Comment
Humans Have Done It Throughout History
I'm currently advising on a project in archaeoastronomy—the study of ancient astronomy. It's an interesting topic, one that keeps cropping up as we find and visit places around the world with evidence that our ancestors used certain objects or landmarks as astronomical markers. Finding these means that even many thousands of years ago people were watching the sky and using it as a calendar and perhaps also in some kinds of cultural/religious/philosophical activities.
Of course, it's hard to know exactly what the earliest people thought and said about the sky, since writing is a relatively recent invention in human history. They did cave paintings, they carved symbols on stone monuments, they aligned huge buildings (the Pyramids in Egypt come to mind) with specific positions of things in the sky, and they also created crude instruments to help them navigate using the stars. So, the discipline of archaeoastronomy really has its work cut out when a new site is uncovered. Not only do the positions of celestial objects come into play (particularly as they were in the time when the sites were built), but experts in sociology, paleontology, cultural anthropology, geology, and even chemistry and biology all can look at a site from their particular viewpoint and give us some insight into what function the site had, who used it, what it's built from (field stone, stones from distant areas, etc.), and if there are burial sites nearby, who the people were who created these astronomy-related places.
Our planet has many such sites—the ones that come to mind immediately are places like Stonehenge, the Great Pyramid of Khufu in Egypt, the supernova painting in the U.S., and many others. It's in our own interests as a species to preserve and understand these sites because they give us a lot of insight into our own history and cultural developments, and of course, the development of astronomy.
To that end, the United Nations UNESCO group and the International Astronomical Union have been working together to create an initiative called Astronomy and World Heritage. The aim of the initiative is to explore and reinforce the links between science and culture, particularly through the exploration of astronomy in the heritages of the world's many cultures, particularly in the past.
You can get a good sense of the initiative from IAU's own press release, where they state,
"The three-year agreement commits UNESCO and the IAU to promote astronomical sites and provide states party to the World Heritage Convention with expertise, as they prepare nominations for locations to be included in the World Heritage List of exceptional sites that bear witness to major breakthroughs in the development of scientific knowledge. This is a step towards the recognition of the importance of the worldwide astronomical heritage, and its role in enriching lives throughout history and promoting international exchange.
UNESCO and the IAU signed a first memorandum within the framework of the thematic initiative on Astronomy and World Heritage in 2008. It was renewed in 2010 and implemented through close cooperation between UNESCO's World Heritage Center and the IAU, sparking off a series of activities entitled Astronomy and World Heritage; across time and continents. It also led to the publication of a thematic work on astronomical heritage, compiled in cooperation with the International Council on Monuments and Sites (ICOMOS), to the creation of a web portal (http://www2.astronomicalheritage.net) on the history of astronomical heritage and to the organization of numerous seminars and conferences on the subject."
When you stop to think about all the humans who have walked this planet, and consider how much astronomy has influenced cultural growth—from navigation to cultural rituals to science—it is tremendously important to seek out and preserve sites where humans long ago first set their eyes on the skies and used what they saw to survive and thrive.

Older entries »
<!- wpscanner ->
This blog a wholly pwnd subsidiary of Carolyn Collins Petersen, a.k.a. TheSpacewriter.
Copyright 2013, Carolyn Collins Petersen
Inama Nushif!
Image of Horsehead Nebula: T.A.Rector (NOAO/AURA/NSF) and Hubble Heritage Team (STScI/AURA/NASA)
"It is by Coffee alone I set my day in motion. It is by the juice of bean that coffee acquires depth, the tongue acquires taste, the taste awakens the body. It is by Coffee alone I set my day in motion."