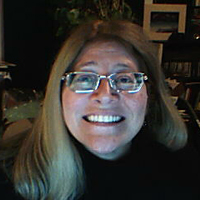 These pages chronicle the work and ruminations of Carolyn Collins Petersen, also known as TheSpacewriter.




I am CEO of Loch Ness Productions. I am also a producer for Astrocast.TV, an online magazine about astronomy and space science.

For the past few years, I've also been a voice actor, appearing in a variety of productions. You can see and hear samples of my work by clicking on the "Voice-Overs, Videos and 'Casts tab.

My blog, TheSpacewriter's Ramblings, is about astronomy, space science, and other sciences.


Ideas and opinions expressed here do not represent those of my employer or of any other organization to which I am affiliated. They're mine.
Subscribe in a reader
Visit my main site at: TheSpacewriter.com.
**I encourage comments and discussion; please keep it polite and respectful. I do moderate them to weed out spam, but I also refuse to post any messages that contain harassing, demeaning, rude, or profane language. I run a respectable establishment here.
Contact me for writing and voice-over projects at: cc(dot)petersen(at)gmail(dot)com
I Twitter as Spacewriter
Blog entry posting times are U.S. Mountain Time (GMT-6:00) All postings Copyright 2003-2011 C.C. Petersen
Spacewriter's Recent Posts
Archives
Calendar
June 2002
S
M
T
W
T
F
S
« Mar
Aug »
1
2
3
4
5
6
7
8
9
10
11
12
13
14
15
16
17
18
19
20
21
22
23
24
25
26
27
28
29
30
Like space music?
Check out my favorite space music artist: Geodesium at Geodesium.com



Blogroll
June 17, 2002 at 11:07 am |
Leave a Comment
Well…
It has been a while since I've updated this journal. Seems like time just slipped away what with "Real Life" just intervening when it felt like it.
My latest "Real Life" Adventure was the American Astronomical Society meeting in Albuquerque, New Mexico. I've been a member for about 8 or 9 years now and try attend both meetings (one in January, one in June) when time and finances permit. About 1400 astronomers attended this one!
At the end of the meeting I took off on a couple of field trips: one to the Very Large Array radio telescope facility in central New Mexico. Had a chance to crawl up inside one of the dishes that was in the barn for refurbishment, and take some lovely photographs of one arm of the array. For those of you who are into movies, this installation is where parts of "Contact" were filmed some years back.
The other place our group visited was the Apache Point Observatory installations — including the
Sloan Digital Sky Survey telescope, and the nearby National Solar Observatory Sacramento Peak Solar Observatory at Sunspot, New Mexico. Some pretty amazing science is being done using these places.
The view from Sac Peak is stunning. It looks out over the White Sands Monument, west of Alamogordo, NM — and you can see for well over a hundred miles on a clear day (or millions of light-years on a clear night!).

<!- wpscanner ->
This blog a wholly pwnd subsidiary of Carolyn Collins Petersen, a.k.a. TheSpacewriter.
Copyright 2013, Carolyn Collins Petersen
Inama Nushif!
Image of Horsehead Nebula: T.A.Rector (NOAO/AURA/NSF) and Hubble Heritage Team (STScI/AURA/NASA)
"It is by Coffee alone I set my day in motion. It is by the juice of bean that coffee acquires depth, the tongue acquires taste, the taste awakens the body. It is by Coffee alone I set my day in motion."