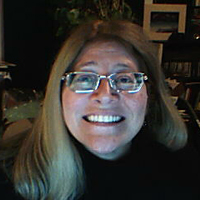 These pages chronicle the work and ruminations of Carolyn Collins Petersen, also known as TheSpacewriter.




I am CEO of Loch Ness Productions. I am also a producer for Astrocast.TV, an online magazine about astronomy and space science.

For the past few years, I've also been a voice actor, appearing in a variety of productions. You can see and hear samples of my work by clicking on the "Voice-Overs, Videos and 'Casts tab.

My blog, TheSpacewriter's Ramblings, is about astronomy, space science, and other sciences.


Ideas and opinions expressed here do not represent those of my employer or of any other organization to which I am affiliated. They're mine.
Subscribe in a reader
Visit my main site at: TheSpacewriter.com.
**I encourage comments and discussion; please keep it polite and respectful. I do moderate them to weed out spam, but I also refuse to post any messages that contain harassing, demeaning, rude, or profane language. I run a respectable establishment here.
Contact me for writing and voice-over projects at: cc(dot)petersen(at)gmail(dot)com
I Twitter as Spacewriter
Blog entry posting times are U.S. Mountain Time (GMT-6:00) All postings Copyright 2003-2011 C.C. Petersen
Spacewriter's Recent Posts
Archives
Calendar
November 2002
S
M
T
W
T
F
S
« Oct
Jan »
1
2
3
4
5
6
7
8
9
10
11
12
13
14
15
16
17
18
19
20
21
22
23
24
25
26
27
28
29
30
Like space music?
Check out my favorite space music artist: Geodesium at Geodesium.com



Blogroll
November 2, 2002 at 23:25 pm |
2 Comments
Take a good look at this picture. The white spots are NOT snow. They're light pollution. That's right. This is the home of a species that is so wealthy that it can afford to waste megawatts of power by splashing it up into the sky. This picture says that the civilization living here has conquered ALL the problems of poverty, hunger, and housing because it has money to burn sending light into space.
In reality, this is the home of a species that fights over energy, has extremely poor people who are starving to death while others can afford to flaunt their wealth in dazzling displays of light.
Pity isn't it? You know why? Because those Earth lights are obscuring our view of the universe of which we are a part. I suppose it's too much to ask that we figure out ways to conserve our energy use so that humanity can once again connect with the cosmos that gave it birth. Seems like a civilized thing to do, don't you think?
Want to fight light pollution?
The International Dark-Sky Association (IDA) is a leader in the wise use of lighting. Check out their handy informational sheets about proper light usage and how it can save the environment and money!

<!- wpscanner ->
This blog a wholly pwnd subsidiary of Carolyn Collins Petersen, a.k.a. TheSpacewriter.
Copyright 2013, Carolyn Collins Petersen
Inama Nushif!
Image of Horsehead Nebula: T.A.Rector (NOAO/AURA/NSF) and Hubble Heritage Team (STScI/AURA/NASA)
"It is by Coffee alone I set my day in motion. It is by the juice of bean that coffee acquires depth, the tongue acquires taste, the taste awakens the body. It is by Coffee alone I set my day in motion."