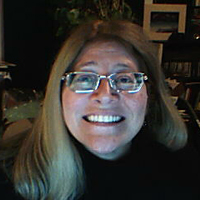 These pages chronicle the work and ruminations of Carolyn Collins Petersen, also known as TheSpacewriter.




I am CEO of Loch Ness Productions. I am also a producer for Astrocast.TV, an online magazine about astronomy and space science.

For the past few years, I've also been a voice actor, appearing in a variety of productions. You can see and hear samples of my work by clicking on the "Voice-Overs, Videos and 'Casts tab.

My blog, TheSpacewriter's Ramblings, is about astronomy, space science, and other sciences.


Ideas and opinions expressed here do not represent those of my employer or of any other organization to which I am affiliated. They're mine.
Subscribe in a reader
Visit my main site at: TheSpacewriter.com.
**I encourage comments and discussion; please keep it polite and respectful. I do moderate them to weed out spam, but I also refuse to post any messages that contain harassing, demeaning, rude, or profane language. I run a respectable establishment here.
Contact me for writing and voice-over projects at: cc(dot)petersen(at)gmail(dot)com
I Twitter as Spacewriter
Blog entry posting times are U.S. Mountain Time (GMT-6:00) All postings Copyright 2003-2011 C.C. Petersen
Spacewriter's Recent Posts
Archives
Calendar
May 2003
S
M
T
W
T
F
S
« Apr
Jul »
1
2
3
4
5
6
7
8
9
10
11
12
13
14
15
16
17
18
19
20
21
22
23
24
25
26
27
28
29
30
31
Like space music?
Check out my favorite space music artist: Geodesium at Geodesium.com



Blogroll
May 30, 2003 at 16:21 pm |
Leave a Comment
Every year, like-minded folks who enjoy some aspect of astronomy get together at dark sky sites and have star parties. They tote their telescopes and computers and other paraphernalia to the Great Outdoors, set up, and if the weather permits, they stargaze, or planet-gaze, or galaxy-gaze. They do this until the wee-est of the wee hours, then head to sleep before getting up a few hours later to do it all over again. At some parties, the daytime hours that aren't taken up with sleeping are filled with lectures, equipment demonstrations, mirror grinding for do-it-yourselfers, and a healthy dose of sitting around and shooting the breeze with other stargazers.
Now you'd think that gazing through a telescope wouldn't be much of a group thing — but truth is, these parties can be quite a bit of fun.
Over the years I've attended my fair share of these events, usually as a lecturer, but sometimes as "just plain folks." The first one I lectured at was during my days as a comet researcher and I traveled down to the Winter Star Party, held each year by the Southern Skies Astronomical Society on West Summerland Key, Florida. Since then, I've gone to star parties across the U.S. and one in Canada. I've even conducted a few onboard a ship in South America.
One of the oldest star parties in the U.S. is called Stellafane, held by the Springfield (Vermont) Telescope Makers Association. I've visited that one three times, and it is sort of the elder statesmen of such get-togethers. You can find just about any time of telescope in use there, and as the name suggests, telescope-making is emphasized. One year I wandered through the mirror-grinding tent to find a 5-year-old girl happily polishing a mirror!
One of my favorites is the Mason-Dixon Star Party, held each summer in York, Pennsylvania. This year's meeting is this weekend, so it's probably a bit late to go, but if you live the area and want to go to a relaxed, family-oriented event, check it out.
Another favorite is the Enchanted Skies Star Party, which takes place outside of Socorro, New Mexico each autumn. This party has some of the clearest, darkest skies, along with the best chuckwagon food. We went last year and I hope we get to go this year, too!
There is probably a star party going on every weekend throughout the spring, summer, and fall in North America. Sky & Telescope keeps an updated list of events on their website, so if you get bitten by the star party bug, check it out and see if there's a party going down in your neck of the woods!

May 27, 2003 at 16:04 pm |
Leave a Comment
A lot has transpired since my last blog entry. For one thing — taxes! For another, the rescue and recuperation of a cat that was abandoned on our property. And in early May, a visit by relatives and the celebration of a birthday.
Add to that the incessant rain we've been having here in New England and the savvy reader might conclude that NO astronomy was getting done here! Well, that's true — very little observational astronomy has been done in a week or more. But there are always books to read, pictures to look at.
Some of my favorite pictures are found on the Astronomy Picture of the Day website. Like this one from the point of view of a Martian stargazer (with a VERY good telescope!)
We're always so busy looking OUT at the universe that every once in a while it pays to look BACK at ourselves. Just to remind us of our place in the cosmos.

<!- wpscanner ->
This blog a wholly pwnd subsidiary of Carolyn Collins Petersen, a.k.a. TheSpacewriter.
Copyright 2013, Carolyn Collins Petersen
Inama Nushif!
Image of Horsehead Nebula: T.A.Rector (NOAO/AURA/NSF) and Hubble Heritage Team (STScI/AURA/NASA)
"It is by Coffee alone I set my day in motion. It is by the juice of bean that coffee acquires depth, the tongue acquires taste, the taste awakens the body. It is by Coffee alone I set my day in motion."