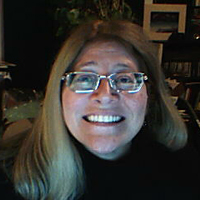 These pages chronicle the work and ruminations of Carolyn Collins Petersen, also known as TheSpacewriter.




I am CEO of Loch Ness Productions. I am also a producer for Astrocast.TV, an online magazine about astronomy and space science.

For the past few years, I've also been a voice actor, appearing in a variety of productions. You can see and hear samples of my work by clicking on the "Voice-Overs, Videos and 'Casts tab.

My blog, TheSpacewriter's Ramblings, is about astronomy, space science, and other sciences.


Ideas and opinions expressed here do not represent those of my employer or of any other organization to which I am affiliated. They're mine.
Subscribe in a reader
Visit my main site at: TheSpacewriter.com.
**I encourage comments and discussion; please keep it polite and respectful. I do moderate them to weed out spam, but I also refuse to post any messages that contain harassing, demeaning, rude, or profane language. I run a respectable establishment here.
Contact me for writing and voice-over projects at: cc(dot)petersen(at)gmail(dot)com
I Twitter as Spacewriter
Blog entry posting times are U.S. Mountain Time (GMT-6:00) All postings Copyright 2003-2011 C.C. Petersen
Spacewriter's Recent Posts
Archives
Calendar
Like space music?
Check out my favorite space music artist: Geodesium at Geodesium.com



Blogroll
January 31, 2004 at 15:21 pm |
Leave a Comment
The Opportunity Rover has rolled onto the Mars surface at Meridiani Planum. Go here to check it out! I can't wait to see what their first soil analysis shows, but even more I WANT to see more up close shots of those rocks!

January 30, 2004 at 15:15 pm |
Leave a Comment
Okay, I admit it. I'm a Trekkie. Have been since the first time I watched James T. Kirk swashbuckle his way across the Alpha Quadrant in 1967. Star Trek has been part of my life that long, and while I am not as much into it as some of the folks who make their own costumes and learn Klingon, Trek has informed much of my interest in space. I've mentioned before that my dad is the one who got me interested in the stars, and I'd have to say that Star Trek is what got me turned on to space travel in a big way. They just made it look so darned believable and like space travel is right around the corner for humanity. Maybe it is. Maybe it isn't, but that enduring believability is one of Trek's most wonderful contributions.
Mark and I have used various Star Trek actors over the years as planetarium show narrators. The first was Patrick Stewart and he'll always be my favorite. His delivery and professionalism have always been first-rate and when I finally got to meet him during a session a few years ago, he was delightful. As much as I hate to look like a rank FanGrrl, his is one of the few Trek pictures I have in my office. It's there to remind me to be professional and never do less than my best.
A few years ago we were in Los Angeles for a meeting, and I contacted a colleague of mine who was a writer for the Star Trek shows. We had worked together when I was editor of SkyWatch Magazine, and I had a small request: could Mark and I get a tour of one of the Trek sets? As it turned out, our friend was able to get us onto the sets of both Voyager and Deep Space 9. And we had a wonderful time! At one point we were walking along in the corridors of the Defiant and found the transporter pad. Of course we had to stand on it and WISH we could be transported out…
By far one of the more interesting experiences of that afternoon was the chance to watch as the actors and crew blocked out a scene for an upcoming DS9 episode. We stood with Quark (Armin Shimerman) and Rom (Max Grodenchuk) and chatted for awhile as the staffers were doing something to the set. I was just drinking it all in, thinking how cool it was to be there, and our friend told Armin and Max that I was an editor at Sky Publishing. They both turned to me and said, "Cool!" and we talked about astronomy for a while. It was one of those really neat experiences that I obviously have never forgotten.
For a few years while we lived in Denver, I used to do science talks at the Star Trek conventions, hosted by our friends Steve and Kathy Walker. Usually I'd talk about HST science or something like that. It was really quite an experience to be showing slides of distant nebulae to a roomful of Klingons in full battle gear. One of the highlights (for me anyway) of those lectures was the chance to have breakfast with the Trek guest speakers at the Sunday morning brunch. I got to meet a lot of interesting folks that way and listen to the way they talk (since I've always got an ear out for good narrators).
So Trek is in my blood, so to speak. I recognize full well the impact it's had on our popular culture, and I've tried to use that impact in my writing and editing projects. One year we were able to feature the Enterprise-D on the front cover of SkyWatch and ran an article inside about star names and the Star Trek universe. Another time I had a writer interview some prominent folks about their interest in amateur astronomy. One of the subjects was Tim Russ, who played Tuvok on Voyager. I had met him at conference some months earlier and we chatted at some length about his interest in skygazing. (He also happens to be a fine musician.)
Those are a few vignettes out of a lifetime of fascination with the phenomenon that is Star Trek. I hope Trek is with us for a long time. Lots of us science types got a kick out of the show and you would be amazed at how many of us grew up watching Captains Kirk, Picard, Janeway, Cisco, Archer, and their colleagues make their way among the stars we watch so eagerly from our earth-bound perches.

January 28, 2004 at 20:06 pm |
Leave a Comment
Back when I first started doing planetarium shows, the industry was just waking up to the idea of actually buying a planetarium show from someone outside the individual facilities. For a long time (and to some extent today) planetarians devise their own programs and lectures. And that's great. When I was a planetarium lecturer, I did the same thing. But I also realized — as do so many others — that I couldn't produce everything myself. And writing shows for facilities all around the world has given me a great deal of insight into what planetarians want for their audiences. Mark and I sat down one time a few years back and figured out that we had distributed hundreds of shows to more than 500 facilities around the world. There are only about 2500 facilities in the world, but they're not all open, some are very scantily equipped, and others are Starlabs that can't run our shows. There are maybe a thousand potential clients for ours (or anybody's) shows, and even then, many producers sell to a much smaller market than we do.
There's not really any standardization in the business, unless you count the fact all planetariums have star machines. Some have slide projectors — lots of 'em. Others don't. Some have video; others don't. A very few have fulldome digital systems requiring expensive animations for shows; but most don't. Being a show producer for such a varied group of facilities is pretty complex. But, at the heart of all of these systems, you still have to have a story to tell. And that's where I come in. I help tell the stories of the cosmos. Mark produces them (or now, I do, too). We mate music and the spoken word and imagery to bring the cosmos to the audience.
To paraphrase the old line, "There are a million stories in the Naked Cosmos." And there are. Over the years I've written about trips to Mars, explorations of the outer planets, studies of the galaxies, starhopping and constellation outlines, Hubble Space Telescope discoveries, and the fun of stargazing. That's always been my goal — to let people know that astronomy and space science are fun. Sure, they're complex, but nobody who lets the stars touch them minds the complexity. In fact, that's part of the fun and the challenge of astronomy. And if I can raise people's consciousness through planetarium shows, then I don't mind the complexity. And the hard work.

Older entries »
<!- wpscanner ->
This blog a wholly pwnd subsidiary of Carolyn Collins Petersen, a.k.a. TheSpacewriter.
Copyright 2013, Carolyn Collins Petersen
Inama Nushif!
Image of Horsehead Nebula: T.A.Rector (NOAO/AURA/NSF) and Hubble Heritage Team (STScI/AURA/NASA)
"It is by Coffee alone I set my day in motion. It is by the juice of bean that coffee acquires depth, the tongue acquires taste, the taste awakens the body. It is by Coffee alone I set my day in motion."