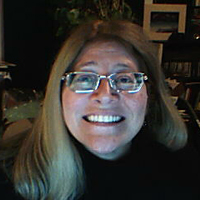 These pages chronicle the work and ruminations of Carolyn Collins Petersen, also known as TheSpacewriter.




I am CEO of Loch Ness Productions. I am also a producer for Astrocast.TV, an online magazine about astronomy and space science.

For the past few years, I've also been a voice actor, appearing in a variety of productions. You can see and hear samples of my work by clicking on the "Voice-Overs, Videos and 'Casts tab.

My blog, TheSpacewriter's Ramblings, is about astronomy, space science, and other sciences.


Ideas and opinions expressed here do not represent those of my employer or of any other organization to which I am affiliated. They're mine.
Subscribe in a reader
Visit my main site at: TheSpacewriter.com.
**I encourage comments and discussion; please keep it polite and respectful. I do moderate them to weed out spam, but I also refuse to post any messages that contain harassing, demeaning, rude, or profane language. I run a respectable establishment here.
Contact me for writing and voice-over projects at: cc(dot)petersen(at)gmail(dot)com
I Twitter as Spacewriter
Blog entry posting times are U.S. Mountain Time (GMT-6:00) All postings Copyright 2003-2011 C.C. Petersen
Spacewriter's Recent Posts
Archives
Calendar
Like space music?
Check out my favorite space music artist: Geodesium at Geodesium.com



Blogroll
September 26, 2004 at 23:59 pm |
Leave a Comment
Sometimes images of distant objects in the universe look like out-of-focus paint daubs on black paper. Not terribly interesting visually, but if you know what you're gazing at, those blobs in space tell a fascinating tale of life in the cosmos less than a billion years after the Big Bang. They may look like shards of light and color, but these objects are now identified as some of the earliest star-forming galaxies in the cosmos.
Now astronomers are debating whether the hottest stars in these early galaxies may have provided enough radiation to "lift a curtain" of cold, primordial hydrogen that cooled after the Big Bang, ushering in the epoch of reionization, a time when the universe became transparent to light. Understanding the role these galaxies played in the EOR is a problem that has perplexed astronomers over the past decade.
The epoch of reionization is thought to have ended 0.5 to one billion years after the Big Bang. Astronomers have been looking for its signature in everything from radio astronomy signals to infrared emissions. The major difficulty in understanding exactly what the story is out there at the end of the first act of galaxy formation. Because the galaxies are so far away, they are very faint and extremely difficult to find. Now Hubble, and very likely other infrared-enabled observatories, along with a scattering of radio telescopes, are pushing the envelope of discover out at dawn of creation.

September 20, 2004 at 18:08 pm |
Leave a Comment
One set of products I work on is planetarium shows. Since we produce and distribute "content" (as it's now called in the biz), we are pretty well-versed in all the things that need to be done to get a show out there to the public. It's not unlike movie-making, in a way—except that our budgets are nowhere near what a typical film budget can be. But, from scripting to visual production to soundtrack to final product, many of the processes are the same.
We start out with a script, or at least an idea for a script. Then I go to work researching the science and writing the first draft. Then we read it out loud to each other and I go back and hone the narrative into speakable words. Sometimes that process can take a few months.
After I've got it in a form I'm happy with, I send it out to the "usual gang of suspects"—a group of scientists and planetarium colleagues who read the script and tell me what's wrong with it (hopefully nothing will be wrong). Their criticism ranges from updating me on current science results to telling me what combinations of words in the narration will or won't work with specific audiences. This sort of editorial oversight is essential. NO writer can function without good editors and a robust editorial process. It's always a learning experience for me.
At some point we figure out what visuals we need for the program. For years, those visuals were only slides. Then we started adding video clips. Now we are double-producing our shows for slide-based facilities AND the new fulldome video theaters where the principal material is a digital video file (like MPEG).
Also somewhere along the line, we have to get a narrator lined up, a studio, and a time when we can all get together to record the narration. If we use a celebrity, our schedule is pretty much determined by the person's availability outside of film or TV work. For example, when we recorded Patrick Stewart for the MarsQuest show we worked around his vacation which was followed by pre-production for a TV movie he was doing. We flew to Los Angeles, met him at the studio, and spent the morning recording the show.
Once that part is done, then we have to produce music to go with the narration, and then put the whole soundtrack together. Then and only then can we mate the visual material in the timeline to make a finished show. The whole process takes months and so many variables affect the schedule that we are never quite sure when a show is officially "done"—in fact, we continue to make little improvements up to the day we start shipping show packages out to clients.
It's an interesting profession and it's great fun to be paid to do something we like as much as we do producing shows!

September 17, 2004 at 21:13 pm |
Leave a Comment
Doing science writing, and being an astronomer, and working with planetarium facilities does have its upside when it comes to traveling: you get to travel around a lot! I ran across this site that allows you to create your own visited country map by clicking through on a form. This is my own travel map, showing where I've been (in red). Clearly I have a lot more places to visit!
Much of my travel in North America has been to planetarium and astronomy conferences, and also to amateur star parties (as a guest speaker). The European visits are a mix of vacation and professional meeting trips. I'd like to get to the other half of the world sometime!
A note about southern hemisphere travel: one of the coolest things you'll ever see from below the equator is the night sky. It is simply stunning, as we found out during our trips to South America. The view just boggles the mind! For some great views of the southern hemisphere sky, visit MrEclipse.com and prepare to be amazed!

Older entries »
<!- wpscanner ->
This blog a wholly pwnd subsidiary of Carolyn Collins Petersen, a.k.a. TheSpacewriter.
Copyright 2013, Carolyn Collins Petersen
Inama Nushif!
Image of Horsehead Nebula: T.A.Rector (NOAO/AURA/NSF) and Hubble Heritage Team (STScI/AURA/NASA)
"It is by Coffee alone I set my day in motion. It is by the juice of bean that coffee acquires depth, the tongue acquires taste, the taste awakens the body. It is by Coffee alone I set my day in motion."