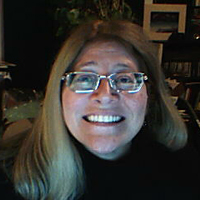 These pages chronicle the work and ruminations of Carolyn Collins Petersen, also known as TheSpacewriter.




I am CEO of Loch Ness Productions. I am also a producer for Astrocast.TV, an online magazine about astronomy and space science.

For the past few years, I've also been a voice actor, appearing in a variety of productions. You can see and hear samples of my work by clicking on the "Voice-Overs, Videos and 'Casts tab.

My blog, TheSpacewriter's Ramblings, is about astronomy, space science, and other sciences.


Ideas and opinions expressed here do not represent those of my employer or of any other organization to which I am affiliated. They're mine.
Subscribe in a reader
Visit my main site at: TheSpacewriter.com.
**I encourage comments and discussion; please keep it polite and respectful. I do moderate them to weed out spam, but I also refuse to post any messages that contain harassing, demeaning, rude, or profane language. I run a respectable establishment here.
Contact me for writing and voice-over projects at: cc(dot)petersen(at)gmail(dot)com
I Twitter as Spacewriter
Blog entry posting times are U.S. Mountain Time (GMT-6:00) All postings Copyright 2003-2011 C.C. Petersen
Spacewriter's Recent Posts
Archives
Calendar
October 2004
S
M
T
W
T
F
S
« Sep
Nov »
1
2
3
4
5
6
7
8
9
10
11
12
13
14
15
16
17
18
19
20
21
22
23
24
25
26
27
28
29
30
31
Like space music?
Check out my favorite space music artist: Geodesium at Geodesium.com



Blogroll
October 26, 2004 at 12:45 pm |
Leave a Comment
I thought I'd lend my "space" here to my friend Kelly Beatty from Sky & Telescope Magazine. For the past 20 years or so a bunch of us have been meeting on Sunday afternoon/evenings on Compuserve's Astronomy Forum to chat about astronomy and other such topics. On Wednesday October 27 there will be a lunar eclipse, and we're inviting everybody who's got a good view of the eclipse to log in to the forum (it's open to those with CIS, AOL, and AIM accounts) and share their observations with others! Here's Kelly's invite:
I invite everyone to join us in the Chat Room of Compuserve's
Astronomy Forum on Wednesday night, Oct. 27th, to talk about the total
lunar eclipse as it's happening (it's a real-time exchange — no time
lag!!). This'll be a great chance to describe what you're seeing and
to learn how it looks to others. These kinds of visual observations
can actually be valuable for post-eclipse analyses.

Tentatively, the chat will start at 10 p.m. EDT (7 p.m. PDT) — I
might be there a few minutes earlier or later, depending on how the
weather is here in Boston and on how the Red Sox are doing in Game 4.

To get to the Astronomy Forum, go to
http://community.compuserve.com/astronomy. To join the chat you'll
need to login with an AOL, CompuServe, or AIM account. Use the login
button at upper right on the Forum's home page. (I'm told that AIM
accounts are free.)

I hope to "see" you there on Wednesday!

clear skies,
Kelly

P.S. For times and other background info on the eclipse, see the
messages posted in the Astronomy Forum or go to the observing section
of SkyandTelescope.com

October 19, 2004 at 22:27 pm |
Leave a Comment
Did you ever stand outside looking up at the stars, and then down at the ground, and then wonder to yourself, "How did this planet come into being?"
Of course we all know the standard "theory" about how planets are formed—a star begins to coalesce out of a cloud of gas and dust. Over millions of years this action goes on until things get hot enough in the center to turn on the nuclear furnace that stokes the burning "machine" we call a star. The leftovers are where planets come into being. There's LOTS of stuff left over after a star forms— grains of dust and chunks of ice and clouds of gases and so on. The ice and clouds nearest the star are pretty much "burned off" by the heat from the newborn stellar creation, but the rocks and dust grains stick around. In fact, they start to stick together. IF this goes on for long enough you get bigger and bigger "hunks" of stuff out there trundling around the stars. Eventually these hunks form worlds.
That's the "potted" history of planetary formation. But, how do we observe this going on in other stellar systems today? The Spitzer Space Telescope has just released some observations that reveal large dust clouds around several stars. They likely formed when rocky, embryonic planet "seeds" crashed together, sending debris flying out through space.
It's a chaotic scenario, but a plausible one. And, the scientists using Spitzer are looking for such dusty disks around many nearby stars to see just where collisions are affecting planetary formation in the neighborhood. Before Spitzer, only a few dozen planet-forming discs had been observed around stars older than a few million years. Spitzer's uniquely sensitive infrared vision allows it to sense the dim heat from thousands of discs of various ages.
So, the next time you find yourself out there gazing at the stars and marveling at their seeming serenity, remember this: it's not all as serene as you think. Somewhere around a newborn star is a scene of remarkable chaos. And born out of that chaos in a few million or billion years might be another Earth, and maybe another being to gaze skyward and wonder what's happening "out there."

October 14, 2004 at 21:13 pm |
Leave a Comment
We don't always think of our home planet as a target for space exploration, but of course it is. Satellites lofted into orbit by the National Oceanic and Atmospheric Administration give us near-constant views of the Earth's surface and its weather. Most of us are familiar with the weather sats that give us our daily, weekly, and monthly forecasts, so it's not a big stretch to think of those types of instruments sensing things like volcanic eruptions or other changes on the Earth's surface.
Mt. St. Helens, the volcano in Washington state, is putting on quite a show. You can, if you want to watch it all day long, open up a webcam view of the mountain, taken from an observation post about 5 miles way from the summit of the mountain. If you're really into it, open up NOAA's eye in the sky and follow the action from geosynchronous orbit.
It's kind of cool to think that while we monitor Mars using the rovers and orbiters, we can do the same at Earth, using near-real-time satellite imagery and in-situ cameras on the ground.

Older entries »
<!- wpscanner ->
This blog a wholly pwnd subsidiary of Carolyn Collins Petersen, a.k.a. TheSpacewriter.
Copyright 2013, Carolyn Collins Petersen
Inama Nushif!
Image of Horsehead Nebula: T.A.Rector (NOAO/AURA/NSF) and Hubble Heritage Team (STScI/AURA/NASA)
"It is by Coffee alone I set my day in motion. It is by the juice of bean that coffee acquires depth, the tongue acquires taste, the taste awakens the body. It is by Coffee alone I set my day in motion."