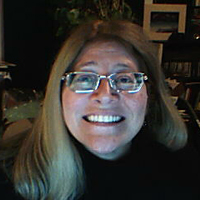 These pages chronicle the work and ruminations of Carolyn Collins Petersen, also known as TheSpacewriter.




I am CEO of Loch Ness Productions. I am also a producer for Astrocast.TV, an online magazine about astronomy and space science.

For the past few years, I've also been a voice actor, appearing in a variety of productions. You can see and hear samples of my work by clicking on the "Voice-Overs, Videos and 'Casts tab.

My blog, TheSpacewriter's Ramblings, is about astronomy, space science, and other sciences.


Ideas and opinions expressed here do not represent those of my employer or of any other organization to which I am affiliated. They're mine.
Subscribe in a reader
Visit my main site at: TheSpacewriter.com.
**I encourage comments and discussion; please keep it polite and respectful. I do moderate them to weed out spam, but I also refuse to post any messages that contain harassing, demeaning, rude, or profane language. I run a respectable establishment here.
Contact me for writing and voice-over projects at: cc(dot)petersen(at)gmail(dot)com
I Twitter as Spacewriter
Blog entry posting times are U.S. Mountain Time (GMT-6:00) All postings Copyright 2003-2011 C.C. Petersen
Spacewriter's Recent Posts
Archives
Calendar
May 2013
S
M
T
W
T
F
S
« Apr
1
2
3
4
5
6
7
8
9
10
11
12
13
14
15
16
17
18
19
20
21
22
23
24
25
26
27
28
29
30
31
Like space music?
Check out my favorite space music artist: Geodesium at Geodesium.com



Blogroll
December 6, 2005 at 8:52 am |
Leave a Comment
There IS more to the universe than meets the unaided eye. That's the story I told in one of my planetarium shows, "More Than Meets the Eye" and I'm stickin' to it. Here's why: each time you shift wavelength "regimes" and look at the sky, you learn more about what makes objects tick. Take the Andromeda Galaxy for example (since it's high overhead in northern hemisphere skies these early winter evenings).
This is the typical picture we see of Andromeda. Beautiful, and since it's the closest spiral galaxy to us, a great example of the general structure of spirals. However, if you look at Andromeda in the infrared, the image changes dramatically.
Suddenly the spiral rings pop into view much more clearly. The dust regions are glowing, and where there's warmed dust, there's action going on. In this case, the action comes from hot stars (and other hot events) warming up the surrounding clouds of dust.
You can read more technical detail about this astonishing "infrared makeover" of Andromeda Galaxy at the Spitzer Newsroom, but for now, just compare and contrast the visible-light image with the two infrared images of our nearest spiral neighbor. Lovely, isn't it?

December 3, 2005 at 23:24 pm |
Leave a Comment
I am a sucker for starbirth regions. This past week while working on the Griffith Observatory exhibit project, I was browsing around various observatory websites, looking for smacking good images of starbirth regions. While we were looking for some specific objects inside stellar nurseries, I couldn't help but be dazzled by this one (although we ended up not using it).
What we're seeing here is a snapshot in time well into the birth process of hot young stars, and as an added bonus, a scattering of smaller young stellar objects which haven't quite started to convert hydrogen to helium in their cores. All the newborn objects in these clusters are embedded in their birth cloud of gas and dust, giving us a pretty nice look at several stages in the formation process of stars. The dark dust clouds could be harboring more incipient stars, but they're being eaten away by radiation from the brightest nearby stars. So, if there ARE any about-to-be-born stars in the clouds, their gas and dust supply may get vaporized by the hot winds blowing off the older stellar siblings.
To read more about this beautiful starforming region, go here.
The stars in this image are more massive that our Sun. But, you kinda have to wonder what our own neck of space looked like when the Sun was being born. AS we all know, it formed about 4.5 billion years ago in a cloud of gas and dust, probably along with a bunch of stellar siblings.
As it turns out, the Spitzer Space Telescope has a great image of sunlike stars in formation. Check it out.
This is quite a bit more interesting because this could well be what we looked like, way back when. The wisps of material are shock fronts in the stellar birth cloud that are carved out by jets streaming from the stellar newborns. What we're seeing here is an infrared view, not what our eyes would detect. But, Spitzer excels in looking at the glow of infrared radiation emitted by hot young objects that are warming up the nearby clouds of gas and dust. If you want to look at this picture in more detail, go here and click on one of the larger images.
See why I love these regions? They just excite the eye—and the imagination!

November 26, 2005 at 10:12 am |
Leave a Comment
What do you see here? When I first saw this image taken by Gemini Observator's Travis Rector, I thought to myself, "hmmm… interesting dust cloud and nebula."
Peter Michaud, Gemini's Public Information Officer, sent it to me along with a press release for me to edit. We chatted about the image, and he asked me if I thought it looked like a Chinese dragon. Up until that moment, I'd been thinking it looked like the snout of a bull, or some cosmic graffiti. A Chinese dragon hadn't occurred to me.
The fact that the two of us could see such different things in it, all recognizable, is a fine example of pareidolia, the perception of a pattern or meaning in something that is actually ambiguous or random (see The Word Spy for other examples of targeted perceptions of random objects or patterns). If you've ever looked up at clouds in the sky and seen ships or cats or capering clowns, then you've been engaging in pareidolia.
A lot of space photos lend themselves to some wonderful flights of imagination. One of my favorites is the Eskimo Nebula.
Hubble Space Telescope took this image of a planetary nebula that only started to look like this about 10,000 years ago. It was a sun-like star, and in another 10,000 years it may look very different, as the wisps of its atmosphere continue to spread out through space.
That's part of the beauty of pareidolia—it has an essentially fleeting quality. Wait long enough and the thing you thought you saw, like the ship in the clouds, goes away as the cloud dissipates. Wait long enough (in cosmic time) and the Chinese Dragon and the Eskimo will go away, too. Enjoy 'em while you can!

Older entries »
<!- wpscanner ->
This blog a wholly pwnd subsidiary of Carolyn Collins Petersen, a.k.a. TheSpacewriter.
Copyright 2013, Carolyn Collins Petersen
Inama Nushif!
Image of Horsehead Nebula: T.A.Rector (NOAO/AURA/NSF) and Hubble Heritage Team (STScI/AURA/NASA)
"It is by Coffee alone I set my day in motion. It is by the juice of bean that coffee acquires depth, the tongue acquires taste, the taste awakens the body. It is by Coffee alone I set my day in motion."