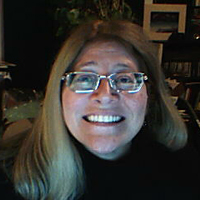 These pages chronicle the work and ruminations of Carolyn Collins Petersen, also known as TheSpacewriter.




I am CEO of Loch Ness Productions. I am also a producer for Astrocast.TV, an online magazine about astronomy and space science.

For the past few years, I've also been a voice actor, appearing in a variety of productions. You can see and hear samples of my work by clicking on the "Voice-Overs, Videos and 'Casts tab.

My blog, TheSpacewriter's Ramblings, is about astronomy, space science, and other sciences.


Ideas and opinions expressed here do not represent those of my employer or of any other organization to which I am affiliated. They're mine.
Subscribe in a reader
Visit my main site at: TheSpacewriter.com.
**I encourage comments and discussion; please keep it polite and respectful. I do moderate them to weed out spam, but I also refuse to post any messages that contain harassing, demeaning, rude, or profane language. I run a respectable establishment here.
Contact me for writing and voice-over projects at: cc(dot)petersen(at)gmail(dot)com
I Twitter as Spacewriter
Blog entry posting times are U.S. Mountain Time (GMT-6:00) All postings Copyright 2003-2011 C.C. Petersen
Spacewriter's Recent Posts
Archives
Calendar
July 2005
S
M
T
W
T
F
S
« Jun
Aug »
1
2
3
4
5
6
7
8
9
10
11
12
13
14
15
16
17
18
19
20
21
22
23
24
25
26
27
28
29
30
31
Like space music?
Check out my favorite space music artist: Geodesium at Geodesium.com



Blogroll
July 29, 2005 at 23:09 pm |
Leave a Comment
One of the interesting aspects (out of many) about my writing and research work on the exhibit project for Griffith Observatory is realizing (again) how quickly things change in astronomy. Just when I think I can say something with great certainty about a celestial object or process, a discovery comes along that shifts the landscape of "what is known."
Take the announcement I got tonight about the discovery of what is likely the 10th planet in our solar system. Astronomers Mike Brown of California Institute of Technology, Chad Trujillo of Gemini Observatory in Hawaii, and David Rabinowitz of Yale University in Connecticut used the Samuel Oschin Telescope at Palomar Observatory to spot a Kuiper Belt object in the outer realms of the solar system that is definitely larger than Pluto (currently the 9th planet of the solar system). Now, anybody who's had their ear to the ground lately has heard a number of conjectures about Pluto and the rest of the KBOs (as they're called). Some folks think that Pluto is merely a planetoid, and doesn't deserve the name "planet." Others maintain Pluto's a planet, and I count myself among them.
There is NO doubt, however, that there are large objects out in the Kuiper Belt, which is a region of space populated by objects like Pluto (some larger, some smaller), most of which date back to the earliest epochs of our solar system's existence. Astronomers are actively searching out these objects and trying to understand them. By studying them, we may find out more about the composition of the cloud of gas and dust from which all the planets, moons, rings, asteroids, and comets formed more than four billion years ago.
So, does this change what I write for the exhibition about the Kuiper Belt, Pluto, and our solar system? An excellent question. I'm sure our discussions about this information will be interesting, indeed!

July 15, 2005 at 12:02 pm |
Leave a Comment
I haven't talked about skygazing in a while. One of the exhibits I'm working on for the Griffith Observatory project explains how and why the rise and set positions of the Sun appear to change over the course of a year. It's a migration that happens because of a confluence of the Earth's tilt and its path around the Sun throughout a year. Many people think that the standing stones at Stonehenge and other places like the Cahokia Woodhenge and the Medicine Wheel in Wyoming are related to rise and set positions of the sun and stars throughout the year. They are almost like three-dimensional calendars in that way.
You can see this phenomenon for yourself if you go out each day and mark the rising and setting position of the Sun and stars along the horizon. As time passes, you'll notice them shifting north and south along the horizon. If you watch long enough, you'll see it repeat over the course of a couple of years—enough to make a predictable statement about where the Sun and stars will rise at a given time over the horizon.
"But I live in the city!" you say, noting that this can't be done as easily from the middle of tall buildings. Yes, that may be true some of the time, but it CAN be done. As proof, I offer you a picture sent to me by my good friend Wendy Carlos. She made it from a composite of three images taken this past week in New York City, at the corner of 23rd and Fifth Avenues, near Union Square. It shows the alignment of sunset that occurs when the Sun's rise and set path along the horizons east and west of Manhattan happen to correspond with an east-west cross street (and it's worth noting that the cross streets don't go exactly east and west). Exact alignments like this occur around June 28 and July 12 each year.
So, even if you live in the middle of a city, and you're an astute observer, you CAN notice things in the sky!

July 10, 2005 at 20:24 pm |
Leave a Comment
I spent part of this past weekend at a science fiction/Star Trek convention in Maryland called Shore Leave. A friend of mine who runs the science programming for the con asked me to come down and give a couple of talks about topics in astronomy. I used to do lectures at Star Trek conventions a lot back when I lived in Denver, and only last year I was a speaker at the World Science Fiction convention in Boston, but it had been a while since I spoke at a Trek-oriented fest.
It was a lot of fun and I'd forgotten just how impressive some of the folks who "build" their own costumes can be. The Klingons in particular are quite good at their costuming and role playing. At least, they were at this con.
My talks were ostensibly about my last book (Visions of the Cosmos) and also about another project I work on, the Gemini Observatory public outreach. The talks went pretty well and I had a great time talking to folks afterwards. The questions are always intriguing at these things, and people are really well-informed. Well… most of the time…
One fellow cornered me during the autograph session on Friday and told me a wandering (but pretty strange tale) about being an abductee, how he was adopted by the Bush family and the Reagans, and how he couldn't talk about any of it. All with a very serious mien. I kept looking for the Candid Camera crew… waiting for somebody to jump out of the woodwork yelling, "surprise…" but he was deadly serious about it.
Another thing I like about cons are the dealer rooms. You can usually find something pretty cool in these places, even if it's just a t-shirt with a witty saying. I found a few neat things for me, the husband, and my folks, who are visiting with us for a while.
If you haven't been to a con in a while (or have never been to one), give it a try. It's gone beyond Trek, that's for sure!!

<!- wpscanner ->
This blog a wholly pwnd subsidiary of Carolyn Collins Petersen, a.k.a. TheSpacewriter.
Copyright 2013, Carolyn Collins Petersen
Inama Nushif!
Image of Horsehead Nebula: T.A.Rector (NOAO/AURA/NSF) and Hubble Heritage Team (STScI/AURA/NASA)
"It is by Coffee alone I set my day in motion. It is by the juice of bean that coffee acquires depth, the tongue acquires taste, the taste awakens the body. It is by Coffee alone I set my day in motion."