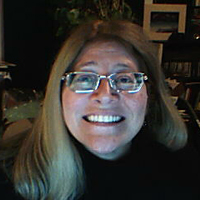 These pages chronicle the work and ruminations of Carolyn Collins Petersen, also known as TheSpacewriter.




I am CEO of Loch Ness Productions. I am also a producer for Astrocast.TV, an online magazine about astronomy and space science.

For the past few years, I've also been a voice actor, appearing in a variety of productions. You can see and hear samples of my work by clicking on the "Voice-Overs, Videos and 'Casts tab.

My blog, TheSpacewriter's Ramblings, is about astronomy, space science, and other sciences.


Ideas and opinions expressed here do not represent those of my employer or of any other organization to which I am affiliated. They're mine.
Subscribe in a reader
Visit my main site at: TheSpacewriter.com.
**I encourage comments and discussion; please keep it polite and respectful. I do moderate them to weed out spam, but I also refuse to post any messages that contain harassing, demeaning, rude, or profane language. I run a respectable establishment here.
Contact me for writing and voice-over projects at: cc(dot)petersen(at)gmail(dot)com
I Twitter as Spacewriter
Blog entry posting times are U.S. Mountain Time (GMT-6:00) All postings Copyright 2003-2011 C.C. Petersen
Spacewriter's Recent Posts
Archives
Calendar
August 2005
S
M
T
W
T
F
S
« Jul
Sep »
1
2
3
4
5
6
7
8
9
10
11
12
13
14
15
16
17
18
19
20
21
22
23
24
25
26
27
28
29
30
31
Like space music?
Check out my favorite space music artist: Geodesium at Geodesium.com



Blogroll
August 28, 2005 at 13:41 pm |
Leave a Comment
Here's another astonishing bit of comparative planetary science to feast your eyes on as you explore the cosmos via the Web. This morning (August 28, 2005) we have been tracking the progress of Hurricane Katrina as it bears down on New Orleans. Earthlings are used to tracking storms this way on our planet; we've been doing it for the past half-century or so and are used to seeing Earth from space (and the actions of its atmosphere).
We've been doing the same thing on Mars now for a couple of years or more. The Red Planet doesn't have hurricanes as we know them, although it does occasionally undergo planet-wide dust storms. But, parts of its surface do experience little storms that are NOTHING like hurricanes, but still fascinating to watch anyway. They're called "dust devils" and they scurry along the dry and dusty plains, raising columns of dust just like little twisters.
Want to watch storms in action? For Earth, surf on over to the Weather Channel, or Goes East satellite page for views of the half of the Earth that the GOES East satellite covers.
For Mars, point your browser to the Mars Exploration Rover Page and look under "Latest Press Images" for the latest weather animations from the Red Planet.
The biggest difference is now that Katrina has the potential to do much damage and take human life. Let's hope for the best and keep our brothers and sisters in the storm's path in our thoughts.

August 13, 2005 at 9:47 am |
Leave a Comment
NASA's next mission to Mars is off and running. The Mars Reconnaissance Orbiter lifted off a couple of days ago and should arrive at Mars in 7 months. This one will orbit the planet, map its surface at really high resolution, and send back a lot more detailed information about what's on the surface of the Red Planet.
It's exciting that we have the ongoing exploration of the solar system. Mercury is due for a visit from MESSENGER in a couple of years. That mission will fill in the gaps of our knowledge left behind by the Mariner mission. Cassini continues to give us more information about Saturn, and of course we have our flotilla of orbiters and rovers on Mars. What's not to like about all this?

August 9, 2005 at 20:55 pm |
Leave a Comment
We went up to Canada for some vacation time this past week and so I didn't have much chance to keep up with the news about the space shuttle landing. We did find out that it was delayed, and I woke up this morning to hear that it landed safely. So, that's a big "whew!" even if we don't have any shuttles going up for the foreseeable future. At least this crew proved that the shuttle could still fly; now if we could just get the fuel tank folks to fix it so that debris doesn't smash into the shuttles during launch, that would be great!
Of course I'm interested because I want to see Hubble Space telescope refurbished and kept on orbit a few more years. Every time I see images from HST like the one below, I just hope that we can hold it together for a couple more years until the shuttle can get back up there and deliver a crew to bring HST back into full functionality.
HST gives us a peek at the distant, early past of the universe. The more it looks farther into space, the further back in our history it lets us see, and to my way of thinking, that's pretty cool stuff!

<!- wpscanner ->
This blog a wholly pwnd subsidiary of Carolyn Collins Petersen, a.k.a. TheSpacewriter.
Copyright 2013, Carolyn Collins Petersen
Inama Nushif!
Image of Horsehead Nebula: T.A.Rector (NOAO/AURA/NSF) and Hubble Heritage Team (STScI/AURA/NASA)
"It is by Coffee alone I set my day in motion. It is by the juice of bean that coffee acquires depth, the tongue acquires taste, the taste awakens the body. It is by Coffee alone I set my day in motion."