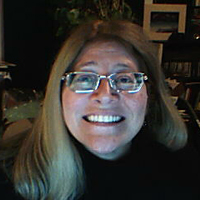 These pages chronicle the work and ruminations of Carolyn Collins Petersen, also known as TheSpacewriter.




I am CEO of Loch Ness Productions. I am also a producer for Astrocast.TV, an online magazine about astronomy and space science.

For the past few years, I've also been a voice actor, appearing in a variety of productions. You can see and hear samples of my work by clicking on the "Voice-Overs, Videos and 'Casts tab.

My blog, TheSpacewriter's Ramblings, is about astronomy, space science, and other sciences.


Ideas and opinions expressed here do not represent those of my employer or of any other organization to which I am affiliated. They're mine.
Subscribe in a reader
Visit my main site at: TheSpacewriter.com.
**I encourage comments and discussion; please keep it polite and respectful. I do moderate them to weed out spam, but I also refuse to post any messages that contain harassing, demeaning, rude, or profane language. I run a respectable establishment here.
Contact me for writing and voice-over projects at: cc(dot)petersen(at)gmail(dot)com
I Twitter as Spacewriter
Blog entry posting times are U.S. Mountain Time (GMT-6:00) All postings Copyright 2003-2011 C.C. Petersen
Spacewriter's Recent Posts
Archives
Calendar
Like space music?
Check out my favorite space music artist: Geodesium at Geodesium.com



Blogroll
June 30, 2006 at 14:56 pm |
1 Comment
What's the cat constellation? Lynx? Leo Major? Leo Minor? All three actually, giving the cat family some permanence among the stars. So, in honor of cats in space, I present the space cats here at thespacewriter.com in honor of Friday Cat Blogging!
I have this theory that cats will rule the spaceways someday. They seem made for space travel, as long as you make sure there's enough cat food (and, of course, a sandbox) for their needs. Those are things I thought about when I wrote Larry Cat In Space (one of the most popular planetarium shows I've done 28-plus years of doing this). We got the cat some food for his journey, but sort of forgot about the sandbox. Next time we'll do better!
Anyway, here's to the Friday Cats!

June 28, 2006 at 12:17 pm |
Leave a Comment
I was going through my filing cabinets recently and found a series of letters I got back in the late 1980s from a young woman in Zimbabwe. I'm not sure how she found me, but she wrote to ask me how she could become an astronaut. All her life, she wrote, she loved the stars. She used to go out and make up her own constellations, in addition to the stories her people (the Shona) told about the stars. Once she even sent me several pages of drawings she made of the night sky, the stars all connected with lines to show me her constellations.
I sent her some astronomy books and encouraged her to keep studying science as long as she could. She didn't have a lot of hope that she'd be allowed to study astronomy since her country needed doctors and computer programmers and more "practical" scientists before it needed astronomers. Eventually we lost track of each other, and in the years since, Zimbabwe has fallen onto very hard times under its current government. So, I don't know what happened to my friend. I hope that she has been able to persevere and study science, and that she looks out at the stars and still does her astronomy. And, now that I think about her again, I'm going to do a little searching out of Shona and Zimbabwean understanding of the stars and the cosmos.

June 25, 2006 at 14:45 pm |
Leave a Comment
We went to a planetarium meeting this past week. There are several each year in various parts of the world, and this one was in Florida in Cape Canaveral. As you might expect, the talk of the meeting was all about planetarium presentations and techniques, along with a good smattering of other topics. We also had a chance to see a Delta rocket launch, carrying a satellite into space. I do like seeing launches!
One of our guest speakers this past week (and our speaker list included people from KSC and JPL, as well), was Phil Plait, known to many as the Bad Astronomer. His website (Bad Astronomy) is a great place to read about astronomy, space science, and the crazy theories and ideas that people come up with and claim as "science." Phil's an old friend and I thoroughly enjoyed his talk on Friday night. If you ever get a chance to hear him, make the time.
I left the meeting wondering what our next steps in space will be. Interestingly the history of planetariums in the U.S. is tied quite closely to the rise of the Space Age. These unique round rooms are changing though, just as our space exploration is morphing into something possibly unrecognizable. Shrinking funding hampers the vision we need to continue space exploration at levels once promised by our first achievements in space. The same thing happens to planetariums, which are also morphing before our eyes. Sure, we're still going to space, sort of. We're exploring Mars with robots and learning amazing things with Hubble Space Telescope (although with the possible loss of the Advanced Camera for Surveys and the "who knows if we'll ever send the last servicing mission to HST" attitude among some mission planners, it's hard to tell what HST's future is now, even though it is still equipped with other working instruments.)
And sure, we're still building planetariums, sort of. But many are closing down, just as NASA is having to choose between funding science and building out the space stations. No easy choices, there, either. New theaters are coming equipped with fulldome video, which forces many other, new choices on planetarium professionals. It's a changing world, and this week's meetings brought the changes in two of my interests—planetarium facilities and the U.S. space agency—into sharp focus.

Older entries »
<!- wpscanner ->
This blog a wholly pwnd subsidiary of Carolyn Collins Petersen, a.k.a. TheSpacewriter.
Copyright 2013, Carolyn Collins Petersen
Inama Nushif!
Image of Horsehead Nebula: T.A.Rector (NOAO/AURA/NSF) and Hubble Heritage Team (STScI/AURA/NASA)
"It is by Coffee alone I set my day in motion. It is by the juice of bean that coffee acquires depth, the tongue acquires taste, the taste awakens the body. It is by Coffee alone I set my day in motion."