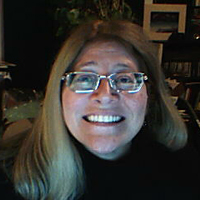 These pages chronicle the work and ruminations of Carolyn Collins Petersen, also known as TheSpacewriter.




I am CEO of Loch Ness Productions. I am also a producer for Astrocast.TV, an online magazine about astronomy and space science.

For the past few years, I've also been a voice actor, appearing in a variety of productions. You can see and hear samples of my work by clicking on the "Voice-Overs, Videos and 'Casts tab.

My blog, TheSpacewriter's Ramblings, is about astronomy, space science, and other sciences.


Ideas and opinions expressed here do not represent those of my employer or of any other organization to which I am affiliated. They're mine.
Subscribe in a reader
Visit my main site at: TheSpacewriter.com.
**I encourage comments and discussion; please keep it polite and respectful. I do moderate them to weed out spam, but I also refuse to post any messages that contain harassing, demeaning, rude, or profane language. I run a respectable establishment here.
Contact me for writing and voice-over projects at: cc(dot)petersen(at)gmail(dot)com
I Twitter as Spacewriter
Blog entry posting times are U.S. Mountain Time (GMT-6:00) All postings Copyright 2003-2011 C.C. Petersen
Spacewriter's Recent Posts
Archives
Calendar
Like space music?
Check out my favorite space music artist: Geodesium at Geodesium.com



Blogroll
February 29, 2008 at 13:29 pm |
Leave a Comment
Learn What's a Planet… and What's Not.. and Why

A couple of years ago you might recall there was a huge uproar about the supposed "demotion" of Pluto from its status as a planet and its re-characterization as a "dwarf planet." The International Astronomical Union adopted a definition of the term "planet" that continues to be batted around in science and public debates about the meaning of "planet."
In the wake of that decision, and because it's one that captured public attention, NASA, The Planetary Science Institute, and the Johns Hopkins University Applied Physics Laboratory have teamed up to offer a special two-day science conference and educator workshop August 14-16, 2008, called the Great Planet Debate: Science As Process.

Its purpose is to discuss science as a process, and use the ongoing debate about what should or should not be a planet as a framework for discussion. It looks like an excellent way for science teachers to get an inside look at the working processes of science that don't always get enough attention in the classroom. If you're interested, check out the web page and contact information. As an added bonus, there will be continuing education credit offered for teachers who attend.

February 28, 2008 at 23:26 pm |
Leave a Comment
This Speaks for Itself
On February 20, the Center for Education Policy released a follow-up report providing a second, and more in-depth look at the magnitude of changes in school curriculums since the passage of "No Child Left Behind." In a report published in the summer of 2007, the CEO found that school districts are cutting back on the teaching of subjects like science and music in order to stress math and reading arts. Now, the follow-up report is giving a deep look at just what's happening among the schools that were surveyed (which make up a "typical" survey of schools in the United States). It shows that 62 percent of school districts had increased time for English language arts and/or math in elementary schools since school year 2001-2. (The full report is available here.)
Ordinarily this would be good, but it comes at a cost that's not good for science education because, at the same time, 44 percent of the reporting schools had increased their ELA/Math coursework, while at the same time decreasing the amount of time in other areas, notably science, social studies, art, music, physical education, recess, and lunch.
The "money" quote from the report is especially daunting for those who want to see MORE science education going on. In school year 2006-7, the school districts that reported increases or decreases in certain instructional activities had to make some remarkable changes:
"Among the districts that reported both increasing time for ELA or math and reducing time in other subjects, 72% indicated that they reduced time by a total of at least 75 minutes per week for one or more of these other subjects. For example, more than half (53%) of these districts cut instructional time by at least 75 minutes per week in social studies, and the same percentage cut time by at least 75 minutes per week in science."
For a country that prides itself on being technologically savvy, the results of NCLB are part of a disturbing trend that really needs to be reversed.

February 26, 2008 at 12:23 pm |
Leave a Comment
A Swift Look at Starbirth in M33
Star formation is a hot topic, in more ways than one. When you look at an ultraviolet (UV) view of starbirth, you can see why. Hot young stars light up their birth clouds in ultraviolet light. In turn, the clouds radiate UV, a starbirth nebula's equivalent of a baby monitor in a nursery. So, if you want to see where the hot action of star birth is taking place in a galaxy, look at it with a special UV-sensitive instrument. The star nurseries just stand out like beacons.
That's basically what the Swift satellite did. It's a multi-wavelength orbiting observatory, tuned to gamma-ray, x-ray, and UV/optical wavelengths of light. Between December 23, 2007 and January 4, 2008, Swift took a look at the galaxy M33 in the constellation Triangulum. The image mosaic it returned pinpoints the UV tracers of starbirth in exquisitely high resolution. It shows a galaxy ablaze with starbirth regions more active than the Milky Way or Andromeda galaxies.
Image credit: NASA/Swift Science Team/Stefan Immler. This image was created by combining 39 different frames taken during 11 hours of exposures. The bright areas are starbirth regions.

Older entries »
<!- wpscanner ->
This blog a wholly pwnd subsidiary of Carolyn Collins Petersen, a.k.a. TheSpacewriter.
Copyright 2013, Carolyn Collins Petersen
Inama Nushif!
Image of Horsehead Nebula: T.A.Rector (NOAO/AURA/NSF) and Hubble Heritage Team (STScI/AURA/NASA)
"It is by Coffee alone I set my day in motion. It is by the juice of bean that coffee acquires depth, the tongue acquires taste, the taste awakens the body. It is by Coffee alone I set my day in motion."