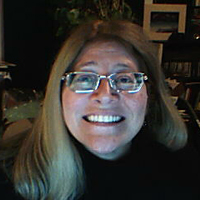 These pages chronicle the work and ruminations of Carolyn Collins Petersen, also known as TheSpacewriter.




I am CEO of Loch Ness Productions. I am also a producer for Astrocast.TV, an online magazine about astronomy and space science.

For the past few years, I've also been a voice actor, appearing in a variety of productions. You can see and hear samples of my work by clicking on the "Voice-Overs, Videos and 'Casts tab.

My blog, TheSpacewriter's Ramblings, is about astronomy, space science, and other sciences.


Ideas and opinions expressed here do not represent those of my employer or of any other organization to which I am affiliated. They're mine.
Subscribe in a reader
Visit my main site at: TheSpacewriter.com.
**I encourage comments and discussion; please keep it polite and respectful. I do moderate them to weed out spam, but I also refuse to post any messages that contain harassing, demeaning, rude, or profane language. I run a respectable establishment here.
Contact me for writing and voice-over projects at: cc(dot)petersen(at)gmail(dot)com
I Twitter as Spacewriter
Blog entry posting times are U.S. Mountain Time (GMT-6:00) All postings Copyright 2003-2011 C.C. Petersen
Spacewriter's Recent Posts
Archives
Calendar
Like space music?
Check out my favorite space music artist: Geodesium at Geodesium.com



Blogroll
March 30, 2008 at 19:51 pm |
Leave a Comment
Feel the Breeze?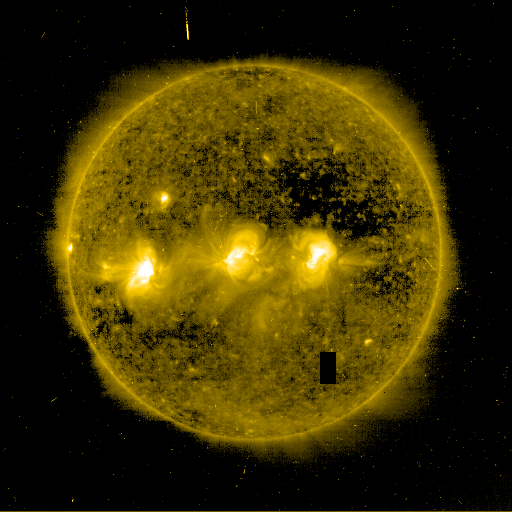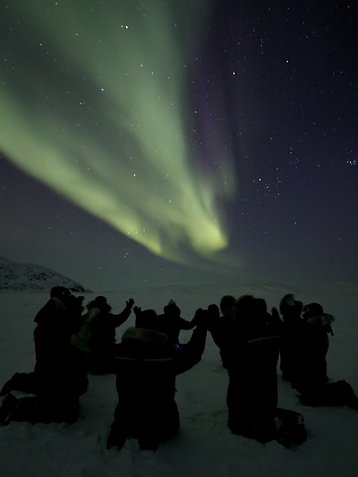 The Solar and Heliospheric Observer sent along a picture of a huge coronal hole that's opened up on the Sun recently (it's that dark area to the upper right of the three sunspots and their associated magnetic fields.
There's a brisk solar wind breeze blowing out from this hole, which will buffet Earth's upper atmosphere for a while. This image shows the Sun in extreme ultraviolet wavelengths. The Earth is right smack in the center of the breeze, which is causing some nice auroral displays at high latitudes. What's happening is that high-speed plasmas in the solar wind are colliding with the upper part of our atmosphere and our magnetic field. This heats the gas molecules up there and causes them to glow.
Here's a nice image on Spaceweather.com, taken by Sylvain Serre in Nunavik, Quebec that shows what happens when the solar wind smacks our upper atmosphere around. Serre and some friends were out viewing the sky when the auroral display started up and basked in the glow for while. There's a good chance that there'll be more auroral displays the next couple of nights, so if you live in an area where such things light up your sky, check 'em out!

March 30, 2008 at 12:05 pm |
Leave a Comment
Dark Enough to See Stars?
We spent our Earth Hour last night in front of a nice fire in the fireplace, all of our lights turned off (but not, alas the rendering computer). It was nice. Outside, the sky was quite clear, and Sirius was hugely bright in the southwestern sky. A bit too cold to stay out the entire hour, but still a nice way to spend a Saturday night. In Sydney, Australia (where Earth Hour originated, and a place I thoroughly loved visiting a couple of years ag0), some 2 million people hit the "off" switch on their lights, and as the globe turned, millions more did the same. (You can find out where else they did it by doing a search on "Earth Hour" in Google, which itself went black to celebrate this relaxing practice that saved energy across the world. Cities around the world took place, making an event out of it.) I liked the story from Denmark, detailing how crowds of people gathered in Copenhagen to do a little stargazing through telescopes set up by the Copenhagen Astronomy Society.
I had this idea (and I'm sure others have, too) that an Earth Hour every week or so wouldn't be a bad thing. A time to stargaze, or sit and visit with loved ones, or simply meditate on life's mysteries while in the dark. A little slowdown in life's headlong rush. Not such a bad thing.

March 28, 2008 at 13:35 pm |
Leave a Comment
If Only for an Hour
Earth Hour is tomorrow night, Saturday, March 29. Starting at 8 p.m. local time, cities around the world will turn off their lights for an hour. Join them. Turn off your lights and make a difference. Read more about it at the Earth Hour website.
What do you get out of it? A chance to see the stars. To reduce your impact on the air, water, and oceans for an hour. It's true that every little bit helps. So, turn off your lights at 8 p.m. YOUR time! And enjoy the darkness. Who knows what you might see?

Older entries »
<!- wpscanner ->
This blog a wholly pwnd subsidiary of Carolyn Collins Petersen, a.k.a. TheSpacewriter.
Copyright 2013, Carolyn Collins Petersen
Inama Nushif!
Image of Horsehead Nebula: T.A.Rector (NOAO/AURA/NSF) and Hubble Heritage Team (STScI/AURA/NASA)
"It is by Coffee alone I set my day in motion. It is by the juice of bean that coffee acquires depth, the tongue acquires taste, the taste awakens the body. It is by Coffee alone I set my day in motion."