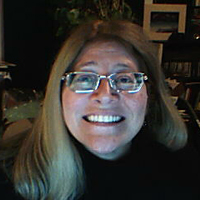 These pages chronicle the work and ruminations of Carolyn Collins Petersen, also known as TheSpacewriter.




I am CEO of Loch Ness Productions. I am also a producer for Astrocast.TV, an online magazine about astronomy and space science.

For the past few years, I've also been a voice actor, appearing in a variety of productions. You can see and hear samples of my work by clicking on the "Voice-Overs, Videos and 'Casts tab.

My blog, TheSpacewriter's Ramblings, is about astronomy, space science, and other sciences.


Ideas and opinions expressed here do not represent those of my employer or of any other organization to which I am affiliated. They're mine.
Subscribe in a reader
Visit my main site at: TheSpacewriter.com.
**I encourage comments and discussion; please keep it polite and respectful. I do moderate them to weed out spam, but I also refuse to post any messages that contain harassing, demeaning, rude, or profane language. I run a respectable establishment here.
Contact me for writing and voice-over projects at: cc(dot)petersen(at)gmail(dot)com
I Twitter as Spacewriter
Blog entry posting times are U.S. Mountain Time (GMT-6:00) All postings Copyright 2003-2011 C.C. Petersen
Spacewriter's Recent Posts
Archives
Calendar
Like space music?
Check out my favorite space music artist: Geodesium at Geodesium.com



Blogroll
June 29, 2008 at 15:06 pm |
Leave a Comment
Look Over Here…
It may come as a surprise to folks to learn that we on Earth don't live in the middle of the Milky Way Galaxy. We actually live out in the suburbs, about 26,000 light-years away from all the action at the center of our stellar city. That's actually a good thing, because from all accounts, the core of the Milky Way has a black hole or two, and a whole lot of starburst activity and other stuff going on, some of it not very healthy to be around. Those aren't conditions conducive to a nice quiet life on a water-bearing world such as ours.
Nonetheless, like urban folk all over the world, sometimes we get an itch to see the "downtown" area with its bright lights and excitement. So, we try to look at the center of the galaxy, only to find that it's hidden by dust clouds. In northern hemisphere summer, you can go out a couple of hours or so after sunset and look south toward the constellation Sagittarius (shown in the image above from Wikipedia). Just off the tip of the spout in the teapot shape of Sagittarius is where the center of the Milky Way is located. The bright clouds are stars that lie between us and the core of the galaxy, which is hidden behind dust clouds. For folks in the southern hemisphere, Sagittarius is going to be overhead or even north of overhead (depending on where you are). But, no matter where you live, if you can get outside and take a gander at Sagittarius, you'll be looking toward the heart of our home galaxy.
Now, it turns out we can look through that dust if we use a telescope equipped with infrared detectors. Infrared light CAN get through the dust. The image at left is from the Spitzer Space Telescope, and it shows the core of the galaxy-the stuff we can't see with our visible-light eyes. There are hundreds of millions of stars packed into that scene, along with dark dust clouds that even infrared light couldn't pierce.
It's kind of fascinating to go out and look up at that region of the sky, which seems rather placid in visible light. Yet, behind all those dust clouds are some fascinating events taking place. Think about it when you go out to check out the center of our galaxy when you're stargazing over the next couple of months.

June 27, 2008 at 16:52 pm |
1 Comment
Complex Molecules in Space
A few months ago I attended a day-long workshop about the chemical origins of life. The talks were aimed at tracing the chemicals that make up our very basic units (RNA, DNA) from first principles to the garden of biologic diversity we inhabit today. One of the talks focused on the finding the chemical precursors of life in interstellar dust clouds, which is really kind of a mind-blowing concept. But, when you think about it, since everything is chemical in origin, it makes sense that some of the chemicals that existed in the cloud our solar system formed in would also play a part in the origin of life.
There are organic molecules everywhere in space (and obviously here on Earth, but also at Jupiter, Saturn, and Titan. Researchers at Imperial College in London (England) have identified xantine and uracil — two very complex molecules needed to form RNA and DNA — in fragments of a meteorite that landed in Australia. The molecules didn't come from Earth; they were present in whatever place the meteorite first formed. Which means that those molecules existed when the solar system formed, some 4.5 billion years ago. Eventually, rocks containing those molecules landed on Earth. It's not much of a leap of the imagination to see that the ingredients for life could well have been delivered from space, and that we are really and truly "space stuff."
What this should tell you is that the search for life in the universe isn't really a search for little green men or cosmic omnisciences. It's a journey that organic chemistry will lead, and all we have to do is study what it gives us.

June 25, 2008 at 22:07 pm |
Leave a Comment
It Began with a Flashlight
Let's  change gears here a bit and extend our gaze out to the stars. Back when I was a kid, somebody told me about light speed. It was on a summer night and we were outside looking up at the stars. To give me an idea of how far away they were, my companion turned on the flashlight we had been playing with, pointed it up to the sky, and flicked it on and off. He explained that in one second, that flashlight beam had traveled 186,000 miles (300,000 kilometers). I couldn't even begin to wrap my head around the idea at the time. What came next really boggled my mind: even if that light traveled all night, it still wouldn't have even left the solar system. It would take years to get to the next star, if it got that far.
Wow.
I played a lot with flashlights (no doubt annoying my parents who had to keep buying batteries for them) trying to figure out how we could send signals to space using them. It didn't occur to me (because I didn't know until much later) that most of the light would eventually be absorbed by interplanetary and (and if I was lucky) interstellar dust. So, my signals to beings on distant planets likely will never get very far.
Human beings, however, are sending out other signals that ARE getting "out there." In fact, the leading edge of that signal "front" is about 75 years away from us. It's a spherical "front" carrying a steady stream of signals stretching back to the first radio and TV broadcasts to signals that are just now leaving our planet. As it turns out, there are some stars with planets around them that lie inside that expanding sphere of influence. Any beings on those planets who can receive broadcasts are probably trying to puzzle out just what it is we're trying to tell the universe. And somewhere, lost in all that noise, I'd like to imagine that my feeble little flashlight signals are limping along, telling the cosmos that I said "hi." (Of course they're not, but it's kind of an awe-inspiring thought, anyway…)

Older entries »
<!- wpscanner ->
This blog a wholly pwnd subsidiary of Carolyn Collins Petersen, a.k.a. TheSpacewriter.
Copyright 2013, Carolyn Collins Petersen
Inama Nushif!
Image of Horsehead Nebula: T.A.Rector (NOAO/AURA/NSF) and Hubble Heritage Team (STScI/AURA/NASA)
"It is by Coffee alone I set my day in motion. It is by the juice of bean that coffee acquires depth, the tongue acquires taste, the taste awakens the body. It is by Coffee alone I set my day in motion."