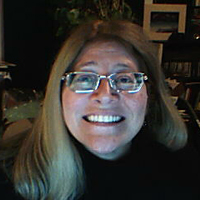 These pages chronicle the work and ruminations of Carolyn Collins Petersen, also known as TheSpacewriter.




I am CEO of Loch Ness Productions. I am also a producer for Astrocast.TV, an online magazine about astronomy and space science.

For the past few years, I've also been a voice actor, appearing in a variety of productions. You can see and hear samples of my work by clicking on the "Voice-Overs, Videos and 'Casts tab.

My blog, TheSpacewriter's Ramblings, is about astronomy, space science, and other sciences.


Ideas and opinions expressed here do not represent those of my employer or of any other organization to which I am affiliated. They're mine.
Subscribe in a reader
Visit my main site at: TheSpacewriter.com.
**I encourage comments and discussion; please keep it polite and respectful. I do moderate them to weed out spam, but I also refuse to post any messages that contain harassing, demeaning, rude, or profane language. I run a respectable establishment here.
Contact me for writing and voice-over projects at: cc(dot)petersen(at)gmail(dot)com
I Twitter as Spacewriter
Blog entry posting times are U.S. Mountain Time (GMT-6:00) All postings Copyright 2003-2011 C.C. Petersen
Spacewriter's Recent Posts
Archives
Calendar
Like space music?
Check out my favorite space music artist: Geodesium at Geodesium.com



Blogroll
October 31, 2008 at 11:10 am |
Leave a Comment
Do It Right
So, the folks planning the final servicing mission to Hubble Space Telescope have announced that they will have to push back that mission because spare flight unit for the data handling system won't be ready in time for the suggested February mission.  Clearly they have to bring the unit up to date (modernize it) and that will take some time and testing to do.  It cheers me somewhat to know that they won't rush the spare to space, and I just hope that the Side B fix will hold until they can get up there to refit the telescope for its final few years of service.
Hubble's a pretty complex set of machinery.  It's worth it to take the time to make sure things are right. After all, once the astronauts leave it behind after the mission, it'll have to last a good  number of years until JWST is up and running.
The good news for now is that the systems are up and running, instruments are being recalibrated after the Side B switchover, and science data is flowing.
Hubble is a machine close to my heart. I (along with Jack Brandt of the University of New Mexico), wrote Hubble Vision: Astronomy with the Hubble Space Telescope
first published in 1995. Things moved along pretty quickly with the telescope, so in 1998 we wrote a second edition, called Hubble Vision: Further Adventures with the Hubble Space Telescope
. In addition, I've written a couple of planetarium shows about the telescope — the second one is now a fulldome video called Hubble Vision. I'll probably write a third documentary sometime soon to bring HST fans up todate in fulldome form.
All this was stimulated by my experiences in graduate school working as a  small part of one of the instrument teams.  I knew the telescope was turning out science, even after the spherical aberration was discovered. I wanted to tell its story and so Jack and I set out to do that in our books. The shows have been popular and I can see myself doing another one someday.  There's just something fascinating about the telescope and the visions of the universe it has given us.
***
By the way, if you're a U.S. citizen reading this, please remember to vote on Tuesday. If you can take advantage of early voting, please do. It's your right to vote, no matter WHO you favor. Please vote.

October 30, 2008 at 11:54 am |
2 Comments
And Sending Great Images Again!
To celebrate a triumphant comeback from the jaws of Side-A madness, Hubble Space Telescope folk pointed the observatory at a pair of interacting galaxies called Arp 147 that just sort of happen to form what looks  like the number "10″ (if you stretch your imagination a little.  This WFPC2 image shows that everything's in working order and HST's back to doing science.  Let's hope it stays working well until the servicing mission can get there to do HST's long-awaited cosmic makeover.
So, what's happening in this picture?
The left-most galaxy, or the "one" in this image, is relatively undisturbed apart from a smooth ring of starlight. It appears nearly on edge to our line of sight. The galaxy on the right is the "zero" in this 10. It's a clumpy, blue ring crammed full of regions where intense star formation is taking place.
The blue ring was most probably formed after the galaxy on the left passed through the galaxy on the right. Just as a pebble thrown into a pond creates an outwardly moving circular wave, the collision and "punch through" of one galaxy through another sent a density wave out from the point of impact. It collided with material in the target galaxy that was moving inward due to the gravitational pull of the two galaxies. The result?  More shocks and clumps of dense gas were produced. This spurred the star formation we see in the galaxy on the right. The dusty reddish knot at the lower left of the blue ring probably marks the location of the original nucleus of the galaxy that was hit.

October 29, 2008 at 19:02 pm |
Leave a Comment
007 Fans Ready?
The latest in the James Bond series of movies takes a turn toward the astronomical in its choice of locations — the Residencia for astronomers and staff at European Southern Observatory and its Paranal site in the Atacama Desert of Chile.  I wrote about this on March 25, 2008, when ESO first mentioned that the moviemakers had spent time doing location shooting for Quantum of Solace at the observatory.
I've never been to Paranal, but from my experience at other high desert locations, I would imagine that this was quite an undertaking to shoot at high altitude (Paranal is at 2600 meters — about 8,500 feet) at a working observatory, where work doesn't stop when the clapper board descends. In addition, the environment around Paranal is quite delicate, and the film crews had to be careful for both themselves and the ecosystem.
The movie opens in theaters in the UK on Hallowe'en and the following week around the world. There's a podcast at the observatory's website as well as more information about the shooting and how the Paranal site came to be chosen by the filmmakers.  While you're there, you can explore some of the cosmic wonders that are being observed at Paranal, too!

Older entries »
<!- wpscanner ->
This blog a wholly pwnd subsidiary of Carolyn Collins Petersen, a.k.a. TheSpacewriter.
Copyright 2013, Carolyn Collins Petersen
Inama Nushif!
Image of Horsehead Nebula: T.A.Rector (NOAO/AURA/NSF) and Hubble Heritage Team (STScI/AURA/NASA)
"It is by Coffee alone I set my day in motion. It is by the juice of bean that coffee acquires depth, the tongue acquires taste, the taste awakens the body. It is by Coffee alone I set my day in motion."