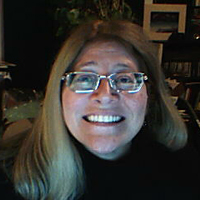 These pages chronicle the work and ruminations of Carolyn Collins Petersen, also known as TheSpacewriter.




I am CEO of Loch Ness Productions. I am also a producer for Astrocast.TV, an online magazine about astronomy and space science.

For the past few years, I've also been a voice actor, appearing in a variety of productions. You can see and hear samples of my work by clicking on the "Voice-Overs, Videos and 'Casts tab.

My blog, TheSpacewriter's Ramblings, is about astronomy, space science, and other sciences.


Ideas and opinions expressed here do not represent those of my employer or of any other organization to which I am affiliated. They're mine.
Subscribe in a reader
Visit my main site at: TheSpacewriter.com.
**I encourage comments and discussion; please keep it polite and respectful. I do moderate them to weed out spam, but I also refuse to post any messages that contain harassing, demeaning, rude, or profane language. I run a respectable establishment here.
Contact me for writing and voice-over projects at: cc(dot)petersen(at)gmail(dot)com
I Twitter as Spacewriter
Blog entry posting times are U.S. Mountain Time (GMT-6:00) All postings Copyright 2003-2011 C.C. Petersen
Spacewriter's Recent Posts
Archives
Calendar
May 2013
S
M
T
W
T
F
S
« Apr
1
2
3
4
5
6
7
8
9
10
11
12
13
14
15
16
17
18
19
20
21
22
23
24
25
26
27
28
29
30
31
Like space music?
Check out my favorite space music artist: Geodesium at Geodesium.com



Blogroll
December 30, 2009 at 21:23 pm |
1 Comment
Sunspots Are on the Rise?
My dad is an inveterate sunspot watcher. He once spent 11 years charting sunspots, drawing a solar chart with its sunspots for each day — he's that into the phenomenon. Of course, he noticed right away that the motions of sunspots follow a path as the Sun rotates, and he charted the solar max and min for that time. He's not a trained astronomer — he's an acute observer and his fascination with the Sun and its activity is a marvelous thing.
Some years ago he had the chance to chat with then-director of AAVSO, the late Dr. Janet Mattei. He told her about his 11 years of hand-drawn charts and she was astounded at what he'd done — and remarked at how detailed his drawings were. Daddy and Janet had a long chat about sunspots and observing them and how the Sun is a variable star. I think that visit with Janet remains one of Daddy's most treasured memories.  Well, that, and being able to visit Harvard Observatory for the Cecelia Payne-Gaposchkin centenary that year.
We just spent a few days in Arizona for the holidays, and to celebrate Daddy's 80th birthday. Even though he's hospitalized right now, Daddy's still going strong for sunspots — so much so that now I always think of them as "Dadspots".
He's not dragging the sunscope out so much, but nowadays does his sunspot-spotting via the World Wide Web. He mentioned to me the other day that he'd noticed more sunspots and we talked awhile about the coming rise in solar activity that always accompanies a solar maximum (in the 11-year cycle of solar activity).  He'd already noticed the sunspot group 1039, which is part of the new solar cycle 24 that will let us see a steady rise in activity over the next few years.  And, I expect Daddy'll keep his attention focused on sunspots (Dadspots) — as long as he can.
How much activity can we expect? Even though December 2009 sunspot numbers were up, the new solar cycle is predicted to be below average in intensity compared to solar maxima of other years. Even so, the current rise in sunspots and solar activity (if it continues) will be a relief to solar researchers after the long sunspot drought we've had over the past couple of years. Everybody's keeping an eye on the Sun (well, not literally — NEVER look at the Sun directly without proper protection) to see if the rise in spots will continue.
For my part, to honor my dad's life-long interest in sunspots, I'm renaming this new cycle the "John H. Collins, Sr. Solar Cycle." Of course, it's completely unofficial, but if you'd like to use that name in blog posts and tweets, I'm sure he would be honored.  Let's hope for more Dadspots!

December 23, 2009 at 11:00 am |
Leave a Comment
Get Acquainted with the Night Sky
One of our yearly traditions at TheSpacewriter's place is to send out holiday letters bringing our family and friends up to date on our lives. In keeping with our love of astronomy, we always include a little star chart on the back of the letter so that our BFFs can participate in what we always think of as the "Great Annual Family (and Friends) Star Party."  This year is no different — the letters went out last week and we're hoping that sometime in the next week or so, all our buds can go out and check out the sky.  I thought that I'd share it with all of my blog readers, too.  Whether you're a grizzled stargazing veteran or a first-timer, there's something here for you to look at.
First, here's the chart. Feel free to download it and look at it on your computer. I made it using  TheSky, by Software Bisque.
Next, the tour.  To see this scene, go out around 9:30 p.m. (2130 hours) and face south.  (Be sure and dress warmly even if you live somewhere warm — nights can get chilly anywhere!) You should be able to see the stars of the constellation Orion, the Hunter. The star Betelgeuse makes his upper left shoulder, and the bright star Rigel is his lower right knee.  There are three bright stars slanting through the middle of the constellation. These are the Belt Stars. If you draw an imaginary line down through the Belt Stars in a southeasterly direction, you'll come to the bright star Sirius.  It's the brightest star in our night-time sky.
Just below the Belt Stars you can — if you have a fairly dark skygazing site — be able to make out a fuzzy patch. That's the Orion Nebula — a starbirth region that lies about 1,500 light-years away from us.  The light you see left that region around 1,500 years ago!
Now, next to Orion (the constellation) is another one called Taurus, the Bull. His face (or horns, depending on how you look at it) are traced out by V-shaped cluster of stars called the Hyades.  The bright star called Aldebaran is not really part of the Hyades — it just happens to be in our line of sight between Earth and the cluster.
Not far from the Hyades, look for a smaller cluster called the Pleiades. This little cluster really has several hundred stars, plus some x-ray and radio sources, and a few brown dwarfs!  Think about all that as you gaze on this little glittery cluster.
If you have a pair of binoculars, take them along with you to enhance your gazing. They may help you see a few more stars and details in the nebula and clusters. If you have a telescope — well, you can have a great time seeing these objects in greater detail for the first time — or through a revisit if you're an old fan. Whatever you do — enjoy your stargazing and have a wonderful holiday season!

December 22, 2009 at 13:14 pm |
Leave a Comment
Since 365 Days of Astronomy Began?
Hard to believe that this wonderful "podcast-a-day" about astronomy-related topics is nearly a year old. It's been interesting to listen to so many different viewpoints on astronomy, space science, planetary science, scientists, astronomers, and so on. It's also been fun producing 11 of the segments for the project.
The good news is that 365 Days of Astronomy will continue into 2010 and from what I hear, the year is filling up fast. I'll be back, and I hope that a lot of other contributors will be back, too. And, of course it will be good to welcome first-timers to the group, too.
My last podcast for 2009 is "airing" today — it's a tribute to Carl Sagan. I think that Dr. Sagan would be pleased to see so many people sharing their personal visions of the cosmos through 365 Days, just as he shared his personal voyage through the landmark series, Cosmos: A Personal Voyage. I also think he'd also be amazed at what the Web and Internet have become — in a good way — as places to share the latest and greatest about astronomy and space physics.
That's the beauty of the 365 Days project — it disseminates people's personal visions about a science that touches us all.  If you haven't listened to 365 Days, you have a whole year of podcasts to catch up on. And, there's another year to look forward to, so check it out!  And, if you're so inclined, think about producing a podcast for it.  The contact information is on the main page and I know that they'd love to hear from you.
Happy listening!

Older entries »
<!- wpscanner ->
This blog a wholly pwnd subsidiary of Carolyn Collins Petersen, a.k.a. TheSpacewriter.
Copyright 2013, Carolyn Collins Petersen
Inama Nushif!
Image of Horsehead Nebula: T.A.Rector (NOAO/AURA/NSF) and Hubble Heritage Team (STScI/AURA/NASA)
"It is by Coffee alone I set my day in motion. It is by the juice of bean that coffee acquires depth, the tongue acquires taste, the taste awakens the body. It is by Coffee alone I set my day in motion."