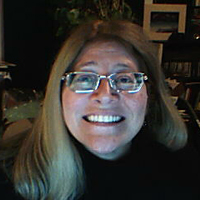 These pages chronicle the work and ruminations of Carolyn Collins Petersen, also known as TheSpacewriter.




I am CEO of Loch Ness Productions. I am also a producer for Astrocast.TV, an online magazine about astronomy and space science.

For the past few years, I've also been a voice actor, appearing in a variety of productions. You can see and hear samples of my work by clicking on the "Voice-Overs, Videos and 'Casts tab.

My blog, TheSpacewriter's Ramblings, is about astronomy, space science, and other sciences.


Ideas and opinions expressed here do not represent those of my employer or of any other organization to which I am affiliated. They're mine.
Subscribe in a reader
Visit my main site at: TheSpacewriter.com.
**I encourage comments and discussion; please keep it polite and respectful. I do moderate them to weed out spam, but I also refuse to post any messages that contain harassing, demeaning, rude, or profane language. I run a respectable establishment here.
Contact me for writing and voice-over projects at: cc(dot)petersen(at)gmail(dot)com
I Twitter as Spacewriter
Blog entry posting times are U.S. Mountain Time (GMT-6:00) All postings Copyright 2003-2011 C.C. Petersen
Spacewriter's Recent Posts
Archives
Calendar
Like space music?
Check out my favorite space music artist: Geodesium at Geodesium.com



Blogroll
April 29, 2009 at 5:01 am |
3 Comments
An Introduction to Large-Scale Structure
One of the coolest exhibits I've ever seen is taking up a wall at the Griffith Observatory in Los Angeles, California. It's called The Big Picture, and is a deep view of a very small region in the constellation Virgo. It was taken using the Samuel Oschin Telescope on Palomar Mountain in California.
What makes this picture amazing is that it is a single continuous digital sky image, portrayed in porcelain tiles. It has at least a million galaxies and thousands of quasars depicted in it, plus asteroids, and a comet.  The galaxies are part of the Virgo Cluster, the nearest big cluster to our own Local Group of Galaxies. Beyond them are the other galaxies, all part of the large-scale structure of the universe.
The Big Picture is the focus of today's 365 Days of Astronomy podcast — which Mark and I produced. So, go over and check it out. I've also got a related page about it and the large-scale structure of the cosmos, here.
You can also see a video I've produced about The Big Picture as part of Astrocast.TV starting on May 1. I've joined the crew of Astrocast.tv to produce a monthly segment called The Astronomer's Universe. Either way, be sure and check out this amazing image–it'll take your breath away.

April 28, 2009 at 11:32 am |
2 Comments
What's it Like?
A bunch of years ago I was gifted (by Mr. SpaceWriter) with an all-expenses-paid trip to Space Camp for adults held in Huntsville, Alabama. The object was a week's worth of training in shuttle operations, and it was one of the coolest things I had done in my life to that point.  It wasn't all kids' play — we actually spent our days in classes learning about propulsion systems, life support systems, launch systems, etc.  Some of our lecturers were actual NASA engineers, one of whom had come to NASA from Germany in the 50s.  We spent hours in simulators and, no surprise to any of my readers, I suppose, I ended up as shuttle commander for my flight.  I had a pilot, two mission specialists and two payload specialists.  We trained together each day, and then at the end of the week, we "flew" a simulated 2-hour mission.  We had been warned in advance that there would be some anomalies thrown at us, so we had to be prepared.
Our launch was great, we cast off our SRBs on the nominal, and the main tank went just fine. Shortly thereafter, we had a fuel cell failure, which my pilot and I diagnosed in about 30 seconds and managed to fix.  Everything went fine until we got to orbit, and then one of our payload bay doors jammed.  We figured that one out, but lost about two minutes in our timeline doing so.  After that, things went fine until late in the mission, when we had a couple of electrical problems.  Fixed those, deployed our payload, had some time for some tomfoolery, and then we deorbited and landed.  Despite our problems, our crew won top ratings that week and we all went home with huge grins on our faces.
I hadn't thought about that week in Huntsville much until today when I was reading a Twitter message from an engineer in Houston who works in Mission Control at the Johnson Space Flight Center in Houston, Texas.  She goes by the monicker @absolutspacegirl.  Today, apparently, she and her team are working their way through some simulations of similar problems (fuel cell issues, payload bay door issues) thrown at the team and she's twittering about it. Very, very cool.
Speaking of teaching and learning, the NASA James Webb Space Telescope folks have launched an online game to teach about the telescope (and telescopes in general) and how such things work. James Webb Telescope will launch sometime after 2013 and will be an infrared-sensitive telescope.
This telescope is a successor to the Hubble Space Telescope. It will be able to peer through dusty clouds surrounding newborn stars, for example, and possibly see planetary systems forming around them. Wanna learn more? check out the Webb Telescope game site.

April 27, 2009 at 12:08 pm |
Leave a Comment
Skynights, Discovery Days, SkyCamps and
the Mt. Lemmon SkyCenter
This is cool — for those of you who live in Arizona or may be vacationing there sometime soon, check out the University of Arizona's Mt. Lemmon SkyCenter — a science learning project aimed at the general public. It's located up at 9,157 feet atop Mt. Lemmon, near Tucson. It looks like a great place to go get some hands-on experience with stargazing, professional-grade telescopes, and much more.
Moreover, the center is hosting workshops and programs for amateur astronomers, teaching about astrophotography.
Participants and users of the SkyCenter's 24-inch telescope are already turning out some magnificent images, like this one, of the galaxy M101.
The center's mission statement says that they want to engage people of all ages in the process of scientific exploration in their "sky island" — and I think that's a really great way to get people interested in the sky AND science all at once. It is very much needed now that the University has closed down Flandrau Planetarium, largely due to economics, but also because a "new" planetarium is supposed to anchor a planned development project in Tucson. Unfortunately, that won't be opening for a while, which leaves Tucsonians without the venerable Flandrau facility.  It looks like the center will be doing some outreach with a portable planetarium, however, so the community is not without a planetarium. And, with the Mt. Lemmon SkyCenter not far away, the chance to do some actual hands-on astronomy is one that shouldn't be missed.

Older entries »
<!- wpscanner ->
This blog a wholly pwnd subsidiary of Carolyn Collins Petersen, a.k.a. TheSpacewriter.
Copyright 2013, Carolyn Collins Petersen
Inama Nushif!
Image of Horsehead Nebula: T.A.Rector (NOAO/AURA/NSF) and Hubble Heritage Team (STScI/AURA/NASA)
"It is by Coffee alone I set my day in motion. It is by the juice of bean that coffee acquires depth, the tongue acquires taste, the taste awakens the body. It is by Coffee alone I set my day in motion."