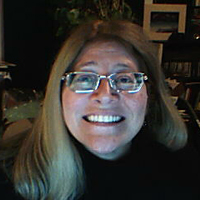 These pages chronicle the work and ruminations of Carolyn Collins Petersen, also known as TheSpacewriter.




I am CEO of Loch Ness Productions. I am also a producer for Astrocast.TV, an online magazine about astronomy and space science.

For the past few years, I've also been a voice actor, appearing in a variety of productions. You can see and hear samples of my work by clicking on the "Voice-Overs, Videos and 'Casts tab.

My blog, TheSpacewriter's Ramblings, is about astronomy, space science, and other sciences.


Ideas and opinions expressed here do not represent those of my employer or of any other organization to which I am affiliated. They're mine.
Subscribe in a reader
Visit my main site at: TheSpacewriter.com.
**I encourage comments and discussion; please keep it polite and respectful. I do moderate them to weed out spam, but I also refuse to post any messages that contain harassing, demeaning, rude, or profane language. I run a respectable establishment here.
Contact me for writing and voice-over projects at: cc(dot)petersen(at)gmail(dot)com
I Twitter as Spacewriter
Blog entry posting times are U.S. Mountain Time (GMT-6:00) All postings Copyright 2003-2011 C.C. Petersen
Spacewriter's Recent Posts
Archives
Calendar
Like space music?
Check out my favorite space music artist: Geodesium at Geodesium.com



Blogroll
July 31, 2009 at 9:01 am |
Leave a Comment
Things that Go Bump in the Solar System
Jupiter got whacked last week, as most of you probably know. One question that I saw reiterated across many blogs and boards (mostly by people who have no idea how astronomy observations work) was along the lines of "Why didn't the astronomers with all those big telescopes see this coming?"
As in so many areas of life, I have to respond that "it's not the size that matters, it's what you do with it."  A big telescope all by itself doesn't help you routinely find stuff getting ready to blast into Jupiter (or other planets).  In fact, a small one by itself won't do it either — no matter how big the impactor is.  Both have to be pointed properly at the right place and right time, and they have to be able to "see" the objects.  If the object is too small — as the impactor at Jupiter was — you won't have a chance of seeing it (from Earth, anyway) no matter how big your telescope is.  Each telescope and its instruments have limits to their resolution (essentially the size of objects they can detect — if something's too small to detect, a given system just won't be able to "see" it). Also, there's the whole issue of scheduling — the big telescopes and the smaller ones operated by dedicated amateurs usually are taken up well in advance with planned observations. That's not to say that they can't be pointed at something once we find out about it — that's called a "target of opportunity" and most facilities have allowances for such events in their schedules.  The catch is — you can't observe the object or even until you know about it — or, if it's big enough for you to see — until it wanders across your field of view as you're studying something else. That's just common sense.
Many comets and asteroids and asteroid debris that make up the "impactor class" are found by people and instruments who routinely scan the sky looking for such things. But, there's a limit to how much sky one can scan each night, and observers are limited to the skies they can see from their sites. If there's a comet beyond the horizon — well, it doesn't get discovered that night by the observers who can't see it.  Eventually the larger objects are found and observed over enough time that astronomers can calculate their distances and orbits. These are things that are larger than a kilometer or so in radius.
What about the small stuff? Well, it's really, really tough to see, even with (and despite having) a large aperture telescope.  Yes, there are projects like Spacewatch, which explores populations of small objects in the solar system 20 nights per month (roughly), but those are not likely to be able to just look right out there and easily spot things as small as the projectile that bruised Jupiter.
Incoming objects fascinate (and scare) people, even if the chance of an impact on Earth is quite small most of the time. Yet, the big questions always come up: what if something's headed for Earth? How will we find out about it?  How close will it get? Will we find out too late? What do we do?  Spacewatch and others do keep watch on Earth-approaching objects — if they are large enough to spot. Once something is discovered and charted, its orbit is plotted — which is not a one-time thing — orbits continually change as objects are perturbed by the gravitational influences of the planets they pass near. Also, it takes many observations over a period of time to accurately calculate an orbit — which then gives us a good handle on how close (or even if) it will come to Earth or another world.
With Spacewatch and other observation programs, we do have an early warning system of sorts.  And, if you're interested in knowing what IS being tracked, there's a new Web site to help you do that. NASA has just opened Asteroid Watch up for business. It's a centralized Web resource for information on near-Earth objects. The site also contains links for anyone interested in such objects to sign up for NASA's new asteroid widget and a Twitter account.  So, go check it out — and learn more about comets and asteroids that are being tracked and studied.

July 29, 2009 at 12:33 pm |
Leave a Comment
I present this for your enjoyment–courtesy of Astronomy Picture of the Day. Go over and read all about this one! Better yet, go visit Wally's page and buy an image!

July 29, 2009 at 10:38 am |
2 Comments
Why Do Giant Stars Lose Mass the Way They Do?
Stars lose mass throughout their lives.  In the case of the Sun, it's losing mass right now through the action of the solar wind — which blows material away from our star and out through the solar system.
As they get older, stars shed more mass as part of the "normal" process of stellar aging. For large stars, the mass loss is tremendous. Yet, think about it — a huge, massive star is going to have a pretty strong gravitational self-preservation instinct (so to speak).  Its gravitational pull should normally prevent huge amounts of mass loss.
However, in the case of  Betelgeuse (in the constellation Orion), which is a red supergiant and approaching the end of its life, the  mass loss is more than scientists expected. This big old star is losing the equivalent of one Earth mass (about 6 × 1024 kilograms) each year. That's a huge amount and astronomers have been puzzling over reasons why this is happening.  The best evidence is inside the star, of course, and hidden inside the clouds of material that Betelgeuse has already blown away. However, seeing detail from this distance (640 light-years away) and against the glaringly bright light coming from the star is a tough proposition. It requires high resolution and specialized instruments.
A team of astronomers led by Keiichi Ohnaka at the Max Planck Institute for Radio Astronomy (MPIfR) got around this by using the Very Large Telescope Interferometer in Chile to get a high-resolution view of the scene. This let them see the motions of gas in Betelgeuse's atmosphere. This is the first time such motions have been seen in a star other than the Sun, and allows them to chart the motions across the star's surface. The motions show that gas bubbles in Betelgeuse's atmosphere are large — at least one is the size of the orbit of Mars, which is about the same size as the star itself! They are moving up and down quite actively — the Mar-orbit-sized one is plowing along at at about 40,000 kilometers per hour).
It's not clear where these bubbles originate, but it does seem that they are part of the mass-loss mystery at Betelgeuse. The observations suggest that these colossal bubbles can expel the material from the surface of the star out to space.  It's not a nice clean stellar wind kind of mass loss, like we see at other stars. This is more violent and spasmodic and may be typical of the way that such a star will behave as it approaches the very end of its stellar existence.
Betelgeuse will explode as a violent supernova sometime in the next hundred thousand years.  The view from Earth will be spectacular, and the dying star's last outburst will be visible even in the daytime hours. Astronomers have been watching this star for years, charting its path to stardeath. Every bit of information they glean helps us understand the mechanics of star death even better.
For more information about the VLT measurements of Betelgeuse's mass loss, check out the Max Planck web page about the observations. It has links to the original paper and an image of the VLT observatory.

Older entries »
<!- wpscanner ->
This blog a wholly pwnd subsidiary of Carolyn Collins Petersen, a.k.a. TheSpacewriter.
Copyright 2013, Carolyn Collins Petersen
Inama Nushif!
Image of Horsehead Nebula: T.A.Rector (NOAO/AURA/NSF) and Hubble Heritage Team (STScI/AURA/NASA)
"It is by Coffee alone I set my day in motion. It is by the juice of bean that coffee acquires depth, the tongue acquires taste, the taste awakens the body. It is by Coffee alone I set my day in motion."