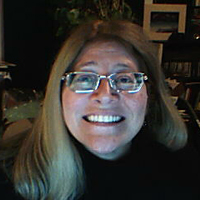 These pages chronicle the work and ruminations of Carolyn Collins Petersen, also known as TheSpacewriter.




I am CEO of Loch Ness Productions. I am also a producer for Astrocast.TV, an online magazine about astronomy and space science.

For the past few years, I've also been a voice actor, appearing in a variety of productions. You can see and hear samples of my work by clicking on the "Voice-Overs, Videos and 'Casts tab.

My blog, TheSpacewriter's Ramblings, is about astronomy, space science, and other sciences.


Ideas and opinions expressed here do not represent those of my employer or of any other organization to which I am affiliated. They're mine.
Subscribe in a reader
Visit my main site at: TheSpacewriter.com.
**I encourage comments and discussion; please keep it polite and respectful. I do moderate them to weed out spam, but I also refuse to post any messages that contain harassing, demeaning, rude, or profane language. I run a respectable establishment here.
Contact me for writing and voice-over projects at: cc(dot)petersen(at)gmail(dot)com
I Twitter as Spacewriter
Blog entry posting times are U.S. Mountain Time (GMT-6:00) All postings Copyright 2003-2011 C.C. Petersen
Spacewriter's Recent Posts
Archives
Calendar
Like space music?
Check out my favorite space music artist: Geodesium at Geodesium.com



Blogroll
September 27, 2009 at 22:34 pm |
Leave a Comment
Well, we celebrated the change of seasons in Colorado with a snowstorm up at our place.  Instead going out to see the Summer Triangle give way to the Great Square of Pegasus as the first night of autumn wore on, we watched snow come down and blanket the scene. It was kind of an early start to winter, and definitely no way to start autumn!
But, it got me to thinking about how people no longer rely on the stars to tell them seasons.  At least, not in places where the stars are kind of an afterthought due to light pollution and urban sprawl. Out in the countryside and in places where people are still more in tune with the sky, they're closer to the stars in a very visceral sense.
The time was when all people would rely on the change of stars throughout the seasons to tell them that those seasons were changing. The sky was our calendar. It still is, for those who take time to learn what stars are up throughout the year.  When you do that, you become just a wee bit closer to the cosmos — you feel more a part of it than you would if the stars were just a thing you saw occasionally if you happened to be away from city lights.
Are kids taught the stars any more?  I know that kids still get to go to the planetarium — and no matter what kind of projection system a planetarium uses — there's always a chance to learn what stars are up in the sky at any given time. And, that's what a planetarium can give you — along with other good presentations both live and recorded. But, what happens after kids leave the planetarium?  Do their teachers follow up?  Or, are they so wound up in teaching to tests that the stars get left behind?
I read the other day that the state of Texas removed mentions of astronaut Neil Armstrng (first man to step onto the Moon — for all humanity, by the way) from some of its textbooks. Other prominent scientists (funny how some were astronomers) were removed, too.  What do kids learn these days if they aren't learning something astronomy and science? Astronomy is a gateway science — you learn about chemistry and physics and so many other sciences through the study of astronomy. Yet, our kids aren't getting the stars as much as they used to even when I was growing up. Which means their science education is being slighted at a time when the United States (at least) needs to be focusing on educating our kids more thoroughly, not less.  And now, they're not even being taught about those people who help us learn about the universe in which we are born, live, and die.
Somber thoughts for the first week of northern hemisphere autumn… and food for thought for those of us who love the stars and want to pass that love along to others.  What are you doing to bring the stars to life for the next generation?  Hmmmm????

September 23, 2009 at 14:57 pm |
Leave a Comment
We're Learning More all the Time
The Kepler and COROT missions are on the hunt for extrasolar planets, and so are a host of ground-based observers. There's no doubt in my mind that sometime in the next few years, scientists will find a planet that has signs of life — whether that life is currently extant or long gone.  When that happens, our cosmic view will be changed forever.
The search for those planets and the life they may contain is fraught with questions: what will that life be like? Will the planets be like Earth, or different?  Will that life be intelligent?  How do scientists know what the signs of life are?
They're all good questions and people in the general public are as interested in finding out as are the scientists. If you want to learn more, you have to search out websites like SETI.org and NASA's astrobiology site.
I got an email recently from the American Museum of Natural History in New York City. As many other museums are doing around the country, they are having a series of social evenings where attendees can meet and mingle (and hear talks from) scientists about various topics. The AMNH series is called Science Cafe.  One of their talks — coming up on October 7 — focuses on exoplanets and the search for life in the universe,  featuring a talk by Dr. Ben Oppenheimer. If you are near NYC and want to learn more, check it out and have a cocktail while you're at it!   Dr. Oppenheimer will discuss exoplanets, as well as his search for a hypothetical Earth-twin and signs of habitability in nearby planetary systems. Oppenheimer will also explain his role as principal investigator on the Lyot Project, which aims to reveal how planets and solar systems are formed.


September 20, 2009 at 10:27 am |
Leave a Comment
Seeing the Infancy of the Universe
The Planck Mission was lofted into orbit on the 14th of May this year to study light from the earliest ages of the universe.  Mission scientists have been doing routine testing and calibration of the satellites systems, and at the same time, monitoring the cooldown process for its detectors.
So, what's Planck looking for? As with other missions that looked far back in time and space (such as COBE and WMAP) this one is searching out variations in the temperature of the Cosmic Microwave Background. To understand how important (and difficult that is), imagine trying to pick out the light of a firefly from across the solar system. Planck is trying to measure temperatures that are about a million times smaller than one degree. This is why the satellite's detectors must be cooled to extremely low temperatures– close to absolute zero (–273.15°C, or zero Kelvin, 0K).
Now that the spacecraft is at its optimum operating condition, it's starting to survey the sky, looking for those tiny, infinitesimal flickers of temperature change in the early cosmos — back before there were even stars or galaxies — when the cosmos was only 380, 000 years old. Understanding their data will bring astronomers closer to understanding the birth and evolution of the universe over the past 13.7 billion years.
The team released their early data this week, and the image above shows what theyr'e studying. Over the next 15 months, this European Space Agency microwave-sensitive satellite will concentrate on "first light" — the earliest flickers of light from a time when the universe was just beginning to form structures. Stay tuned!

Older entries »
<!- wpscanner ->
This blog a wholly pwnd subsidiary of Carolyn Collins Petersen, a.k.a. TheSpacewriter.
Copyright 2013, Carolyn Collins Petersen
Inama Nushif!
Image of Horsehead Nebula: T.A.Rector (NOAO/AURA/NSF) and Hubble Heritage Team (STScI/AURA/NASA)
"It is by Coffee alone I set my day in motion. It is by the juice of bean that coffee acquires depth, the tongue acquires taste, the taste awakens the body. It is by Coffee alone I set my day in motion."