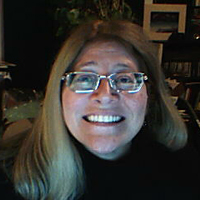 These pages chronicle the work and ruminations of Carolyn Collins Petersen, also known as TheSpacewriter.




I am CEO of Loch Ness Productions. I am also a producer for Astrocast.TV, an online magazine about astronomy and space science.

For the past few years, I've also been a voice actor, appearing in a variety of productions. You can see and hear samples of my work by clicking on the "Voice-Overs, Videos and 'Casts tab.

My blog, TheSpacewriter's Ramblings, is about astronomy, space science, and other sciences.


Ideas and opinions expressed here do not represent those of my employer or of any other organization to which I am affiliated. They're mine.
Subscribe in a reader
Visit my main site at: TheSpacewriter.com.
**I encourage comments and discussion; please keep it polite and respectful. I do moderate them to weed out spam, but I also refuse to post any messages that contain harassing, demeaning, rude, or profane language. I run a respectable establishment here.
Contact me for writing and voice-over projects at: cc(dot)petersen(at)gmail(dot)com
I Twitter as Spacewriter
Blog entry posting times are U.S. Mountain Time (GMT-6:00) All postings Copyright 2003-2011 C.C. Petersen
Spacewriter's Recent Posts
Archives
Calendar
Like space music?
Check out my favorite space music artist: Geodesium at Geodesium.com



Blogroll
August 31, 2010 at 11:05 am |
2 Comments
But Not Goodbye
Last week an old friend and colleague, Jack Horkheimer, passed away. To most of the world, Jack was known as the Star Gazer (formerly the Star Hustler), for his little five-minute astronomy video short shows that aired on PBS for years and years.  For many of us in the planetarium profession, Jack was a long-time colleague and director of the Miami Space Transit Planetarium. I'd known Jack since the early 1980s, when we met at a planetarium conference in Memphis, Tennessee. I remember we sat at a coffee shop, a bunch of us, swapping tall tales and telling jokes, and Jack had some of the funniest stories to tell about giving shows at his planetarium. I didn't see Jack again until 1986, when we were all at a Voyager 2 flyby press event at JPL. He'd been popular as the Star Hustler for some years by then and he was at JPL to gather fodder for his shows and talks. I remember going out to a bar with Jack and another couple of his friends during that busy week, and again, we swapped tall tales and jokes.
The Jack Horkheimer I knew as a planetarian was quite a guy — maybe not always as swaggering as his Star Hustler (later renamed "Star Gazer") persona, but always personable and friendly.  He was a thoughtful guy, ready to help folks out when they needed it, and always up for sharing astronomy with anybody. His ideas about astronomy being for everybody inspired a number of us as we sought our own paths to sharing astronomy with the public.  He was a public fixture and a planetarian to the core.
It was with great sadness that I heard of Jack's death.  He had moved to Miami many years ago, as he put it, to die from a respiratory ailment he'd had.  The climate must have agreed with him, because he not only didn't die — he thrived. In the end, his ailment took him away, but not before he brought astronomy to a wide audience.  The world is poorer for his loss, but you know what? We're all richer for having had him there all those years to point out the stars and bring the skies to everyone with his engaging Star Gazer series.  RIP, Jack — and we're all looking up!

August 27, 2010 at 11:21 am |
3 Comments
It's Nonsense
So, by now, you've probably heard that Mars is going to look as big as the full Moon tonight. It's a very popular Internet meme these days, sent around by people who think it sounds cool but never stop to think about the physical situation that such a story represents.
Epic fail on their part. Don't let it be one on yours.
Think about it. How far away is the Moon?  I'll tell you — it's (on average, depending on where it is in its orbit) about 384,000 kilometers away from us.
Now, how far away is Mars?  I'll tell you that, too.  When Mars and Earth are at their closest points in their orbits, Mars can be about 55 or 56 million kilometers away.  That makes it look like a reddish point of light from our vantage point here on Earth.
Okay, now compare 384,000 with 55 million.  BIG difference.  It's a big enough difference that Mars will always, always, always appear as a point of light in our sky.  And the Moon will be brighter and bigger and look like… the Moon.
If Mars were to look as big as the full Moon in our skies, we would have BIG problems. Bigger than worrying about how it would look in our sky. Let me put it to you this way: if it were as big as the full Moon in our sky, we'd be looking for a way off-planet before the tidal forces broke both worlds apart. NASA explains it all pretty well here.
So, don't believe the meme — don't let some foolish person's misunderstanding of science and planetary orbital mechanics live rent-free in your brain.
Instead, head out tonight and check out Mars and Venus after sunset. They look lovely, without all the need for breathless Internet/Web hype.

August 26, 2010 at 15:22 pm |
Leave a Comment
What Are They Like?
It has been almost 20 years since the first extrasolar planets (worlds around other stars) were discovered.  Astronomers suspected they existed, but since tiny worlds can get lost in the glare of their stars' light, we had to wait until we had the right kinds of instruments to observe distant worlds circling other stars. Today, the number of confirmed exoplanets lies at just under 500, and that number changes almost daily.
The latest news in planet-hunting circles is the discovery of two planets orbiting a star called Kepler-9.  The planets showed up in data taken by the Kepler mission, which is tasked to search for extrasolar planets in an area of the sky in the direction of the constellation Cygnus the Swan (which is high in the northern hemisphere sky these evenings).
Now, there have been lots of extrasolar planets discovered, but this is the first time two have been confirmed orbiting the same star. The planets, named Kepler-9b and Kepler-9c, have masses that are almost that of Saturn in our own solar system. Kepler-9b is the larger of the two and it orbits the star once every 19 days. The smaller Kepler-9c lies farther away and takes 38 days to make a trip around the star.
The Kepler spacecraft observed this system to tack down the precise length of each planet's orbit around the parent star. This isn't the only such system that the spacecraft has data for, but it's the first to be confirmed — a big milestone for the team and the spacecraft.
The planets were discovered as the Kepler spacecraft's camera measured tiny decreases in the star's brightness–decreases that occur when a planet moves between us and the star. And yes, even something so small as a planet can have an effect on the star's brightness, and Kepler is sensitive enough to detect those little dips in the star's light.  In addition, the distance between each planet and the star can be calculated by measuring the time between successive dips as the planet orbits the star. Small changes in the regularity of these dips can help astronomers determine the masses of planets and detect other non-transiting planets in the system. In fact, the data seem to indicate that there may be at least one other planet in the system–a world about 1.5 times the Earth's radius that follows a scorchingly short 1.6-day orbit around the star. Kepler scientists are still taking data to make sure that this is another planet and not an anomaly in the data.
The artist's concept of the two confirmed planets show that these are gas giant-like worlds, so they're not likely to be places where life is going to exist — at least life as we know it. And, if there IS another planet that's closer to Earth-size? Well, it's not likely to be a very hospitable place either. It's likely a scorchingly hot place with little opportunity for life to take hold.
Kepler's discovery is the second in a pair of exoplanet finds reported this week. The European Southern Observatory announced earlier that it has found a star that may have at least five planets orbiting around it. Astronomers used the HARPS spectrograph attached to the ESO's 3.6-meter telescope in Chile to search for the existence of planets in the system. Unlike the Kepler mission, which checks for dips in light intensity of stars with planets in orbit around them, the HARPS insrtrument looks for stellar motions that indicate the existence of planets. The amount of motion tells them the mass of the planets that may exist, and helps them deduce the orbits of those distant worlds. The measurements correspond to planets with masses between 13 and 25 Earth masses. They appear to orbit  the star with periods ranging from about 6 to 600 days. These planets lie between 0.06 and 1.4 times the Earth–Sun distance from their central star. This is actually pretty well-populated system with five massive planets located within 1.4 AU.  By comparison, the Sun has only four planets — and small ones at that — in roughly the same space.
The science of planetary detection is a major growth area in astronomy. With Kepler's ongoing mission and the ground-based work being done at places such as ESO, I think it's only a matter of time before the community of worlds that we can detect will be well over a thousand. Now… if we could only find one with life on it!

Older entries »
<!- wpscanner ->
This blog a wholly pwnd subsidiary of Carolyn Collins Petersen, a.k.a. TheSpacewriter.
Copyright 2013, Carolyn Collins Petersen
Inama Nushif!
Image of Horsehead Nebula: T.A.Rector (NOAO/AURA/NSF) and Hubble Heritage Team (STScI/AURA/NASA)
"It is by Coffee alone I set my day in motion. It is by the juice of bean that coffee acquires depth, the tongue acquires taste, the taste awakens the body. It is by Coffee alone I set my day in motion."