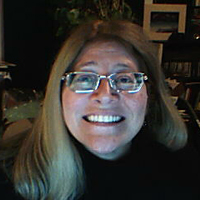 These pages chronicle the work and ruminations of Carolyn Collins Petersen, also known as TheSpacewriter.




I am CEO of Loch Ness Productions. I am also a producer for Astrocast.TV, an online magazine about astronomy and space science.

For the past few years, I've also been a voice actor, appearing in a variety of productions. You can see and hear samples of my work by clicking on the "Voice-Overs, Videos and 'Casts tab.

My blog, TheSpacewriter's Ramblings, is about astronomy, space science, and other sciences.


Ideas and opinions expressed here do not represent those of my employer or of any other organization to which I am affiliated. They're mine.
Subscribe in a reader
Visit my main site at: TheSpacewriter.com.
**I encourage comments and discussion; please keep it polite and respectful. I do moderate them to weed out spam, but I also refuse to post any messages that contain harassing, demeaning, rude, or profane language. I run a respectable establishment here.
Contact me for writing and voice-over projects at: cc(dot)petersen(at)gmail(dot)com
I Twitter as Spacewriter
Blog entry posting times are U.S. Mountain Time (GMT-6:00) All postings Copyright 2003-2011 C.C. Petersen
Spacewriter's Recent Posts
Archives
Calendar
Like space music?
Check out my favorite space music artist: Geodesium at Geodesium.com



Blogroll
September 30, 2010 at 10:54 am |
5 Comments
Not Too Far Away
The news of a new planet only three times the size of Earth and orbiting in its star's potentially habitable zone spurs on the great speculation that it's only a matter of time before we find a planet with some sort of life on it.
The star is called Gliese 581, a red dwarf that lies only 20 light-years from Earth. The planet is called Gliese 581g. This discovery was the result of more than a decade of observations using the W. M. Keck Observatory in Hawai'i.
Finding a planet in a potentially habitable zone means that the planet lies in an orbit around the star that is just far enough away (but not too far away) that liquid water could exist on the planet's surface.  That water hasn't yet been found on the Gliese 581g, but the fact that it's in the right place — the so-called "Goldilocks zone" is important.
Water is one of the prime ingredients for life, along with warmth and organic material.  If water is eventually found on the newly discovered planet, that would make it the most Earth-like exoplanet yet discovered and the first strong case for a potentially habitable one.  To astronomers, a "potentially habitable" planet is one that could sustain life, not necessarily one where humans would thrive.  Having habitable status depends  on more than just water and an atmosphere, but those two factors really raise the odds of the planet being hospitable to life.
So, how did astronomers find this planet?  The research is based on 11 years of observations of Gliese 581 using the HIRES spectrometer on the Keck I Telescope. That instrument lets astronomers make precise measurements of a star's radial velocity (its motion along the line of sight from Earth). Changes in that radial velocity might indicate that something is tugging on the star, inducing slight changes in its motion in space.  The gravitational influence of an orbiting planet is one reason why we might see periodic changes in the radial velocity of a host star. Multiple planets induce complex wobbles in the star's motion, and astronomers use sophisticated analyses to detect planets and determine their orbits and masses.
NO Intelligent Life.. or Any Life… Yet
As you might expect, some commentators and reporters in the media and Web-based React-O-Sphere are already breathlessly reporting the discovery of life on that planet.   It isn't so.  Hasn't been found. Yet.  The discovery is of a "potentially habitable planet" not an inhabited one. There's a distinct difference when you stop to think about it.
But, that hasn't stopped the React-O-Sphere from saying it.  It tells me that those commentators either didn't read the press releases carefully or didn't understand them.  This story is a great case for the value of reading comprehension on the part of the media and Web commentators.
For the straight scoop on what HAS been found, check out the link at the top, or go here or here.  That way you can get more of the story — straight from the sources who made the discovery.

September 28, 2010 at 12:51 pm |
2 Comments
It's Not
We all carry around in our heads this vision of interplanetary space as dark, cold,  lonely, devoid of stuff.  Well, it is. Except for all those planets, moons, rings, comets, and asteroids.  And dust.  And charged particles from the solar wind. Other than all that material, yeah, the space around the planets looks empty. But, it's not.  Don't be fooled.  Our solar system is full of stuff and we're learning more about it all the time.
Some of the "stuff in empty space" comes close to Earth pretty often. There's nothing mysterious about that.  There are many asteroids orbiting in the solar system, some far away, others in Earth's neighborhood. It's no surprise that astronomers spot wandering chunks of rock that sometimes come close to Earth.  Now that we have more cameras looking for such material — cameras and instruments that are sensitive to the faint light these things reflect — we are spotting more of them.  It doesn't mean there's MORE of that stuff out there all of a sudden. It's always been there.  We just haven't always had the instrumentation to find it.  Now we do, and the sudden prevalence of near-Earth asteroid discoveries simply means that now that we can spot those objects, we ARE spotting them.
The University of Hawai'i's Pan-STARRS PS1 telescope just discovered an orbiting chunk of rock that will come within 4 million miles of our planet in mid-October.  It's not a huge chunk — not planet-sized or even moon-sized. It's about 150 feet across — enough to make a prominent entry into our atmosphere. It's likely it would break up in the atmosphere, but there would still be a blast wave on the surface that would devastate several hundred miles of territory.
Now, this object, called 2010 ST3 is NOT going to enter our atmosphere on this pass.  But, it could (and I stress the word "COULD" because there ARE people who will take this as a sign of the impending apocalypse and start raising all kinds of irrelevant points no matter how carefully one points out that "could" and "will" are not semantically equal) hit Earth in 2098 and cause damage. But, it's not going to hit this time, even though it is potentially hazardous. It's one of many, many chunks of solar system that are orbiting out there, part of the system of solar system objects that astronomers are still learning about, counting, charting, categorizing, and warning us about.  Learning about objects like 2010 ST3 is part of planetary science and part of the exploration of our solar system.

September 18, 2010 at 20:23 pm |
Leave a Comment
Ahoy There, Me Stargazin' Hearties!!!
Yarrrr, ye lasses and lads of the starry deeps! Time for me annual September 19 celebration of "Talk Like a Starry Pirate Day" message! Today is indeed Talk Like a Pirate Day, which means ye can affect all FUN piratey attitudes (but NOT the pillagin' and other law-breakin' activities–those are frowned upon in TLAPD circles). "All in good fun" is the piratey watchword.
Do astronomers celebrate "Talk Like a Pirate Day"?
Welll… aye, of course they do.
How to celebrate TLAPD if yer an astronomer? Well, stargazin' like a pirate is always in good form. First, wait til it gets dark (if ye want to see stars). If ye want to see just one star, then go outside and pretend yer on a desert isle with yer piratey treasure and make sure ye have yer eye patch on!  Oh, and a pair of piratey sunglasses!
Count yer doubloons and cackle with glee. And, let the sunshine warm ye, but do not be a chumbucket and actually LOOK at the Sun — it'll mess with yer eyes somethin' fierce! Just enjoy it, and as Captain Jack warns ye, wear sunblock!
Nighttime starlubbers should wander out after the Sun's been down fer a while (darkness is a good clue) –and look up! Check out the stars. Look for a piratey planet! This year, the King o' The Piratey Planets is up — Jupiter!  See if ye can spot the Milky Way.  It's the milky band o' whiteness running almost overhead this time o' year!
That's all there is to sailin' the starry seas! Oh, and ye must talk like a piratey astronomer! Every once in a while say something like "Shiver me timbers, look at Jupiter there!" or "Yarrrrr…. will ya look at that Milky Way!" or "Take this telescope to the Lagoon Nebula, me hearties!!!" Or, challenge yer hearties to see who can find the "Black Eye Nebula" (M64 for ye geeks in the audience).
Wear somethin' warm (even pirates' timbers get shivered in cool night air), and if ye like, bring a grog or other beverage (our personal favorite is piratey hot chocolate). After yer done, go back inside and watch a good piratey movie. Pirates of the Caribbean comes to mind, or maybe even Aye, Robot, or Men in Blackbeards. Or maybe Yarrrrrrr Wars… or one of my personal favorites, The Pirate Wears Prada… or Mutiny on the Bounty Hunter or Around the World With 80 Pirates or Bravehearty… ye get the idea!!

Older entries »
<!- wpscanner ->
This blog a wholly pwnd subsidiary of Carolyn Collins Petersen, a.k.a. TheSpacewriter.
Copyright 2013, Carolyn Collins Petersen
Inama Nushif!
Image of Horsehead Nebula: T.A.Rector (NOAO/AURA/NSF) and Hubble Heritage Team (STScI/AURA/NASA)
"It is by Coffee alone I set my day in motion. It is by the juice of bean that coffee acquires depth, the tongue acquires taste, the taste awakens the body. It is by Coffee alone I set my day in motion."