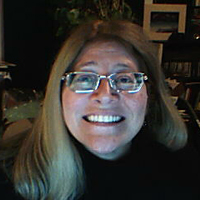 These pages chronicle the work and ruminations of Carolyn Collins Petersen, also known as TheSpacewriter.




I am CEO of Loch Ness Productions. I am also a producer for Astrocast.TV, an online magazine about astronomy and space science.

For the past few years, I've also been a voice actor, appearing in a variety of productions. You can see and hear samples of my work by clicking on the "Voice-Overs, Videos and 'Casts tab.

My blog, TheSpacewriter's Ramblings, is about astronomy, space science, and other sciences.


Ideas and opinions expressed here do not represent those of my employer or of any other organization to which I am affiliated. They're mine.
Subscribe in a reader
Visit my main site at: TheSpacewriter.com.
**I encourage comments and discussion; please keep it polite and respectful. I do moderate them to weed out spam, but I also refuse to post any messages that contain harassing, demeaning, rude, or profane language. I run a respectable establishment here.
Contact me for writing and voice-over projects at: cc(dot)petersen(at)gmail(dot)com
I Twitter as Spacewriter
Blog entry posting times are U.S. Mountain Time (GMT-6:00) All postings Copyright 2003-2011 C.C. Petersen
Spacewriter's Recent Posts
Archives
Calendar
Like space music?
Check out my favorite space music artist: Geodesium at Geodesium.com



Blogroll
January 31, 2011 at 13:05 pm |
1 Comment
Another Island of Starry Darkness
In a world increasingly and wastefully lit by lights that shine upward illuminating nothing, the Island of Sark in the English Channel has become the first dark sky island.  It was so-designated by the International Dark Sky Association, which noted that the island's non-use of public street lighting — in fact, it has no paved roads or cars — makes it an ideal palce form which to see the dark sky.
Sark is one of only a few places in the world that are designated dark-sky sites.  The others are Hortobágy Starry Sky Park in Hungary, Natural Bridges National Monument in Utah (USA), Galloway Forest Park in Scotland, Zselic National Landscape Protection area in Hungary, Cherry Springs State Park in Pennsylvania (USA), Geauga Park District Observatory Park in Ohio (USA), Clayton Lake State Park in New Mexico (USA), and Goldendale Observatory Park in Washington (USA).
This designation is made to identify and honor protected public places that make a commitment to warding off light pollution and pre serving access to the dark sky.  It's not just about stargazing, but also about committing to wise energy usage (that is, not wasting money lighting up the sky), and wise lighting practice. This is something that affects life on our planet — not just humans, but all life that is tuned to the circadian rhythms of night and day, light and dark.
I've never been able to understand why it is that politicians in the U.S. do NOT work toward the energy savings that could result from wiser use of lighting.  Is it because they don't care? Are they pressured NOT to care by those who make money from our energy use?  Or, is the difference between night and day just not morally apparent to them anymore?  It may come as a shock to those who think that with lighting we are safer and without it we are heathens or something, but you know what?  We need that cycle of night and day. Our economy, our environment, our health depends on it.  Even lighting companies are hopping on the bandwagon of wise use, as represented by the many who are involved in IDA's outreach. They (and all of us who advocate for wise lighting use) know that lighting up the sky to sell a few more cars or illuminate a religious statue (an ironic use of light, really), or blind oncoming drivers with fancy, actinic-glowboards advertising the latest monster truck rally at the coliseum, is simply showing that we have money to burn.  When, in fact, we don't.  A world in recession doesn't need to splash its graphics to space. The universe doesn't care about our light usage.  But, we should.  The wiser our use of lighting, the less we spend on burning the fuels that are harming our environment.
And, yes, the more stars we will be able to see at night. We came from the stars. We should be able at least glimpse them once in a while.

January 27, 2011 at 10:20 am |
1 Comment
A Time to Pause
The last week in January and the first week of February marks three tragedies that befell NASA since its formation: the Apollo 1 fire on January 27, 1967, the breakup of 51L — space shuttle Challenger on January 28, 1986, and the loss of the space shuttle Columbia on February 1, 2003. Each event marked a fatal steppingstone for NASA, and for all those who favor the exploration of space. Each event also marked a turning point and a lesson learned for those who design and build the vehicles that get our astronauts to space.
Just as the U.S. and most other countries salute their fallen military heroes who have made the ultimate sacrifice for what they believe in, and as we all honor those who risk their lives to save others (firefighters, law enforcement, and many others), today we take a moment and pause to remember those who gave their lives for the peaceful pursuit of space exploration.
Today is NASA's Day of Remembrance for the crews of Apollo 1, Challenger, and Columbia. Take a moment today to pause and think about these people and their families.

January 26, 2011 at 11:35 am |
Leave a Comment
Why Are They Always Acting Like Bad Humans?
I was browsing around the vast pool of Web knowledge about aliens the other day and I was struck by how awful we humans think aliens are.  Judging by how they're portrayed in the popular media, it would seem that they are everything we'd like to think we as human beings are NOT. Yet, look at some recent alien descriptions:  mean-spirited, interested in empire building, rapacious, godlike, superintelligent but with the moral development of a flea, overly interested in probing people's rear ends with strange devices, and occasionally (VERY occasionally, almost to the point of rarity) benevolent. I mean, this all sounds remarkably like some familiar human behavior. In fact, I've read similar descriptions of deities, too. Just look at all the portrayals of Mars, the God of War, to see how we also program the gods we worship with some similar, not always pleasant, human traits.
So, why are these "other than human" beings so nasty?  What is it about aliens that have led humans to ascribe the worst of the very human traits to them?  I think it's psychological, really.  We are hard-wired to ascribe nasty traits to things that we fear, and that includes any possible aliens that might come sailing our way from the planet Promixus Prime or wherever. It probably is wired into that reptilian part of our brains that helps us remain alert to the unusual and sudden events in our lives.
Of course, there's no proof yet that aliens exist — except in our imaginations. Not one has landed on Earth to give us a friendly "Howdy, neighbor" greeting; at least, none that we know of. And, there's little to no proof that any have come here. Sure, there's lots of speculation, but hard scientific proof of alien life just doesn't exist yet.
There's certainly plenty of evidence that other planets MAY be able to support life, and in the case of Mars, it may have supported life in the past. But that life was (if it existed), largely the size and complexity of bacteria. Not tentacled life forms or little green men or greys or Pleiadians or whatever else it is that imaginative humans have dreamed up for Mars.  It was likely bacteria. And the same may well be true of other planets with conditions right for life.
It's tough to imagine a single-celled life form raising up on its tentacles and proclaiming its dominion over the Earth, but you know what? There is one — called bacteriophages. They ARE the most abundant forms of life on our planet. Most of them are not harmful to us, but of course a subset are. If you catch a sinus infection or get an infected cut, you are being overcome by another life form. However, bacteriophages aren't alien either. And, your gut (and many other animals' guts) are filled with bacteria that help you digest food.   Those are the "good guy" bacteria. They evolved here on Earth, too, and as far as we know, didn't come from somewhere else.
The building blocks of life did come from somewhere else — but not other alien worlds. The chemical elements that make up life came from stars that exploded and died and sent their elements out to space. Over time, those elements combined to make molecules, which were incorporated into new generations of stars and planets.  And,  those elements eventually became available for the chemical formation of life on our planet.
They weren't scattered here by roving alien life forms — that explanation requires too many "what ifs" and concocted scenarios to work; especially when stardeath and starbirth are very much more ubiquitous throughout the galaxy.  Those are much more commonly occurring processes that we can detect and measure. And, we can trace the elements from stars to the elements that help our blood carry oxygen to our brains, and so forth.  There's a whole science of astrobiology that helps us understand and trace the process of life creation from the elements available in each neighborhood of the galaxy.  That science will help us understand life elsewhere when it is discovered, and most  likely, it will be simple life forms, not the complex monsters we've brought up straight from the realm of our worst nightmares (as I wrote in a fulldome planetarium show called MarsQuest ).
No, I'm pretty sure that the aliens we fear the most — the ones we see in movies like "Alien" and on "Star Trek" and in countless science fiction novels featuring flesh-eating monsters and three-legged green dudes who carry off our women and furry creatures that have inspired a whole subset of fans and many others — all those likely exist in our own brains, created by our fertile imaginations and inspired from below by that reptile brain.  We are an imaginative bunch of alien creators!

Older entries »
<!- wpscanner ->
This blog a wholly pwnd subsidiary of Carolyn Collins Petersen, a.k.a. TheSpacewriter.
Copyright 2013, Carolyn Collins Petersen
Inama Nushif!
Image of Horsehead Nebula: T.A.Rector (NOAO/AURA/NSF) and Hubble Heritage Team (STScI/AURA/NASA)
"It is by Coffee alone I set my day in motion. It is by the juice of bean that coffee acquires depth, the tongue acquires taste, the taste awakens the body. It is by Coffee alone I set my day in motion."