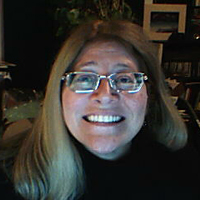 These pages chronicle the work and ruminations of Carolyn Collins Petersen, also known as TheSpacewriter.




I am CEO of Loch Ness Productions. I am also a producer for Astrocast.TV, an online magazine about astronomy and space science.

For the past few years, I've also been a voice actor, appearing in a variety of productions. You can see and hear samples of my work by clicking on the "Voice-Overs, Videos and 'Casts tab.

My blog, TheSpacewriter's Ramblings, is about astronomy, space science, and other sciences.


Ideas and opinions expressed here do not represent those of my employer or of any other organization to which I am affiliated. They're mine.
Subscribe in a reader
Visit my main site at: TheSpacewriter.com.
**I encourage comments and discussion; please keep it polite and respectful. I do moderate them to weed out spam, but I also refuse to post any messages that contain harassing, demeaning, rude, or profane language. I run a respectable establishment here.
Contact me for writing and voice-over projects at: cc(dot)petersen(at)gmail(dot)com
I Twitter as Spacewriter
Blog entry posting times are U.S. Mountain Time (GMT-6:00) All postings Copyright 2003-2011 C.C. Petersen
Spacewriter's Recent Posts
Archives
Calendar
November 2012
S
M
T
W
T
F
S
« Oct
Dec »
1
2
3
4
5
6
7
8
9
10
11
12
13
14
15
16
17
18
19
20
21
22
23
24
25
26
27
28
29
30
Like space music?
Check out my favorite space music artist: Geodesium at Geodesium.com



Blogroll
November 1, 2012 at 15:15 pm |
Leave a Comment
November is a Prelude to Winter Astronomy
I like winter skies.  They always seem more glittery and lovely. Maybe it's because the constellation Orion is giving us a show. Or, maybe it's because it gets dark earlier and we have longer to look at the skies (from here in the northern hemisphere).  One of my favorite things is go out and find the Orion Nebula. Another is to look for the Hyades and the Pleiades. Actually, you can see those now (in early November) if you go out and look late in the evening. By the end of the month, they'll be higher in the sky earlier in the evening. So, it's worth sneaking a preview look at the pretties of the winter sky.
In my current episode of "Our Night Sky" at Astrocast.TV, we take a little tour of those last two objects — a couple of star clusters that you can see pretty easily.  And, for southern hemisphere viewers (who are heading into the warm spring and summer months) we take a little look at some neighboring galaxies to the Milky Way.
So, head over there and check it out!



<!- wpscanner ->
This blog a wholly pwnd subsidiary of Carolyn Collins Petersen, a.k.a. TheSpacewriter.
Copyright 2013, Carolyn Collins Petersen
Inama Nushif!
Image of Horsehead Nebula: T.A.Rector (NOAO/AURA/NSF) and Hubble Heritage Team (STScI/AURA/NASA)
"It is by Coffee alone I set my day in motion. It is by the juice of bean that coffee acquires depth, the tongue acquires taste, the taste awakens the body. It is by Coffee alone I set my day in motion."