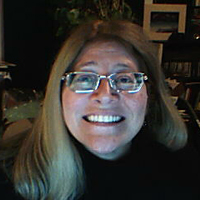 These pages chronicle the work and ruminations of Carolyn Collins Petersen, also known as TheSpacewriter.




I am CEO of Loch Ness Productions. I am also a producer for Astrocast.TV, an online magazine about astronomy and space science.

For the past few years, I've also been a voice actor, appearing in a variety of productions. You can see and hear samples of my work by clicking on the "Voice-Overs, Videos and 'Casts tab.

My blog, TheSpacewriter's Ramblings, is about astronomy, space science, and other sciences.


Ideas and opinions expressed here do not represent those of my employer or of any other organization to which I am affiliated. They're mine.
Subscribe in a reader
Visit my main site at: TheSpacewriter.com.
**I encourage comments and discussion; please keep it polite and respectful. I do moderate them to weed out spam, but I also refuse to post any messages that contain harassing, demeaning, rude, or profane language. I run a respectable establishment here.
Contact me for writing and voice-over projects at: cc(dot)petersen(at)gmail(dot)com
I Twitter as Spacewriter
Blog entry posting times are U.S. Mountain Time (GMT-6:00) All postings Copyright 2003-2011 C.C. Petersen
Spacewriter's Recent Posts
Archives
Calendar
Like space music?
Check out my favorite space music artist: Geodesium at Geodesium.com



Blogroll
December 9, 2012 at 11:23 am |
Leave a Comment
Another One Returns to the Stars
Sir Patrick Moore, well-known in Britain as an astronomer and broadcaster, died today at his home. (Here is the official BBC obituary.) He brought astronomy alive through his writing, radio, and television shows. I had several chances to meet Sir Patrick at various events throughout the years, and he always seemed to be a kind man, a bit eccentric, and with a phenomenal memory. After the first chance meeting with him, I didn't see Sir Patrick for a few years, but acquired several of his books and thoroughly enjoyed them. The next time we met, he reminded me of where we'd met and what we had chatted about.  He will be sorely missed, but I'm sure he'll live on through his "Sky at Night" program, and through his many books.
I'm aware that Sir Patrick also had a bit of a controversial side, with many people citing his views on immigration and other political topics as grist for the mill. It's unfortunate that such a brilliant communicator could also hold closed-minded opinions, but then again, people are complex. I don't condone his views on women and immigrants, but I do salute his amazing accomplishments in communicating astronomy.  Perhaps that will be his best and final legacy.
Sir Patrick's passing also brings to mind another science popularizer, Dr. Carl Sagan. He died on December 20, 1996, far too soon. He was MY inspiration to take up astronomy and to communicate it to others, as was Sir Patrick Moore. There are many of us out there sharing the stars with others, and digging deeply into the secrets of the cosmos, all because of these two people.
If you have the chance, check out "Sky at Night" and "Cosmos", two works by these phenomenally gifted astronomers.Let them continue to inspire you, even as their creators have moved on. If they succeed, it's the best tribute to their unceasing work to share the cosmos.

<!- wpscanner ->
This blog a wholly pwnd subsidiary of Carolyn Collins Petersen, a.k.a. TheSpacewriter.
Copyright 2013, Carolyn Collins Petersen
Inama Nushif!
Image of Horsehead Nebula: T.A.Rector (NOAO/AURA/NSF) and Hubble Heritage Team (STScI/AURA/NASA)
"It is by Coffee alone I set my day in motion. It is by the juice of bean that coffee acquires depth, the tongue acquires taste, the taste awakens the body. It is by Coffee alone I set my day in motion."