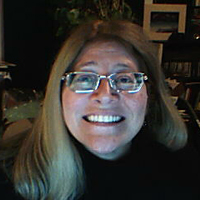 These pages chronicle the work and ruminations of Carolyn Collins Petersen, also known as TheSpacewriter.




I am CEO of Loch Ness Productions. I am also a producer for Astrocast.TV, an online magazine about astronomy and space science.

For the past few years, I've also been a voice actor, appearing in a variety of productions. You can see and hear samples of my work by clicking on the "Voice-Overs, Videos and 'Casts tab.

My blog, TheSpacewriter's Ramblings, is about astronomy, space science, and other sciences.


Ideas and opinions expressed here do not represent those of my employer or of any other organization to which I am affiliated. They're mine.
Subscribe in a reader
Visit my main site at: TheSpacewriter.com.
**I encourage comments and discussion; please keep it polite and respectful. I do moderate them to weed out spam, but I also refuse to post any messages that contain harassing, demeaning, rude, or profane language. I run a respectable establishment here.
Contact me for writing and voice-over projects at: cc(dot)petersen(at)gmail(dot)com
I Twitter as Spacewriter
Blog entry posting times are U.S. Mountain Time (GMT-6:00) All postings Copyright 2003-2011 C.C. Petersen
Spacewriter's Recent Posts
Archives
Calendar
Like space music?
Check out my favorite space music artist: Geodesium at Geodesium.com



Blogroll
December 10, 2012 at 14:18 pm |
Leave a Comment
A Cool Place to Be
Mars is a lot like Earth in some ways. Sure it's a barren desert planet now, whereas Earth is not. But, like Earth, it has seasonal changes, and if you look at some of its landforms, they look disturbingly familiar. Take this image that the Mars Curiosity rover sent back.
Looks a lot like some places here on Earth, doesn't it? You can see mountains off in the distance (actually part of the crater that the spacecraft landed in), and lots of sand dunes and rock outcrops nearby. When I see a picture like this, I want to go on a geology field trip — which is what Curiosity is doing for us!
The folks at the European Space Agency have a mission called Mars Express, and it's doing a bang-up job of sending back high resolution images of Mars from orbit.
The whiter-looking regions here are covered with something most of us are familiar with if we live in climates where winter brings snow and cold weather: frost. In this case, it's carbon dioxide frost, which forms when the atmosphere gets cold enough to freeze it into particles of ice that coat the ground.
Wondering how cold it is on Mars?  It has a very thin atmosphere, so even though Mars does get sunlight, the temps on the ground are pretty darned cold, usually well below zero (-55 C or -67 F for an average). At its coldest, Mars temps can plunge down to -110 C (-170 F).  I've seen suggestions that Mars temperatures can rise above zero on warm summer days; how far they rise depends on the local heating and how much sunlight the ground is getting.
There are more cool images of this cratered region at the link above. They show just how rugged the terrain of Mars is, and remind us that some worlds can look (and sometimes feel) just like home, even if they're more than 100 million kilometers apart right now!

<!- wpscanner ->
This blog a wholly pwnd subsidiary of Carolyn Collins Petersen, a.k.a. TheSpacewriter.
Copyright 2013, Carolyn Collins Petersen
Inama Nushif!
Image of Horsehead Nebula: T.A.Rector (NOAO/AURA/NSF) and Hubble Heritage Team (STScI/AURA/NASA)
"It is by Coffee alone I set my day in motion. It is by the juice of bean that coffee acquires depth, the tongue acquires taste, the taste awakens the body. It is by Coffee alone I set my day in motion."