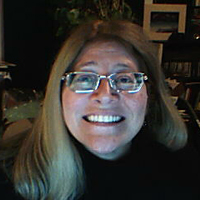 These pages chronicle the work and ruminations of Carolyn Collins Petersen, also known as TheSpacewriter.




I am CEO of Loch Ness Productions. I am also a producer for Astrocast.TV, an online magazine about astronomy and space science.

For the past few years, I've also been a voice actor, appearing in a variety of productions. You can see and hear samples of my work by clicking on the "Voice-Overs, Videos and 'Casts tab.

My blog, TheSpacewriter's Ramblings, is about astronomy, space science, and other sciences.


Ideas and opinions expressed here do not represent those of my employer or of any other organization to which I am affiliated. They're mine.
Subscribe in a reader
Visit my main site at: TheSpacewriter.com.
**I encourage comments and discussion; please keep it polite and respectful. I do moderate them to weed out spam, but I also refuse to post any messages that contain harassing, demeaning, rude, or profane language. I run a respectable establishment here.
Contact me for writing and voice-over projects at: cc(dot)petersen(at)gmail(dot)com
I Twitter as Spacewriter
Blog entry posting times are U.S. Mountain Time (GMT-6:00) All postings Copyright 2003-2011 C.C. Petersen
Spacewriter's Recent Posts
Archives
Calendar
Like space music?
Check out my favorite space music artist: Geodesium at Geodesium.com



Blogroll
December 19, 2012 at 13:07 pm |
Leave a Comment
Even Shadowed, It's Gorgeous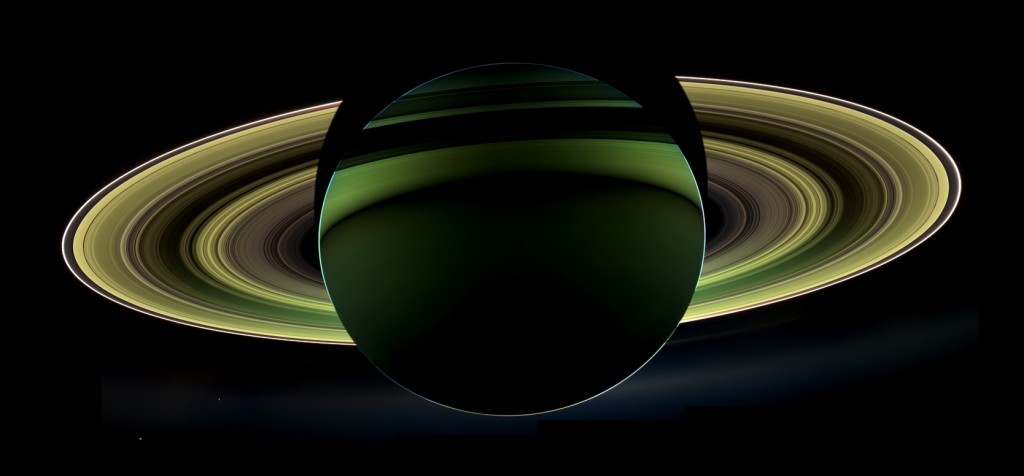 Check this image out, folks. Click on it to get the big view.  It's a backlit, seriously moody view of the ringed planet made by the Cassini spacecraft and released this week by NASA Jet Propulsion Laboratory and the Space Science Institute. It's a rare sight because it's not often that the spacecraft's orbit takes it to the precise point where the planet, rings, and Sun all line up perfectly to deliver a high-quality view of the rings, plus two dots in the lower left that are Enceladus (Saturn's active moon) and Tethys (another of Saturn's icy moons). The detail in this image is astonishing. You can see individual rings in the system, and if you peek closely, you can see them in the gaps as well.  The shadow of the rings on the planet's cloud tops is especially amazing.
Saturn was one of the first planets I saw a picture of when I was growing up. We had a book about space in the house and when I laid eyes on that weird ringy place, I was hooked!  A bunch of years later, I found myself at JPL during the Voyager 2 encounter with Saturn, covering the event for a newspaper story.  It was even more amazing to me than that first glimpse I had as a child. Pictures like this continually reinforce for ME that the universe is an amazing place that we need to keep exploring!
Holiday Greetings
For those of you still looking for great images to put on your holiday newsletters or greeting cards, this Saturn image is a pretty good candidate. There's also the highly popular Hubble Holiday Greeting Card page. It's chock full of 38 nicely designed cards using Hubble Space Telescope images you can simply download and use for your greetings.  I have a hard time deciding which ones to use, so for some years I've used every one of them.
I've seen people also make up their own cards using images from Spitzer Space Telescope, Chandra X-ray Observatory, and the Mars Curiosity rover, and many others. There's some gorgeous artwork out there, provided by the cosmos and your tax dollars! So, check it out and be creative!

<!- wpscanner ->
This blog a wholly pwnd subsidiary of Carolyn Collins Petersen, a.k.a. TheSpacewriter.
Copyright 2013, Carolyn Collins Petersen
Inama Nushif!
Image of Horsehead Nebula: T.A.Rector (NOAO/AURA/NSF) and Hubble Heritage Team (STScI/AURA/NASA)
"It is by Coffee alone I set my day in motion. It is by the juice of bean that coffee acquires depth, the tongue acquires taste, the taste awakens the body. It is by Coffee alone I set my day in motion."