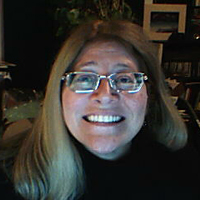 These pages chronicle the work and ruminations of Carolyn Collins Petersen, also known as TheSpacewriter.




I am CEO of Loch Ness Productions. I am also a producer for Astrocast.TV, an online magazine about astronomy and space science.

For the past few years, I've also been a voice actor, appearing in a variety of productions. You can see and hear samples of my work by clicking on the "Voice-Overs, Videos and 'Casts tab.

My blog, TheSpacewriter's Ramblings, is about astronomy, space science, and other sciences.


Ideas and opinions expressed here do not represent those of my employer or of any other organization to which I am affiliated. They're mine.
Subscribe in a reader
Visit my main site at: TheSpacewriter.com.
**I encourage comments and discussion; please keep it polite and respectful. I do moderate them to weed out spam, but I also refuse to post any messages that contain harassing, demeaning, rude, or profane language. I run a respectable establishment here.
Contact me for writing and voice-over projects at: cc(dot)petersen(at)gmail(dot)com
I Twitter as Spacewriter
Blog entry posting times are U.S. Mountain Time (GMT-6:00) All postings Copyright 2003-2011 C.C. Petersen
Spacewriter's Recent Posts
Archives
Calendar
January 2013
S
M
T
W
T
F
S
« Dec
Feb »
1
2
3
4
5
6
7
8
9
10
11
12
13
14
15
16
17
18
19
20
21
22
23
24
25
26
27
28
29
30
31
Like space music?
Check out my favorite space music artist: Geodesium at Geodesium.com



Blogroll
January 30, 2013 at 9:45 am |
Leave a Comment
It's all Relative
I spent the first half of January traveling.  The first trip was to the American Astronomical Society meeting, where the fire hose of astronomy information was at once refreshing and overwhelming!  The biggest story I took away from that meeting was the amazing plethora of planets out there!  It seems that there are likely millions of them out there in the galaxy.  That's based on actual observations of planets around other stars and also of the circumstellar disks of material around many stars that will eventually result in new worlds.
The second trip was a private one to celebrate a relative's significant birthday. On the second day of the partying, I sat in the backyard of another relative's home, watching my niece play with a new puppy. The Sun was setting, and I got to thinking about how everything in the universe grows and changes. My niece is a toddler, but soon she'll start school. She'll think she's "grown up".  In due time, she'll be 15 or so, and she'll start dating. She'll think she's "grown up".  Eventually she'll do college, get a job. At each of those points, she'll think she's grown up.  I have done those things, and yet, I still don't think I'm "grown up" yet. Meaning, I'm not finished growing. And, I suspect if I asked the person whose birthday we were celebrating, "Are you grown up?" the answer might be a surprising "No."
So, I was also thinking about the Sun and its evolutionary path.  It began as a small clump of gas and dust, got bigger and bigger, and eventually got hot enough in its core to start fusing hydrogen to helium.  Was it grown up then? Was it mature?  What does "mature" mean for a star?  The Sun is still doing nuclear fusion in its core, and will for at least a billion or so years more. When it stops, does THAT mean it's mature? Or past mature?
What about galaxies?  If you look far enough across space and back in time, you can see shreds of galaxies that are really the seeds of the galaxies we know today. They combined (through collision and interaction) to form these larger galaxies.  Our own galaxy formed that way, and is still cannibalizing smaller galaxies today. The Milky Way is a spiral galaxy, but does that mean it's mature?  It turns out that when spirals interact, as the Milky Way and Andromeda will do in a few billion years, they end up as ellipticals. Does that mean ellipticals are mature?  In some sense, we don't have enough data and the universe hasn't been around long enough for us to find the "end points" of galaxies. We can see the end points of stars — planetary nebulae and supernova remnants, for example — but what does a mature galaxy look like?
Humans are short-lived compared to stars and galaxies, so anything billions of years old (or even thousands of years old) looks mighty old to us. But, the universe itself is still young. It will continue expanding for quite some time to come.  The future universe — like the future of an individual human being — is an unfolding story.

January 9, 2013 at 17:16 pm |
Leave a Comment
Clumps of Supersonic Gas Point Back to Hot Young Stars
The universe is not a static place. Things change all the time. So, the more often you look at an object or process in the cosmos, the more information you'll get about how it changes over time. Astronomers take advantage of this to get what you might call a "time varying" view of something like the Sun or a planet or a star-forming region (for example). The process gets very interesting when they use newer technology to study something that seems familiar, like the Orion Nebula.
The Gemini Observatory observed a region of the Orion Nebula in 2007 and imaged what are called "bullets". These almost look like tunnels through the clouds of gas and dust that make up the nebula. They are actually strong winds blowing gas off of massive stars at incredibly high speeds. As these "wind bullets" speed out, they carve out these tubular wakes as much as a fifth of a light-year long.
Those original images were some of the best taken of this region at the time, and they showed dynamic action surrounding hot young stars in the nebula.
Now, the Gemini Observatory has studied these again, this time using an a technology called adaptive optics and laser guide stars to gain a sharp clear image of these bullets in the Orion Nebula. The laser guide stars are artificial stars that are made using a special laser that shoots into the sky and provides astronomers a guide to aim at. They read those stars and use what they see to "adapt" the telescope system to account for the atmospheric aberration between the telescope and the sky. The process provides very clear, almost Hubble-like images, but from the ground.
The new images show more detail and, if you look closely between the originals and the new ones, you can make out a little bit of dynamic motion in the clouds themselves.
Check out the new image here, and then go over to the Gemini page and look at a previous image of the bullets — you can see clear improvements that are giving astronomers a great new tool to check out the Orion Nebula better than ever before.

January 8, 2013 at 18:37 pm |
1 Comment
Dark Cloud in the Milky Way
Once in a while a story really grabs my attention, like yesterday's census of planets in the Milky Way.  It really opened up a galaxy of possible worlds to explore. Today, I was sitting in a press conference, listening to astronomers talking about using radio astronomy to study a cloud of gas and dust that they described as the one of the Milky Way's "bones", meaning an important part of its structure.
The structure is nicknamed "Nessie" because it bears a resemblance to the Loch Ness Monster. That right there was enough to grab my attention because as CEO of Loch Ness Productions, I'm quite used to being called one of the "Nessies" by our colleagues in the field. So, I approve of my monstrous namesake in the sky!
It's a cool name and a memorable mental visual.
So, what's Nessie all about?
Think about our galaxy. It's what's known as a barred spiral galaxy. That means it is a typical spiral — with two principal spiral arms wrapping around, and a bar cutting across the middle.
The central region of our the Milky Way has tantalized astronomers since forever, but it's tough to see because it's hidden by clouds of gas and dust. However, if you look at it in infrared light or using radio telescopes, you can make out structures not only in the core but along the plane of the Milky Way.
Astronomers have done that using a variety of techniques. In the case of Nessie, they used the Spitzer Space Telescope to probe along the plane (a line drawn across the central region from edge to edge) and found this cloud feature that got nicknamed Nessie by James Jackson of Boston University.
Alyssa Goodman at Harvard Center for Astrophysics and her team looked at Nessie and analyzed it using various data set. It's really a long tendril of dust and gas that they called a "bone."
Goodman gave a talk at the AAS today about Nessie. "This is the first time we've seen such a delicate piece of the galactic skeleton," she said, and pointed out that other spiral galaxies also display internal bones or endoskeletons. Observations, especially at infrared wavelengths of light, have found long skinny features jutting between galaxies' spiral arms. These relatively straight structures are much less massive than the curving spiral arms.
Computer simulations of galaxy formation show webs of filaments within spiral disks. It is very likely that the newly discovered Milky Way feature is one of these "bone-like" filaments.
Radio emissions from clouds of molecular gas in the center of the Milky Way region show that Nessie is in the galactic plane, and is more than 300 light-years long but only 1 or 2 light-years wide. The amount of mass is enough to make about  100,000 Suns. It's possible that this odd feature bone is part of a spiral arm, or maybe is part of a web connecting other spiral features. Goodman and her colleagues hope to find more of these bones, and once they have enough data, it will give them enough information to create a cool 3D version of the galaxy and its skeleton.

Older entries »
<!- wpscanner ->
This blog a wholly pwnd subsidiary of Carolyn Collins Petersen, a.k.a. TheSpacewriter.
Copyright 2013, Carolyn Collins Petersen
Inama Nushif!
Image of Horsehead Nebula: T.A.Rector (NOAO/AURA/NSF) and Hubble Heritage Team (STScI/AURA/NASA)
"It is by Coffee alone I set my day in motion. It is by the juice of bean that coffee acquires depth, the tongue acquires taste, the taste awakens the body. It is by Coffee alone I set my day in motion."