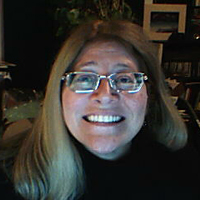 These pages chronicle the work and ruminations of Carolyn Collins Petersen, also known as TheSpacewriter.




I am CEO of Loch Ness Productions. I am also a producer for Astrocast.TV, an online magazine about astronomy and space science.

For the past few years, I've also been a voice actor, appearing in a variety of productions. You can see and hear samples of my work by clicking on the "Voice-Overs, Videos and 'Casts tab.

My blog, TheSpacewriter's Ramblings, is about astronomy, space science, and other sciences.


Ideas and opinions expressed here do not represent those of my employer or of any other organization to which I am affiliated. They're mine.
Subscribe in a reader
Visit my main site at: TheSpacewriter.com.
**I encourage comments and discussion; please keep it polite and respectful. I do moderate them to weed out spam, but I also refuse to post any messages that contain harassing, demeaning, rude, or profane language. I run a respectable establishment here.
Contact me for writing and voice-over projects at: cc(dot)petersen(at)gmail(dot)com
I Twitter as Spacewriter
Blog entry posting times are U.S. Mountain Time (GMT-6:00) All postings Copyright 2003-2011 C.C. Petersen
Spacewriter's Recent Posts
Archives
Calendar
January 2013
S
M
T
W
T
F
S
« Dec
Feb »
1
2
3
4
5
6
7
8
9
10
11
12
13
14
15
16
17
18
19
20
21
22
23
24
25
26
27
28
29
30
31
Like space music?
Check out my favorite space music artist: Geodesium at Geodesium.com



Blogroll
January 7, 2013 at 17:32 pm |
Leave a Comment
Every January, I journey out to the American Astronomical Society for its annual Winter Meeting. And, every time, I'm amazed at new bit of information about the universe. Today's revelation (and it's only Day 1 of the meeting), is that the Milky Way Galaxy is populated with many planets — in fact, one team of scientists estimates that at least one out of every six stars in the galaxy has an Earth-sized planet.
That, my friends, is pretty profound.
If you postulate that the Milky Way has about a hundred billion stars, that means there are at least 17 BILLION Earth-sized planets in our galaxy. Again, that's pretty profound. Now, the next question everybody will ask is, "How many of those are capable of supporting life?" And to answer that question requires a lot more observation. First, to support life, those planets need to be orbiting close enough to their stars that liquid water will be available to sustain life on them. Then, scientists need to look at the other conditions on the planets, and look for "bio signatures" in the planets' atmospheres that indicate life could be there. So, even though there could be the potential for 17 billion Earth-sized worlds out there, that doesn't say they are Earth-like… or that they have life. But, there are 17 BILLION Earth-sized worlds out there. Up until the last decade of the 20th century, we didn't know of any.
Thanks to the Kepler Mission, which has been cranking out planetary candidate discoveries for some time now, the hunt for planets is now an understood and successful ongoing project.
Want to read more details about how the scientists came up with their numbers? Check it out here. And, stay tuned for more AAS news!

<!- wpscanner ->
This blog a wholly pwnd subsidiary of Carolyn Collins Petersen, a.k.a. TheSpacewriter.
Copyright 2013, Carolyn Collins Petersen
Inama Nushif!
Image of Horsehead Nebula: T.A.Rector (NOAO/AURA/NSF) and Hubble Heritage Team (STScI/AURA/NASA)
"It is by Coffee alone I set my day in motion. It is by the juice of bean that coffee acquires depth, the tongue acquires taste, the taste awakens the body. It is by Coffee alone I set my day in motion."