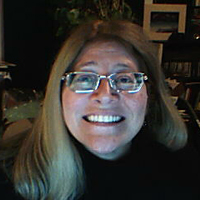 These pages chronicle the work and ruminations of Carolyn Collins Petersen, also known as TheSpacewriter.




I am CEO of Loch Ness Productions. I am also a producer for Astrocast.TV, an online magazine about astronomy and space science.

For the past few years, I've also been a voice actor, appearing in a variety of productions. You can see and hear samples of my work by clicking on the "Voice-Overs, Videos and 'Casts tab.

My blog, TheSpacewriter's Ramblings, is about astronomy, space science, and other sciences.


Ideas and opinions expressed here do not represent those of my employer or of any other organization to which I am affiliated. They're mine.
Subscribe in a reader
Visit my main site at: TheSpacewriter.com.
**I encourage comments and discussion; please keep it polite and respectful. I do moderate them to weed out spam, but I also refuse to post any messages that contain harassing, demeaning, rude, or profane language. I run a respectable establishment here.
Contact me for writing and voice-over projects at: cc(dot)petersen(at)gmail(dot)com
I Twitter as Spacewriter
Blog entry posting times are U.S. Mountain Time (GMT-6:00) All postings Copyright 2003-2011 C.C. Petersen
Spacewriter's Recent Posts
Archives
Calendar
Like space music?
Check out my favorite space music artist: Geodesium at Geodesium.com



Blogroll
February 28, 2013 at 19:21 pm |
1 Comment
Science is about Discovering Things
One of the misconceptions that people uneducated in science often hold is that "science knows everything". Yet, the very nature of science — which is an exploratory discipline — means that scientists are constantly finding new things and re-examining older knowledge in the light of new discoveries. That's exactly what science is supposed to do.
Take the discovery of a third radiation belt around Earth, just announced today. For 50 years, we've known that Earth has two zones of trapped radiation surrounding our planet.  They're called the Van Allen Belts, and without them, our telecommunications (for one thing) would be nearly (if not completely) impossible. They're affected by solar storms, and the interactions between those belts and incoming swarms of energetic particles from the Sun can affect our GPS, communications, and other technologies.  I've written about this before, and a few years ago worked with MIT's Haystack Observatory to produce a series of video podcasts called Space Weather FX that explains the complexities of the Sun-Earth connection and the role that our ionosphere and magnetosphere play in that connection.
Atmospheric researchers continually study those regions to characterize how the change over time, particularly during solar events. Of course, we don't know everything about them yet, but increasingly more sensitive probes of that region (including studies done with ground-based atmospheric radars) tell scientists a lot about this constantly changing region.
The newly discovered third radiation belt was found by a set of spacecraft called the Van Allen Probes, and they will be critical in helping researchers understand the variability of all of Earth's radiation belts, particularly as they respond to the variable activity of the Sun.
This finding shows us that there are still things to discovery, to study, to understand, and predict. Scientists knew quite a bit about the radiation belts before, but discoveries like this one are showing them that advances in technology are always going to uncover new and wondrous things! To learn more details about the Van Allen Probes and this discovery, check out today's NASA press release about it.

February 28, 2013 at 6:00 am |
Leave a Comment
The Galileoscope
My friend and colleague Rick Fienberg, who is vice president of Galileoscope, LLC , has a cool project he and colleague Doug Arion of Carthage College started for the International Year of Astronomy in 2009. It's called the Galileoscope, and they have sold many, many of these easy-to-assemble telescopes at cost.
If you run a gift shop in a museum, planetarium, or other institution, you might want to think about stocking these useful and popular telescopes. When I first saw one of these scopes I was really impressed at how easy they were to put together and how well they allowed people to see things like lunar craters, the Jovian moons, the phases of Venus, and the Pleiades.  These guys are donating all their labor and are only charging to cover the costs of the project.
The Galileoscope comes as a kit that takes only a few minutes and no tools to assemble. It's perfect for classroom activities, group projects, etc.
Interested? Read what Rick has to say about terms and prices.
"We sell the Galileoscope wholesale in cases of six at $25 per kit ($150 per case) plus shipping. Our dealers are selling Galileoscopes at retail prices between $49.95 and $59.95. Most are also leveraging the kit to sell other products, for example by bundling it with accessories such as tripods and star maps.
Galileoscopes are also useful in your education and outreach programs; we even provide economical and convenient training via our Galileoscope Workshops. Further support for the Galileoscope is provided through TeachingWithTelescopes.org, a website from the science educators at the U.S. National Optical Astronomy Observatory.
If you carry the Galileoscope in your shop, we will link to your website from our home page to refer customers your way. Please let me know if you have any questions, need more information, or want me to send you a sample Galileoscope kit. Thanks for your consideration."

February 27, 2013 at 11:28 am |
Leave a Comment
Light Pollution Video Released
All right!  I can finally talk about this project Loch Ness Productions has been working on with the International Dark-Sky Association.  It's a video called Losing the Dark and it went live today for download today!  It tells the story of light pollution and how we can work together to mitigate it, all in 6.5 minutes. If you run a domed theater (either fulldome or classic), there's a file for you!  Just visit here at the Loch Ness Productions page for the show to get the version you need (or arrange to get frames if your theater needs very high-resolution frames).
Educators, outreach professionals and others who want to show this program in their classrooms and other venues can download a flat-screen version at the IDA's Losing the Dark page.
It's been an amazing project to produce. We worked with visualizers, animators, and photographers from around the world, and both Mark and I did some photography for the show as well. I also wrote the script and supplied the narration for the show, and worked closely with the International Dark-Sky Association on the science behind the script. Mark C. Petersen did the soundtrack and provided his GEODESIUM space music, supplied some time-lapse and still photography, and did the final compositing of the video.
Our support team was huge: I can't thank Scott Kardel, Dr. Connie Walker, and the members of the IDA Education committee enough for their help and support. We also thank Starmap and the Fred Maytag Family Foundation for their generous support of the project. The International Planetarium Society supplied a seed grant to start off the project, and IDA members have also helped underwrite the costs of production.

Help spread the news about mitigating light pollution and using light only where it's needed. Otherwise, we are, as the show says, losing the dark of night at the speed of light.

Older entries »
<!- wpscanner ->
This blog a wholly pwnd subsidiary of Carolyn Collins Petersen, a.k.a. TheSpacewriter.
Copyright 2013, Carolyn Collins Petersen
Inama Nushif!
Image of Horsehead Nebula: T.A.Rector (NOAO/AURA/NSF) and Hubble Heritage Team (STScI/AURA/NASA)
"It is by Coffee alone I set my day in motion. It is by the juice of bean that coffee acquires depth, the tongue acquires taste, the taste awakens the body. It is by Coffee alone I set my day in motion."