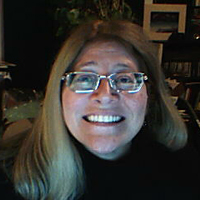 These pages chronicle the work and ruminations of Carolyn Collins Petersen, also known as TheSpacewriter.




I am CEO of Loch Ness Productions. I am also a producer for Astrocast.TV, an online magazine about astronomy and space science.

For the past few years, I've also been a voice actor, appearing in a variety of productions. You can see and hear samples of my work by clicking on the "Voice-Overs, Videos and 'Casts tab.

My blog, TheSpacewriter's Ramblings, is about astronomy, space science, and other sciences.


Ideas and opinions expressed here do not represent those of my employer or of any other organization to which I am affiliated. They're mine.
Subscribe in a reader
Visit my main site at: TheSpacewriter.com.
**I encourage comments and discussion; please keep it polite and respectful. I do moderate them to weed out spam, but I also refuse to post any messages that contain harassing, demeaning, rude, or profane language. I run a respectable establishment here.
Contact me for writing and voice-over projects at: cc(dot)petersen(at)gmail(dot)com
I Twitter as Spacewriter
Blog entry posting times are U.S. Mountain Time (GMT-6:00) All postings Copyright 2003-2011 C.C. Petersen
Spacewriter's Recent Posts
Archives
Calendar
Like space music?
Check out my favorite space music artist: Geodesium at Geodesium.com



Blogroll
February 11, 2013 at 14:22 pm |
2 Comments
Dumb Questions? NO.
I've been following the latest kerfuffle over a CNN anchor asking Bill Nye if a near-Earth asteroid swinging close to Earth had anything to do with global warming.  In watching the video of the question, it's pretty clear to me that the anchor doesn't really think that climate change and the asteroid have anything to do with each other. She's trying to make a transition from one story to the next in a crowded broadcast. But, it was a pretty clumsy segue. Nye's response was a nice educational linkage between words that astronomers use (like meteors and meteorology, and so on).  I thought he handled it pretty well.
A lot of commentators online have really come down on the anchor for asking what seemed like a dumb question. You know what? There's no such thing as a dumb question.  There are ill-thought-out questions. There are uninformed questions, and loaded ones and sarcastic ones, but they're not dumb. This question led to a teachable moment in science for the anchor and presumably for the audience members watching the show. So, it's all good. Maybe next time the anchor will think twice before asking once. And, maybe somebody in the audience learned something about how scientists should answer questions (even loaded, awkward ones).
There are a lot of really misguided things that people say, particularly when it comes to science.  And, they deserve to get called out on whatever misunderstanding they have that led to the questions. They also deserve rational answers from scientists. I am not for one minute defending the creationist claims about biology or evolution. Those are indefensible because they come from a position of wilful ignorance (and sometimes wilful lying) by those who preach them. Nor am I defending the ideas espoused by the oil and gas companies that are paying scientists to denounce human involvement in global warming and pollution.  Those come from people who have a stake in maintaining the status quo at the expense of the planet and have little to do with the actual science they are deriding.
I am saying, however, that learning involves asking questions. And, that's why there's no such thing as a dumb question. Good, honest attempts to find out about our planet,  our life forms, the scientific discoveries that inform us about the cosmos are never dumb.  And, for those of us who bring science to the public, there's always a teachable moment ? even when a TV anchor asks an awkward question.  I like how Bill Nye handled it. We should all be so quick to use our knowledge to teach.

<!- wpscanner ->
This blog a wholly pwnd subsidiary of Carolyn Collins Petersen, a.k.a. TheSpacewriter.
Copyright 2013, Carolyn Collins Petersen
Inama Nushif!
Image of Horsehead Nebula: T.A.Rector (NOAO/AURA/NSF) and Hubble Heritage Team (STScI/AURA/NASA)
"It is by Coffee alone I set my day in motion. It is by the juice of bean that coffee acquires depth, the tongue acquires taste, the taste awakens the body. It is by Coffee alone I set my day in motion."