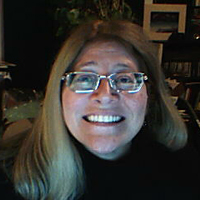 These pages chronicle the work and ruminations of Carolyn Collins Petersen, also known as TheSpacewriter.




I am CEO of Loch Ness Productions. I am also a producer for Astrocast.TV, an online magazine about astronomy and space science.

For the past few years, I've also been a voice actor, appearing in a variety of productions. You can see and hear samples of my work by clicking on the "Voice-Overs, Videos and 'Casts tab.

My blog, TheSpacewriter's Ramblings, is about astronomy, space science, and other sciences.


Ideas and opinions expressed here do not represent those of my employer or of any other organization to which I am affiliated. They're mine.
Subscribe in a reader
Visit my main site at: TheSpacewriter.com.
**I encourage comments and discussion; please keep it polite and respectful. I do moderate them to weed out spam, but I also refuse to post any messages that contain harassing, demeaning, rude, or profane language. I run a respectable establishment here.
Contact me for writing and voice-over projects at: cc(dot)petersen(at)gmail(dot)com
I Twitter as Spacewriter
Blog entry posting times are U.S. Mountain Time (GMT-6:00) All postings Copyright 2003-2011 C.C. Petersen
Spacewriter's Recent Posts
Archives
Calendar
May 2013
S
M
T
W
T
F
S
« Apr
1
2
3
4
5
6
7
8
9
10
11
12
13
14
15
16
17
18
19
20
21
22
23
24
25
26
27
28
29
30
31
Like space music?
Check out my favorite space music artist: Geodesium at Geodesium.com



Blogroll
365 Days of Astronomy!
Welcome to My 365 Days of Astronomy Pages.
Mark and I created a number of podcasts for the 365 Days of Astronomy site in 2009 and 2010, and I am continuing that work in 2011.
I write and narrate each podcast; the space music accompanying my voice is by Geodesium – the stage name of Mark C. Petersen, one of the world's foremost space music composers. We are pleased to be able to contribute our work to such a worthy cause and invite you to visit our company Web pages at Loch Ness Productions to learn more about what we do.
Many thanks to the 365 Days of Astronomy crew for making this all possible!
My List of Podcasts
Occasionally I talk about objects that you might want to find in the night sky or see pictures of, and this is the page that links to each of my episode pages. Each of these pages will go live approximately a week or so before "air time" on the 365 Days podcast pages. They all contains links, images, and other supporting material for the discussions in my podcasts.  I encourage you to visit early and often and let me (and the 365 Days folks) know what you think! (My email address is in the column to the left.)
2011 Podcasts
December 6, 2011: Top Ten List of Great Sky Objects to Explore (this link will be live late on December 5).
November 10, 2011:  Galaxy Exploring
March 13, 2011: Space Music: Music of the Hemisphere

February 22, 2011:  Black Holes and the Cosmos
January 29, 2011:  The Light From Distant Galaxies
2010 Podcasts
December 13, 2010: Art of Space: Space Art Rules!
November 11, 2010: Lights Out!
October 13, 2010:  Astro-News: It Happens Every Day
September 19, 2010:  They're Everybody's Stars
August 15, 2010:  Mars: the Hoax and the Reality
July 19, 2010:  Where are YOU From?
June 14, 2010:  Astronomy and Literature
May 15, 2010: Happy Birthday, Griffith Observatory!
April 14, 2010:  What is Astronomy?
March 14, 2010:  A Field Guide to the Stars and Planets — A Review
February 14, 2010: Look for Me Up There
January 14, 2010:  You Can Do Astronomy
2009 Podcasts
December  22, 2009: A Tribute to Carl Sagan
November 25, 2009: The Case of the Lobate Scarps
October 22, 2009:  Armchair Astronomy
September 10, 2009:  Singing the Ultraviolet Blues
August 14, 2009: The Cosmos from the Outback
July  9, 2009: Measuring the Black Hole
June 20, 2009:  Magnetar the Magnificent

April 29, 2009:  The Big Picture
March 19 , 2009:  Living With a Star:  Space Weather and Its Effects
February 10, 2009:  We Are All Star Stuff
January 6, 2009:  Top Ten Reasons Why Astronomy is Cool!
This blog a wholly pwnd subsidiary of Carolyn Collins Petersen, a.k.a. TheSpacewriter.
Copyright 2013, Carolyn Collins Petersen
Inama Nushif!
Image of Horsehead Nebula: T.A.Rector (NOAO/AURA/NSF) and Hubble Heritage Team (STScI/AURA/NASA)
"It is by Coffee alone I set my day in motion. It is by the juice of bean that coffee acquires depth, the tongue acquires taste, the taste awakens the body. It is by Coffee alone I set my day in motion."