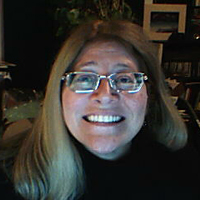 These pages chronicle the work and ruminations of Carolyn Collins Petersen, also known as TheSpacewriter.




I am CEO of Loch Ness Productions. I am also a producer for Astrocast.TV, an online magazine about astronomy and space science.

For the past few years, I've also been a voice actor, appearing in a variety of productions. You can see and hear samples of my work by clicking on the "Voice-Overs, Videos and 'Casts tab.

My blog, TheSpacewriter's Ramblings, is about astronomy, space science, and other sciences.


Ideas and opinions expressed here do not represent those of my employer or of any other organization to which I am affiliated. They're mine.
Subscribe in a reader
Visit my main site at: TheSpacewriter.com.
**I encourage comments and discussion; please keep it polite and respectful. I do moderate them to weed out spam, but I also refuse to post any messages that contain harassing, demeaning, rude, or profane language. I run a respectable establishment here.
Contact me for writing and voice-over projects at: cc(dot)petersen(at)gmail(dot)com
I Twitter as Spacewriter
Blog entry posting times are U.S. Mountain Time (GMT-6:00) All postings Copyright 2003-2011 C.C. Petersen
Spacewriter's Recent Posts
Archives
Calendar
May 2013
S
M
T
W
T
F
S
« Apr
1
2
3
4
5
6
7
8
9
10
11
12
13
14
15
16
17
18
19
20
21
22
23
24
25
26
27
28
29
30
31
Like space music?
Check out my favorite space music artist: Geodesium at Geodesium.com



Blogroll
The Big Picture
An Introduction to Large-scale Structure in the Universe
Welcome to my large-scale structure page to accompany The Big Picture podcast for 365 Days of Astronomy. If you haven't yet listened to the podcast, check it out!  The material and information that I used to make this podcast were graciously provided by Griffith Observatory, George Djorgovski, and the Palomar-Quest Team, California Institute of Technology.   The idea for exhibit itself came out of a conceptualization made by the design team at C&G Partners, LLC (which was at the time Chermayeff and Geismar), in New York City. The process of bringing the idea to the wall at Griffith took several years and the work of dozens of designers, exhibit specialists, scientists, and myself as exhibit writer. It is an astonishingly touching and awe-inspiring piece of work that brings the idea of galaxies and large-scale structure to life very well.
Here's a peek at the science behind the Big Picture.
Have you ever wondered what lies beyond the Milky Way Galaxy? The answer is:  more galaxies!  Many, many, many more galaxies. Galaxies, in fact, group together into clusters and superclusters. If you could map out all the galaxies in the universe, they'd be stretched out along like filaments of a web, with clusters and galaxies at the knots and strung along between knots.  Galaxies and galaxy clusters make up the large-scale structure of the cosmos.
As far as we know, the structure of the universe looks the same in all directions — a condition called isotropy.  That means that no matter which way you look, you see a lacy network of structure, anchored by galaxies.  This is a relatively recent "discovery" in the annals of astronomy, made possible by ever-more-sensitive detectors that can see at a great many more wavelengths of light than we can see with our eyes.
If you could stare long enough at the sky — say in the direction of the constellation Virgo — you could start to make out some of this structure, in the form of the Virgo Cluster of galaxies, and a backdrop of more distant galaxies and quasars that lie beyond the Virgo Cluster.  This is, in fact, what the members of the Palomar-Quest Team, California Institute of Technology did, using a special camera attached to the Samuel Oschin telescope at Palomar Observatory.  The survey is a collaboration between the groups led by Prof. Charles Baltay from Yale University's Physics Department, and by Prof. S. George Djorgovski from Caltech's Astronomy Department.
I first found out about the Big Picture when I was working on the exhibits for Griffith Observatory, where one wall is completely covered with the Big Picture, wrought in metal-backed porcelain panels. It's one of the most stunning exhibits I've ever seen, and I spent several months studying the image so I could write exhibit panels about it.  The image is still under study by astronomers today because it is so rich in detail and structure.
The panorama is 152 feet long and 20 feet high. The image contains some 2.5 billion pixels, and it was generated from about 200 gigabytes of data collected by the Palomar-Quest digital sky survey team over about 20 nights in 2004 and 2005.
The Big Picture contains images of half a million Milky Way Galaxy stars, a million galaxies, a thousand quasars, hundreds of asteroids, and at least one comet that was passing through the field of view as the image mosaic was being made. The image is centered on a region of space near a striking-looking string of galaxies in the Virgo Cluster called Markarian's Chain.
Scattered all around it are other galaxies, something that  never fails to amaze visitors to the Griffith exhibit.  For folks who can't get to Griffith, the team has posted some wonderful views of the Big Picture at the Big Picture web site.  You can learn more about how the image was taken, explore pieces of the picture in great detail, and see some background stories about Griffith and the exhibit.
Want to know more about large-scale structure research?  Martin White at Berkeley has a nice web page about large-scale structure. Bill Keel goes into more detail on structure here. One of the most ambitious surveys of large-scale structure, called the 6dF survey (for 6-degree field) is mapping the nearby universe over  nearly half the sky. You can see its data products and images here.  The Sloan Digital Sky Survey is a very ambitious survey of the large-scale structure of the universe and has produced an incredible amount of data that astronomers will be poring over for years. Wikipedia has a rather good entry about large-scale structure, and you can do a fairly cool exploration of nearby structure at Atlas of the Universe.  Go exploring the large-scale structure — you'll be amazed and awed at what you find!
I've also produced a nice segment about the Big Picture over at Astrocast.TV — set to go live on May 1, 2009. Head on over and check it out!
This blog a wholly pwnd subsidiary of Carolyn Collins Petersen, a.k.a. TheSpacewriter.
Copyright 2013, Carolyn Collins Petersen
Inama Nushif!
Image of Horsehead Nebula: T.A.Rector (NOAO/AURA/NSF) and Hubble Heritage Team (STScI/AURA/NASA)
"It is by Coffee alone I set my day in motion. It is by the juice of bean that coffee acquires depth, the tongue acquires taste, the taste awakens the body. It is by Coffee alone I set my day in motion."