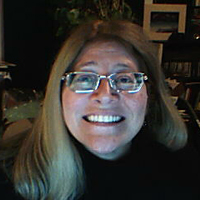 These pages chronicle the work and ruminations of Carolyn Collins Petersen, also known as TheSpacewriter.




I am CEO of Loch Ness Productions. I am also a producer for Astrocast.TV, an online magazine about astronomy and space science.

For the past few years, I've also been a voice actor, appearing in a variety of productions. You can see and hear samples of my work by clicking on the "Voice-Overs, Videos and 'Casts tab.

My blog, TheSpacewriter's Ramblings, is about astronomy, space science, and other sciences.


Ideas and opinions expressed here do not represent those of my employer or of any other organization to which I am affiliated. They're mine.
Subscribe in a reader
Visit my main site at: TheSpacewriter.com.
**I encourage comments and discussion; please keep it polite and respectful. I do moderate them to weed out spam, but I also refuse to post any messages that contain harassing, demeaning, rude, or profane language. I run a respectable establishment here.
Contact me for writing and voice-over projects at: cc(dot)petersen(at)gmail(dot)com
I Twitter as Spacewriter
Blog entry posting times are U.S. Mountain Time (GMT-6:00) All postings Copyright 2003-2011 C.C. Petersen
Spacewriter's Recent Posts
Archives
Calendar
May 2013
S
M
T
W
T
F
S
« Apr
1
2
3
4
5
6
7
8
9
10
11
12
13
14
15
16
17
18
19
20
21
22
23
24
25
26
27
28
29
30
31
Like space music?
Check out my favorite space music artist: Geodesium at Geodesium.com



Blogroll
About TheSpacewriter
This blog is my daily, or semi-daily record of thoughts and impressions about astronomy and space science, primarily, although I'm not limited to those two. I also write about other aspects of science, particularly as various disciplines relate to politics, education, critical thinking, and other cultural aspects.
I first began this blog in early 2002 as a way to keep my writing chops fresh and share astronomy news that didn't always make the front page of the papers. It is an outgrowth of my web page, TheSpacewriter.com, which has been around since 1992 and was originally called "The Henrietta Leavitt Flat Screen Space Theater."
Over the years, my blog has migrated from Blogspot to Blogger-based publishing. early in 2008 I migrated to WordPress and have transplanted all my earlier entries to this new format.
My Background
I'm a science writer and editor. I work with clients in the observatory and planetarium community, as well as my own book, web, planetarium, and other projects. Over the years I've written three books (see my store for more details), edited several others; written many articles, created more than 30 science (astronomy) documentary scripts, and exhibit projects, including the following:
* the complete astronomy exhibition at the Griffith Observatory in Los Angeles;
* a climate change exhibition for the California Academy of Sciences in San Francisco, and:
* a spaceweather exhibit for the Children's Discovery Museum in Acton, MA.
Currently I'm working on vodcast projects for MIT/Haystack Observatory, and writing scripts for a series of fulldome theater production.
Can I do all this for you? Need a writer/editor? If so, please visit my SERVICES page for my projects and availability.


I also invite you to visit the folks whose pages link to mine. There's an amazing array of like-minded people who read me (and I read them). (NOTE: I try to check on these links occasionally to make sure that they're still appropriate. However, as usual, I urge you to use caution in your surfing. My linking to these folks does NOT imply that I approve specific or general posts, or that I am aware of changes they've made in their blogs since the last time I visited. If you find something objectionable on any of these links (prOn, violence, pseudo-science, harangues, etc.) please let me know so I can change my blogrolls.
This is to acknowledge the creative talent who devised the theme I've adopted for this site. Although I've changed it a bit to fit my needs, it was still the brain child of JD of JDBlog.net.
This blog a wholly pwnd subsidiary of Carolyn Collins Petersen, a.k.a. TheSpacewriter.
Copyright 2013, Carolyn Collins Petersen
Inama Nushif!
Image of Horsehead Nebula: T.A.Rector (NOAO/AURA/NSF) and Hubble Heritage Team (STScI/AURA/NASA)
"It is by Coffee alone I set my day in motion. It is by the juice of bean that coffee acquires depth, the tongue acquires taste, the taste awakens the body. It is by Coffee alone I set my day in motion."