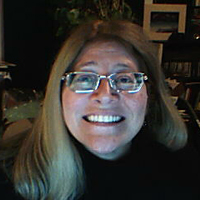 These pages chronicle the work and ruminations of Carolyn Collins Petersen, also known as TheSpacewriter.




I am CEO of Loch Ness Productions. I am also a producer for Astrocast.TV, an online magazine about astronomy and space science.

For the past few years, I've also been a voice actor, appearing in a variety of productions. You can see and hear samples of my work by clicking on the "Voice-Overs, Videos and 'Casts tab.

My blog, TheSpacewriter's Ramblings, is about astronomy, space science, and other sciences.


Ideas and opinions expressed here do not represent those of my employer or of any other organization to which I am affiliated. They're mine.
Subscribe in a reader
Visit my main site at: TheSpacewriter.com.
**I encourage comments and discussion; please keep it polite and respectful. I do moderate them to weed out spam, but I also refuse to post any messages that contain harassing, demeaning, rude, or profane language. I run a respectable establishment here.
Contact me for writing and voice-over projects at: cc(dot)petersen(at)gmail(dot)com
I Twitter as Spacewriter
Blog entry posting times are U.S. Mountain Time (GMT-6:00) All postings Copyright 2003-2011 C.C. Petersen
Spacewriter's Recent Posts
Archives
Calendar
May 2013
S
M
T
W
T
F
S
« Apr
1
2
3
4
5
6
7
8
9
10
11
12
13
14
15
16
17
18
19
20
21
22
23
24
25
26
27
28
29
30
31
Like space music?
Check out my favorite space music artist: Geodesium at Geodesium.com



Blogroll
Voice-overs, Videos, and 'Casts
The Cosmic Voice
Welcome to C.C. Petersen's voice-over demo page!  I've worked on a variety of projects — from short- and long-form pieces to games, radio plays, and software packages. Recent clients include MIT Haystack Observatory, The Astronomical Society of the Pacific, Astrocast.TV, Software Bisque (for their "Seeker" product), Antares Fulldome (Barcelona, Spain,) and my own company — Loch Ness Productions.
Entertainment projects include such groups as Giant Gnome Productions, Underbridge Productions, Dreamagination, and others. Below are samples of my voice-over work. If you'd like to have me narrate YOUR project, please contact me at cc.petersen@gmail.com!  You can also visit my Youtube page.

Audio Samples
Science/technical narration demo (1 min.)
Audio clip: Adobe Flash Player (version 9 or above) is required to play this audio clip. Download the latest version here. You also need to have JavaScript enabled in your browser.
This is a set of clips from a few of the many astronomy and space-science projects I've narrated. The projects range from software prompts to video podcasts about extensive new astronomy facilities.
Audio Book Demo (2:45 min.)
Audio clip: Adobe Flash Player (version 9 or above) is required to play this audio clip. Download the latest version here. You also need to have JavaScript enabled in your browser.
This is a set of clips for audio books and short story projects. I'm also available as a reader for technical manuals and related materials.
Character Demo (1 min.)
Audio clip: Adobe Flash Player (version 9 or above) is required to play this audio clip. Download the latest version here. You also need to have JavaScript enabled in your browser.
This is a set of quick clips from a selected set of voices I've done for video games, radio plays and other entertainment projects.

Videos
Here are samples of the videos I've produced, voiced over and appeared on-camera in over the past few years.
Get the latest Flash Player to see this player.
Space Weather FX Vodcast Series: Episode 1
Get the latest Flash Player to see this player.
Visit the Murchison Wide-field Array

From Astrocast.TV
I am a segment producer for The Astronomer's Universe — a look at what astronomers are learning about the cosmos.
Watch all the episodes here and at Astrocast.TV.

I also produce a monthly stargazing segment for Astrocast.TV called Our Night Sky. Check it out!

Some Older Works — "Learning Projects" for AV Communicator
Get the latest Flash Player to see this player.
Let's talk about Black Holes!
Get the latest Flash Player to see this player.
Visit Small Worlds of the Outer Solar System

This blog a wholly pwnd subsidiary of Carolyn Collins Petersen, a.k.a. TheSpacewriter.
Copyright 2013, Carolyn Collins Petersen
Inama Nushif!
Image of Horsehead Nebula: T.A.Rector (NOAO/AURA/NSF) and Hubble Heritage Team (STScI/AURA/NASA)
"It is by Coffee alone I set my day in motion. It is by the juice of bean that coffee acquires depth, the tongue acquires taste, the taste awakens the body. It is by Coffee alone I set my day in motion."