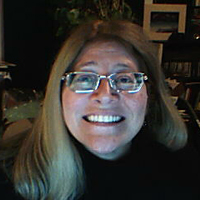 These pages chronicle the work and ruminations of Carolyn Collins Petersen, also known as TheSpacewriter.




I am CEO of Loch Ness Productions. I am also a producer for Astrocast.TV, an online magazine about astronomy and space science.

For the past few years, I've also been a voice actor, appearing in a variety of productions. You can see and hear samples of my work by clicking on the "Voice-Overs, Videos and 'Casts tab.

My blog, TheSpacewriter's Ramblings, is about astronomy, space science, and other sciences.


Ideas and opinions expressed here do not represent those of my employer or of any other organization to which I am affiliated. They're mine.
Subscribe in a reader
Visit my main site at: TheSpacewriter.com.
**I encourage comments and discussion; please keep it polite and respectful. I do moderate them to weed out spam, but I also refuse to post any messages that contain harassing, demeaning, rude, or profane language. I run a respectable establishment here.
Contact me for writing and voice-over projects at: cc(dot)petersen(at)gmail(dot)com
I Twitter as Spacewriter
Blog entry posting times are U.S. Mountain Time (GMT-6:00) All postings Copyright 2003-2011 C.C. Petersen
Spacewriter's Recent Posts
Archives
Calendar
May 2013
S
M
T
W
T
F
S
« Apr
1
2
3
4
5
6
7
8
9
10
11
12
13
14
15
16
17
18
19
20
21
22
23
24
25
26
27
28
29
30
31
Like space music?
Check out my favorite space music artist: Geodesium at Geodesium.com



Blogroll
May 1, 2013 at 11:08 am |
2 Comments
On A Snowy Day
It's May 1st. Time for flowers and birds singing and all the lovely northern hemisphere things that we associate with spring. Except for where I live. Here, it's snowing. A blizzard. Two days ago it was nearly 80° F.  So, it's springtime where I live — with a twist.
Also, it's media day here at TheSpaceWriter's Ramblings. I thought I'd start with a great video of the Sun, fresh off the solar surface! Things are rockin' and rollin' as usual, with a BIG twist.  Check out this video from the Solar Dynamics Observatory, taken earlier today, of a huge coronal mass ejection.
The event as shown here is about two hours and forty minutes long and the ejection was not directed toward Earth. But, imagine if it had been!  We'd be getting ready for incredible auroral displays, and possibly even facing problems for ISS astronauts, satellites, and power grids as a swarm of charged particles swept through our region of the solar system.  Our Sun is a powerful lady, and every once in a while, she gives an incredible show of strength!
Want to know more about what effect the Sun can have on Earth and our technology? Check out the series called Space Weather FX, a project we worked on with MIT's Haystack Observatory.  It's a great outreach and classroom tool to teach about "living with a star" and was funded by an education and outreach grant from NASA.
Since it IS the first of May, it's also time for Our Night Sky a project I create in collaboration with Astrocast.TV each month. It's a short little introduction to the night sky, showing the Moon, planets (when visible), and a few introductory constellations for both northern and southern hemisphere observers in a four-minute-long format. I understand that the video gets used in classrooms and in a couple of observatories for visitors, so if you're interested in displaying it in an exhibit, use the Contact Us form on the Astrocast.TV site and let the producer know what you want to do.  Happy viewing and, get out there and do some stargazing this month! (Weather permitting.)

April 24, 2013 at 8:00 am |
10 Comments
Uwingu Announces Contest Winner
for Popular Name of Alpha Centauri Bb
Back when I was a child my father took me out to see the stars and my mother encouraged me to read about as many things as I could. Without their guidance, I might not be as interested in astronomy and sharing the stars as I am today. When I look at some areas of the sky, such as the constellation Orion, I think of those early times when they were turning me on to the sky.  And, to me, some areas of the sky will always be associated with my folks. If I'd thought of it sooner, I might have nicknamed that region where the Orion Nebula reigns supreme after them:  caeli gloriosa domo Johannis Collins, et Maria (Latin for "the glorious sky home of John and Mary Collins"). It would be a fitting salute to two people who sacrificed a lot so I (and my siblings) could get ahead in life.
Interestingly, the winner of the Uwingu contest to suggest popular names for the planet orbiting Alpha Centauri B had a similar wish to honor a relative. The winning name, announced today by Uwingu, is Albertus Alauda, suggested by Jason Lark in honor of his late grandfather, Albert Lark. In the citation accompanying his nomination, Jason wrote, "His name in Latin means "noble" or "bright" and to praise or to extol. I think this is an apt description as my Grandfather was a noble man and bright of character and in this nomination, I wish to honour [extol] him."
Jason's nomination to salute his grandfather won out over more than 1,240 names that were suggested in Uwingu's contest. While congratulations are due to Jason for his touching nomination, the real winners are also the people who took the time to enter the contest and learn more about exoplanets as they also shared their resources to help a worthy cause. The proceeds of the contest will go to fund space educators and their projects — a goal that Uwingu has long supported as it seeks to find new ways to fund STEM (science, technology, engineering and mathematics) outreach in the United States. For more information on Uwingu and its ongoing mission, visit the group's website here, and to learn more about its upcoming projects.

April 23, 2013 at 11:44 am |
3 Comments
The Comet is Closing In on the Inner Solar System
This is shaping up to be a great year for comets. Comets 2012 F6 Lemmon and C/2011 L4 PANSTARRS have graced the skies, and now we have C/2012 S1 ISON rushing in for a lap around the Sun later this year. Astronomers have been keeping an eye on it for some months, and today Hubble Space Telescope released a picture of the comet taken on April 10. At that point it was slightly closer than Jupiter is from the Sun.
What's interesting about this image is the level of activity this comet is showing and it's not all that close to the Sun. It's sprouted a dust tail as its ices sublimate and carry material away on the solar wind.  Right now astronomers are studying the many images (such as this one) from observations of ISON to calculate the size of its nucleus and determine some other features of the comet. For example, the Hubble image reveals a strong jet blasting dust from the part of the nucleus facing toward the Sun.
Taking spectral observations of the comet over the next months (that is, studying the light from it) will also help comet scientists determine the composition of the nucleus — that is, the types and amounts of ices and dust that are mixed up in the frozen nucleus.
When Comet ISON rounds the Sun (it will be closest to the Sun on November 28th, 2013), it promises to be bright and extensive. How much remains to be determined. We just have to wait as it gets closer and brighter so we can see for ourselves. But, if it's anything like Hale-Bopp or Hyakutake were in 1996 and 1997, we could be in for a very lovely sight in our nighttime skies later this year. I remain hopeful that it will be spectacular, which is why I'll be anxiously awaiting reports from astronomers as ISON gets closer and closer!

« Newest entries
—
Older entries »
<!- wpscanner ->
This blog a wholly pwnd subsidiary of Carolyn Collins Petersen, a.k.a. TheSpacewriter.
Copyright 2013, Carolyn Collins Petersen
Inama Nushif!
Image of Horsehead Nebula: T.A.Rector (NOAO/AURA/NSF) and Hubble Heritage Team (STScI/AURA/NASA)
"It is by Coffee alone I set my day in motion. It is by the juice of bean that coffee acquires depth, the tongue acquires taste, the taste awakens the body. It is by Coffee alone I set my day in motion."