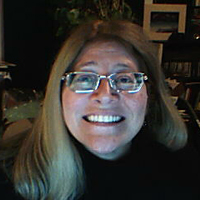 These pages chronicle the work and ruminations of Carolyn Collins Petersen, also known as TheSpacewriter.




I am CEO of Loch Ness Productions. I am also a producer for Astrocast.TV, an online magazine about astronomy and space science.

For the past few years, I've also been a voice actor, appearing in a variety of productions. You can see and hear samples of my work by clicking on the "Voice-Overs, Videos and 'Casts tab.

My blog, TheSpacewriter's Ramblings, is about astronomy, space science, and other sciences.


Ideas and opinions expressed here do not represent those of my employer or of any other organization to which I am affiliated. They're mine.
Subscribe in a reader
Visit my main site at: TheSpacewriter.com.
**I encourage comments and discussion; please keep it polite and respectful. I do moderate them to weed out spam, but I also refuse to post any messages that contain harassing, demeaning, rude, or profane language. I run a respectable establishment here.
Contact me for writing and voice-over projects at: cc(dot)petersen(at)gmail(dot)com
I Twitter as Spacewriter
Blog entry posting times are U.S. Mountain Time (GMT-6:00) All postings Copyright 2003-2011 C.C. Petersen
Spacewriter's Recent Posts
Archives
Calendar
Like space music?
Check out my favorite space music artist: Geodesium at Geodesium.com



Blogroll
July 30, 2007 at 13:16 pm |
Leave a Comment
The Night Sky
In her column in Parade Magazine, a writer named Marilyn vos Savant made a list of "Questions too Funny to Answer." Some of the questions were truly funny, belying people's mis-understanding of science. Sad, in a way.
But, the saddest question, one that I didn't find to be funny at all (and I'm surprised she listed it as "funny) was this: "Where did all the stars go? In the '50s, the sky was loaded with them."
It really isn't even a dumb question. It's a query that reflects a changed perception of the sky: we're not seeing as many stars as we used to. Back in the '50s we didn't have much light pollution as we do now. Populations were somewhat smaller, and we were scattered more. Less light pollution per square meter, you might say.
Today, we light the night sky up with photonic pollution that tells the universe, "Look here! These people have money to burn!" Because, of course, when we light the night sky unnecessarily, we're wasting money. And harming the environment in more ways than one.
If you ever have a chance to be in a truly dark-sky site, you'd see why I label the night sky as one of the seven wonders of the universe. To quote David Bowman in 2001: A Space Odyssey,, "My god, it's full of stars!"
And that gorgeous scattering of distant starlight is what set our minds wondering throughout the centuries. They caused us to wonder about what they were, how they got there, what makes them shine, and what will happen to them in the future. The science of astronomy, followed by astrophysics, augmented by physics, planetary science, atmospheric physics, and so many others, flowed from our wonder about the night sky.

July 26, 2007 at 14:29 pm |
Leave a Comment
Star Death
So, from star birth we get star death. That follows, sure as…um… death and taxes. These things move in cycles. Starbirth regions almost always have some elements created by the deaths of the stars that went before them. Much as dying vegetable matter seeds a field here on Earth with the essential nutrients for the next generation of plants and animals, old stars recycle themselves into interstellar space. The elements they leave behind—carbon, nitrogen, oxygen, on up to silver, gold, and iron, and even the radioactive elements like thorium and uranium—get re-used in newborn stars and planets. It's a pretty efficient mechanism for the universe to re-create itself through the billions of years it has existed, and it will continue for as long as there are stars to give off material.
Of course, the most famous stardeath sites are supernovae, particularly the kind known as Type 1a, which occur when massive stars explode and hurl their outer layers to interstellar space.
There are other ways for stars to die and pass on their "legacy" of elements to the cosmos. The Sun won't die as a supernova, but it will swell up to become a red giant. Much of its mass will get blown off to space, and THAT mass will also be recycled into new stars a few billions of years from now. There's evidence that material from several dying stars provided the seed material for the Sun and planets, which puts us and our home world smack in the middle of the cosmic cycle of life and death.
Regions of stardeath are nearly everywhere we look in our own galaxy and in countless other galaxies, too. They look remarkably similar, a testament to how the laws of physics and astrophysics work across time and space.

July 15, 2007 at 20:18 pm |
Leave a Comment
Star Birth
If you've been a reader of this site for long, you probably wondered when I'd get to starbirth in this list of seven cosmic wonders. Wait no longer—here it is! Starbirth is one of the great recycling mechanisms of the cosmos. It takes material that is floating around in interstellar space and, under the right conditions, coalesces that material into a star. The process is incredibly long compared to human life spans. Our own star began forming some 4.6 billion years ago. It will live for another 5 billion years and eventually evolve to a white dwarf star. Before it does, the Sun will swell up to become a giant star, shed most of its mass, and then slowly cool and shrink. All that material that it sheds will populate the interstellar medium, perhaps becoming part of new stars in the distant future. Supernova explosions also return elements to space, and those too will become part of new stars and planets.
Regions of starbirth are nearly everywhere we look in our own galaxy and in countless other galaxies, too. Astronomers study them in just about every wavelength of light possible, although infrared-enabled observatories and instruments have the best chance of peeking into the stellar creches to watch the process of stars being born.
The closest starbirth region that most of us have heard about is the Orion Nebula, some 1,500 light-years away in the constellation Orion. If you look closely at the blow-up of this image (far left), you'll see swirls of clouds, and what look like jets emanating from some of the new stars. Newborn stars are chaotic, and they sculpt their birth nests as they form. They also light up their surroundings, creating reflection nebulae—clouds of gas and dust that glow in the reflected light. However, those clouds also give off infrared light because they're being heated by the nearby stars. So, I give you a glimpse into the mysterious realms of starbirth, a process that is itself one of the seven wonders of the universe.

Older entries »
<!- wpscanner ->
This blog a wholly pwnd subsidiary of Carolyn Collins Petersen, a.k.a. TheSpacewriter.
Copyright 2013, Carolyn Collins Petersen
Inama Nushif!
Image of Horsehead Nebula: T.A.Rector (NOAO/AURA/NSF) and Hubble Heritage Team (STScI/AURA/NASA)
"It is by Coffee alone I set my day in motion. It is by the juice of bean that coffee acquires depth, the tongue acquires taste, the taste awakens the body. It is by Coffee alone I set my day in motion."