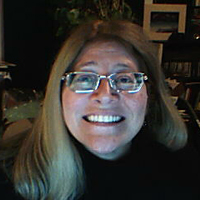 These pages chronicle the work and ruminations of Carolyn Collins Petersen, also known as TheSpacewriter.




I am CEO of Loch Ness Productions. I am also a producer for Astrocast.TV, an online magazine about astronomy and space science.

For the past few years, I've also been a voice actor, appearing in a variety of productions. You can see and hear samples of my work by clicking on the "Voice-Overs, Videos and 'Casts tab.

My blog, TheSpacewriter's Ramblings, is about astronomy, space science, and other sciences.


Ideas and opinions expressed here do not represent those of my employer or of any other organization to which I am affiliated. They're mine.
Subscribe in a reader
Visit my main site at: TheSpacewriter.com.
**I encourage comments and discussion; please keep it polite and respectful. I do moderate them to weed out spam, but I also refuse to post any messages that contain harassing, demeaning, rude, or profane language. I run a respectable establishment here.
Contact me for writing and voice-over projects at: cc(dot)petersen(at)gmail(dot)com
I Twitter as Spacewriter
Blog entry posting times are U.S. Mountain Time (GMT-6:00) All postings Copyright 2003-2011 C.C. Petersen
Spacewriter's Recent Posts
Archives
Calendar
Like space music?
Check out my favorite space music artist: Geodesium at Geodesium.com



Blogroll
August 30, 2007 at 12:38 pm |
Leave a Comment
Stars emit light (electromagnetic radiation) and heat. If you take the light from a star and send it through an instrument called a spectrograph, you can essentially break up the light into its component colors (wavelengths). You've seen one form of a spectrum in nature: it's called a rainbow and it was created by light being broken up through a prism of raindrops.
The image above is a graph spectrum showing us the chemical elements that exist in a star called NGC1333-IRAS 4B. The infrared light was analyzed by an instrument aboard the Spitzer Space Telescope (which is sensitive to infrared wavelengths). The scientists compared it to a model of a water spectrum, and found water vapor in the region surrounding the star. What they think is happening is that ice particles in the surrounding environment are falling toward the star. When they hit the disk of gas and dust around the star, they heat up and melt, forming water vapor.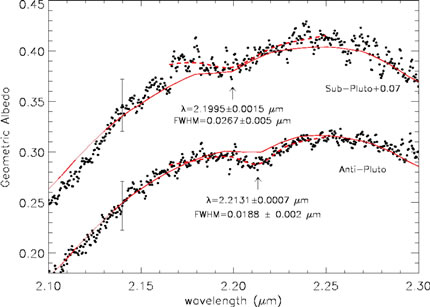 These details are in the spectrum, which tells us about the motion of the ice particles surrounding the star.
Spectra are a part of astrophysical research that can look pretty boring or confusing to people who don't see them every day. Yet, if you know how to read them and what to look for, they can reveal details of an astronomical object that you just can't see with the naked eye or in an image. Here's another one, from a recent Gemini Observatory press release, that shows the evidence for water and ammonia ices on Pluto's companion world, Charon. It is centered on infrared light radiating at 2.2 microns. The solid line is a model of a surface with ices called ammonia hydrates, along with water ices. Other dots are the data from the surface of Charon that represent ammonia hydrate ices. (You can read more about this one here.)
Now I don't normally "do" spectra in my planetarium shows, mostly because they require more explanation than we often have time for. But, spectra ARE treasure troves of information, hidden right before our eyes.

August 24, 2007 at 13:33 pm |
Leave a Comment
and You
There's another meteor shower coming up in a week, and if you didn't get enough of them with the Perseids, you should check this one out. It's called the Aurigids, and it's supposed to be a flurry of bright and oddly colored meteors that seem to come from the direction of the constellation Auriga.
There's quite a bit of interest in this year's shower, which is the debris from Comet Kiess (C/1911 N1), because it's a rare one. Comet Kiess has only visited this end of the solar system twice in the past couple of thousand years, and so Earth rarely encounters its debris tail. This year we'll plow right through that trail on September 1. And if we're lucky, there could (emphasis on the "could") be a nice meteor shower, with perhaps a hundred meteors per hour or more, if the debris stream is thick. Or, if the debris stream is thin, the shower could be a bust.
The catch here is that the peak of the shower will be best seen by people living in the Rocky Mountains and further west. Earth will be smack in the middle of this stream at 11:36 UT (that's 4:30 AM PDT). That's the peak time; the shower (if there is one) begins well before that.(See here and here for more information.)
If you are planning to watch for Aurigids, there's a unique project brewing that you might want to be involved with: the Aurigid Laptop Meteor Observation Project. Essentially, it's another distributed computing project that will take observation info sent in by people in the observing range of the shower and turn it into a three-dimensional map of the debris stream from Comet Kiess. If you've got the time, you're in the right place, and want to make a contribution to solar system science, here's your chance

August 23, 2007 at 14:37 pm |
Leave a Comment
Here's a pet peeve of mine, but with a little background. I read a lot of science press releases each week, and many more science stories from various online (and tree-based) sources. At least one (and usually more) of those sources winds up saying something like, "Scientists believe that… " in an effort to get across the idea that the scientists are describing a discovery or knowledge they have about a given topic of research.
What bugs me about that usage is that it isn't correct, particularly when it gets applied to some facts that scientists (doctors, physicists, chemists, biologists, etc.) are trying to get across to the public. The writer should have said, "Scientists think… " or "Scientists know… " or something that indicates definite knowledge, not hopeful belief. (Unless, of course the scientist in question says, "We believe we can find the cure for cancer in this generation." That IS a correct usage.)
What bugs me about "believe" vs. "think"? It's sloppy language usage. Here's the Dictionary.com definition for believe: "to have confidence in the truth, the existence, or the reliability of something, although without absolute proof that one is right in doing so: Only if one believes in something can one act purposefully." (Italics mine.)
Here's the definition for think: "to have a conscious mind, to some extent of reasoning, remembering experiences, making rational decisions, etc.; to employ one's mind rationally and objectively in evaluating or dealing with a given situation."
Using the word "believe" puts in an element of uncertainty that often is at direct odds with what the scientist actually said or has discovered. Using "think" or "know" expertly expresses exactly what the data support. Let's explore that a bit.
Let's say that a planetary scientist discovers a new planet in the outer solar system. That discovery is written up in a press release and the scientist says, "We know from our spectra that the surface of this world is made up largely of water ice." It's absolute fact, he or she knows it, and after we read the story, we know it. We can look at the spectra and the data is right there, telling us that the surface has water ice on it.
Yet, often enough, I'll see the news stories based on the press release (and even interviews with the scientist), and somewhere in the story, the reporter writes, "The scientists believe that there's water ice on the surface of this new world." (Or something like that.)
No. No. No. There's no "belief" about it. It's a fact. Go back up and read that definition of "believe" again and think about it. Saying "believe" is simply the wrong language to describe a scientific certainty. Now, if you wanted to say something like "Bobby believed that the Big Dipper was his favorite constellation" or "The Elbonians believed in the myth of Atlantis" that would be entirely proper because then there IS confidence in some truth or reliability of some information but there's no data or proof of the stated belief.
It's a fine point, but one that we should all pay more attention to, because science does deal in precise language and measurements. "Belief" is not part of the scientific process, but having factual knowledge is.
Or here's another way to think of it. I'm a science writer, I have a degree in journalism, I work as a freelance editor, and I have experience working at at a magazine and a newspaper. Therefore I know something of how these professions work. It is entirely right for me to say, "I know that newspapers work on deadlines" because I experienced it and it goes on to this day. I also know from my experience that editors change stories that reporters turn in for publication (or that they get from press releases). They do this for many reasons, but usually to tighten them up or replace repeated words, or to clarify something.
For example, a writer that I once edited used the word "that" as much as possible. However, it gets tiresome to see the same word over and over again, so as an editor, I looked for words to replace "that" to help the meaning along. So, if I see a story where the word "believe" is substituted for the words "think" or "know" when referring to something that scientists DO think and DO know, I would be absolutely correct in saying, "I believe that the editor substituted the word "believe" for the word "know" because the writer may have used the word "know" too many times." I could also just as easily say "I believe the writer used the word "believe" because he or she didn't know better."
I can't say that I "think" the editor or the writer did it because that would imply that I have direct knowledge of what that editor or writer did. But, I can say that I "believe" it happened, because while I don't have direct knowledge, I do have a pretty high confidence level that it happened.
Pedantic, yes. Correct, yes. Science writing demands as much precision as the subject we're writing about. I don't believe that. I KNOW it.

Older entries »
<!- wpscanner ->
This blog a wholly pwnd subsidiary of Carolyn Collins Petersen, a.k.a. TheSpacewriter.
Copyright 2013, Carolyn Collins Petersen
Inama Nushif!
Image of Horsehead Nebula: T.A.Rector (NOAO/AURA/NSF) and Hubble Heritage Team (STScI/AURA/NASA)
"It is by Coffee alone I set my day in motion. It is by the juice of bean that coffee acquires depth, the tongue acquires taste, the taste awakens the body. It is by Coffee alone I set my day in motion."